The market can almost taste a deal right now, and it appears that both the House and Senate are close to passing their own compromises to make this happen. If nothing else, at least that gives them some options to choose from. We are still positioned to take advantage of any market pullback resulting from a deal not being reached and used the "Chart of the Day" to highlight a possible trade idea for those with some dry gun powder.
We think the important news today centers around the rare earths and oil and natural gas names as early indicators signal the price action will be in those names during the session, especially Molycorp (MCP), Rare Element Resources (NYSEMKT:REE), Rosetta Resources (NASDAQ:ROSE) and Halcon Resources (NYSE:HK).
Chart of the Day:
As we discussed yesterday, we are not bullish the precious metals, but with the possibility existing that we could be in for some volatility as the politicians in Washington continue to negotiate a deal we wanted to point out possible ideas where opportunity might lie. If silver breaks down for some reason, and heads toward the yearly lows, we would be buyers of the physical stuff, and even the iShares Silver Trust (NYSEARCA:SLV) in order to gain quick and easy exposure to the trade. It would appear to us that one would want to initiate this trade as close to $20/ounce as possible.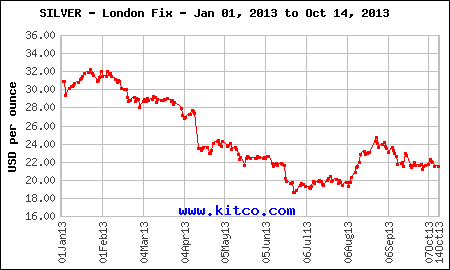 Source: Kitco
Commodity prices this morning are as follows:
Gold: $1269.20/ounce, down by $7.40/ounce
Silver: $21.175/ounce, down by $0.179/ounce
Oil: $102.03/barrel, down by $0.38/barrel
RBOB Gas: $2.6732/gallon, up by $0.0064/gallon
Natural Gas: $3.814/MMbtu, down by $0.006/MMbtu
Copper: $3.303/pound, UNCH by $0.00/pound
Platinum: $1378.60/ounce, down by $4.90/ounce
Rare Earths
Being one of the original rare earth bulls, we often get asked how we can remain so bearish on an industry we were once so bullish on. Simply put, when the facts change so too does our opinion. This is why we have refrained from wanting to put money into Molycorp and some of the smaller names in the sector such as Rare Element Resources recently. The news flow had been improving, and a big newsletter writer who covers small-cap Canadian issues lit a fire under the entire sector with a bullish note, but that did not change what we were seeing. The news from Molycorp (see press release here) that it will need to raise up to another $230 million via an equity offering is sobering for investors, but simply highlights the issues these resource companies face when trying to bring mines and separation plants online for production.
After today we would expect the uptrend that Molycorp shares have developed to be broken. Whether it can recover from that and pop back we do not know, but would be betting for it to happen any time soon.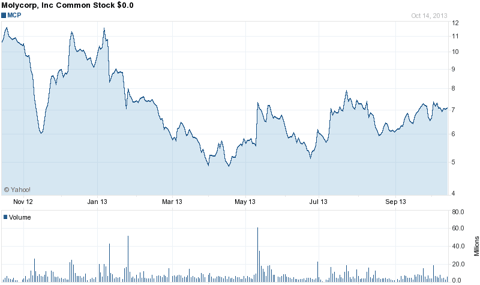 Source: Yahoo Finance
It seems the company is facing issues with lining up credit to purchase needed equipment and now that those efforts have turned out to be fruitless it is turning to the equity market once again. We have been correct about this one for some time now, so let us throw out another prediction this morning: this equity financing will not solve the company's issues as it still faces problems with the ramp up phase. Both Molycorp and Rare Element Resources are probably best to avoid right now.
Oil & Natural Gas
This morning Rosetta Resources is set to ring the opening bell at the Nasdaq market site which will give it a little media exposure, something the company does not get enough of in our opinion. Part of that is self-inflicted, such as this Investor's Business Daily article which the company did not return calls for - and it was a bullish article. The company has earnings coming up in a few weeks and we believe that there will be bullish comments pertaining to the Permian purchase and Rosetta's plans moving forward. The stock has been moving strongly higher and we are very interested in getting some well results to see if we can adjust our price projections higher or not, because the stock is nearing some of our near-term price targets. The Delaware Basin is where you want to be in the Permian Basin and we think the company has a tremendous asset there loaded with both vertical and horizontal drilling inventory. This might turn out to be a better wealth producer than its Eagle Ford assets moving forward, especially if liquids and dry natural gas prices remain at their current levels.
October has been kind to Halcon Resources' shareholders and looking forward it could last through the company's next quarterly report if the sector remains in favor with investors.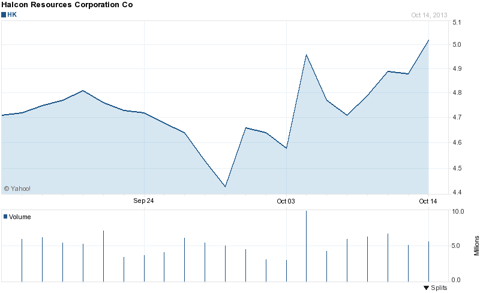 Source: Yahoo Finance
Halcon Resources has seen its shares remain strong and not retreat as we anticipated. There has not been any news out but with the shares so beaten up and underperforming recently it's fair to reason that shorts may be covering or the winnings from other trades in the sector are finding their way into Halcon. Either way up is up, and as shareholders we have to be pleased, although we would have preferred to have seen the shares retreat back into our buying area so we could make another purchase. The company will report November 5th, so we have a while for another pullback but we do think that with all of the events in the Utica that this name might very well rally into its conference call as investors search for names offering value heading into earnings season.
Disclosure: I am long HK. I wrote this article myself, and it expresses my own opinions. I am not receiving compensation for it (other than from Seeking Alpha). I have no business relationship with any company whose stock is mentioned in this article.