Shares of Freeport-McMoRan (NYSE:FCX) are up almost 19% since my April call to buy on valuation. A weak environment for commodities threatens cash flows into next year but should pick up as global growth supports prices and I believe there is real long-term potential. Through its diversification in copper and gold, the company is also positioned to provide investors with a hedge to the debt standoff in Washington on global growth or a weaker dollar.
A diversified player in a fear-dominated sector
Shares of mining companies have been slow to recover from the Great Recession and lasting weakness in metal prices. Gold peaked in 2011 before coming down, and many of the industrial metals only rebounded for a brief period before settling to their current trading range.
The outlook for slower growth in China, and a European economy that just posted its first positive growth in six quarters has driven prices for metals down sharply. Despite an unprecedented liquidity program by the world's largest central banks, inflation in most developed countries is well below target and holding back gold prices. The SPDR S&P Metals & Mining Fund (NYSEARCA:XME) has fallen 17% over the last year while the Market Vectors Gold Miners (NYSEARCA:GDX) has plummeted 55% over the period.
Against this backdrop, shares of Freeport-McMoRan have not done as poorly as you may have thought. The shares have underperformed the SPDR S&P Metals & Mining Fund with a drop of 17.7% over the last year but have easily beaten the fund over the last five years with a 15.5% annualized gain against just an annualized return of just 4.8% for the larger group.
There is a good reason to believe that the shares may outperform in the future as well. The company completed its $19 billion acquisition of Plains Exploration & Production and McMoRan Exploration in the second quarter to greatly diversify its revenue stream from mining with oil & gas assets. After the acquisition, copper should contribute approximately 60% to EBITDA followed by oil & gas (25%) and gold (7.5%).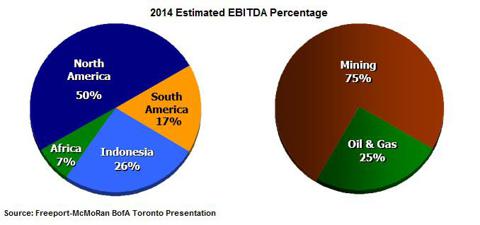 While price for copper and energy are closely tied to global economic growth, there are enough differences in supply and demand drivers that the new structure will provide some needed diversification. Though the percentage of revenue from gold is significantly smaller, I think it can still provide something of a hedge on the fear trade. When the United States lost its AAA rating in late 2011, gold prices spiked to over $1,900. Even a jump to $1,700 from current prices would contribute approximately $637 million to the company's earnings before interest, taxes, depreciation and amortization (EBITDA).
Even in a continuing weak environment for metals prices, the company is targeting 5+ billion pounds of annual copper production by 2015, an increase of 37% from 2012. Shown in the graphic below, the company is producing at costs well under the current spot price of $3.30 so any incremental production gains should add to earnings. Targets are to double oil and gas production over the next five years off of capacity in existing deepwater infrastructure and other assets.

Freeport took on a mountain of credit with the dual acquisitions this year but plans on reducing debt by $12 billion in three years through divestitures of non-performing assets. The company's forecasted $11 billion for 2014 EBITDA is 90% higher than the $5.8 billion recorded in 2012 and will help considerably in paying down debt and building the company's financial health.
CFO Kathleen Quirk told Bloomberg in September that the company was considering selling its oil infrastructure assets into a master limited partnership (MLP). The move could mean a significant upside for investors as the profits from the MLP assets would be shielded from taxes and would probably provide a higher cash return.
Near-term weakness persists with a strong upside into 2014
Free cash flow plummeted to just $280 million last year on a $1 billion increase to capital expenditures and weakness in operational cash flow. Capex has increased by another $500 million over the trailing four quarters and management estimates $5.5 billion in spending for 2013. Total mining capex of $4 billion is forecast to hold over the next two years while management expects to ramp up oil and gas spending from $1.5 billion in 2013, to $2.9 billion by 2015. This pace of increases in capital spending will be a negative to free cash flow and dividend growth could be sluggish but should translate to much higher revenue and cash in the future.
Prices for copper still look fairly weak with inventories extremely high. There are reasons to be positive on gold prices but inflation has yet to really increase so the upside may be limited. Energy prices are holding up extremely well against fairly weak global growth but only account for a quarter of the company's earnings.
So why am I positive on the shares and why do I own them in my own portfolio? Freeport-McMoRan pays a 3.7% dividend yield and has increased the cash payout at an annualized rate of 12.6% over the last 17 years. I believe the shares are worth much more than the current price and I am willing to wait a few years, collecting the strong cash return, until sentiment catches up to value.
The graphic below shows estimated EBITDA and cash flow sensitivities to commodity prices.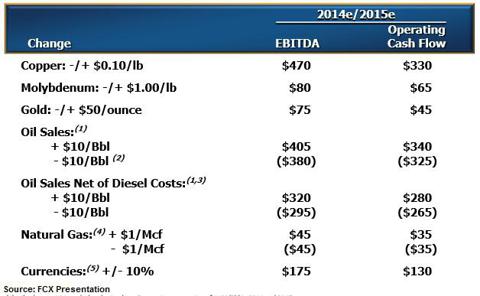 Copper prices have been as high as $4.40 and as low as $3.05 over the last two years. Though the trend has been downward with those lows hitting this year, I think there could be some significant support on the way from Europe. The current spot of $3.30 is just above the company's 2014 forecast of $3.25 per pound. My own forecast is for support from a European economic rebound being tempered by sluggish growth in the United States and prices of $3.15 for the year. This would detract approximately $470 million from management's 2014 EBITDA estimates.
Spot prices for gold have been in a free-fall since hitting an all-time high in 2011, but seem to have stabilized above $1,200 per ounce. China has bought more than 100 tons for four consecutive months as lower prices spark jewelry demand. The current spot price of $1,276 is 9% below the company's 2014 forecast of $1,400 but prices may rebound on continued demand by consumers and central bankers. My own estimate is for an average price of $1,350 for next year, removing approximately $75 million of EBITDA from the income statement.
The price of Brent crude has traded between $95 and $115 per barrel since the beginning of 2011 with the current spot at $110 per barrel. I am a little more optimistic on crude into next year and 2014 than the company's forecast of $100 per barrel. I think a weak dollar and stronger demand out of Europe and China could keep prices around $110 per barrel, adding another $405 million to EBITDA.
The shares currently trade for an enterprise value-to-EBITDA multiple of 8.85 times on trailing $6.39 billion EBITDA and an enterprise value of $56.5 billion. My estimate for 2014 EBITDA of $10.9 billion is just below management's $11 billion estimate and would lead to an enterprise value of $65.4 billion on multiple contraction to 6.0 times EBITDA. Backing out debt and adding cash to arrive at a market capitalization of around $46.4 billion leads to a 2014 target price of $44.62 per share for an annualized gain of 15% off of the current share price.
Adding to Long-term Growth and Dividends Portfolio
I am adding Freeport-McMoRan to my Long-term Growth and Dividends Portfolio on its upside potential and strong cash yield but it may also provide a good hedge against headline risk out of Washington. If Congress fails to enact a responsible fiscal policy, then the dollar will plummet and gold prices could reach new highs. The shares may take a hit on lower copper and energy prices but the bounce in gold would help stabilize prices relative to peers. Conversely, an end to the acrimony in Washington would help boost global economic growth with copper and energy prices benefiting.
The addition is the fifth for the portfolio, following Intel (NASDAQ:INTC) its competitive advantage and long-term upside to diversification into mobile devices. I plan to add a position each week for a total of 10 holdings and then update monthly. Returns are based on allocating $10,000 of the $100,000 model portfolio to each holding with cash invested in the market fund. While near-term losses are possible, I expect long-term demand for the separate business models to produce strong growth and a significant cash yield over the market index.

Freeport-McMoRan has been hit along with the rest of the miners but acquisitions this year materially improve the outlook for the stock. Diversification in copper, gold and energy assets makes it a good overall play on commodities with a great cash yield. Besides the long-term thesis, the stock may also help to hedge some headline risk of a debt standoff in Washington, with exposure to gold prices.
Disclosure: I am long FCX, INTC. I wrote this article myself, and it expresses my own opinions. I am not receiving compensation for it (other than from Seeking Alpha). I have no business relationship with any company whose stock is mentioned in this article.