On Monday, October 14, Atlas Pipeline Partners (NYSE:APL) announced its Q3 operational update. In the wake of Monday's announcement, I wanted to not only highlight the company's operational update but a number of the reasons why I remain bullish on shares of Atlas Pipeline Partners.
#1 - Atlas Pipeline Partners Q3 Operational Update
In a Q3 operational update, the partnership announced its Q3 distribution guidance of $0.62-$0.64/unit, and said processing volume had reached record volume of approximately 1.4B cf/day across all operating areas. The partnerships capital expenditures should finish 2013 at-or-near the $450M level, as organic expansion projects continue across all gathering and processing systems, including the partnerships expected expansions at Arkoma (120M cf/day), SouthTX (200M cf/day) and WestTX (200M cf/day). It should be noted that Atlas Pipeline Partners still expects the Silver Oak II plant in Texas to come online at the end of Q1 2014 and expects the plant to be fully utilized by the end of 2014.
#2 - Recent Performance & Trend Status
On Monday shares of APL, which currently possess a market cap of $2.96 billion, a beta of 1.39, a forward P/E ratio of 21.66, and a current dividend yield of 6.22% ($2.48), settled at a price of $39.87/share. Based on their closing price of $39.87/share, shares of APL are trading 3.45% above their 20-day simple moving average, 5.45% above their 50-day simple moving average, and 12.55% above their 200-day simple moving average. These numbers indicate a short-term, mid-term and a sustainable long-term uptrend for the stock, which generally translates into a moderate buying mode for most traders.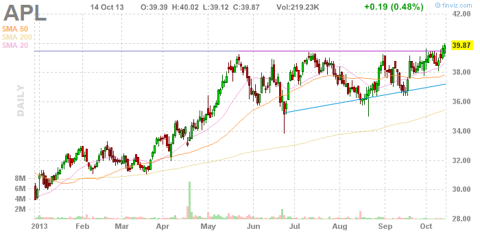 #3- 24-Month Dividend Behavior
Since August 3, 2011, the partnership has increased its distribution seven times in the last 24 months. The company's forward yield of 6.22% ($2.48) coupled with its ability to maintain its dividend on an annual basis, make this particular oil & gas play a highly considerable option, especially for those who may be in the market for a conservative stream of quarterly income.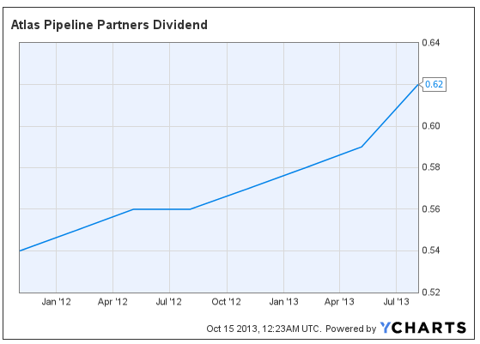 An Income-Related Risk to Consider
Are there any risks that are associated with a long-term income-driven investment in Atlas Pipeline Partners? Clearly there are risks associated with any investment, but when it comes to establishing a position in APL I'd look toward a risk that has the potential to affect the partnerships per unit distribution. As with any MLP, we must consider the fact that an unexpected drop in the partnerships DCF could cause the distribution to decrease rather than continuously increase as has been the case over the past 24 months.
Although fourth quarter distribution per limited partner unit is currently expected to be between $0.62-$0.65 for the quarter, any unexpected drop in the partnership's DCF could negatively affect these particular estimates, and as a result the partnerships distribution per limited partner unit could come in well below the low estimate of $0.62/unit.
Conclusion
For those of you who may be considering a position in Atlas Pipeline Partners, I'd keep a watchful eye on a number of catalysts over the next 12-24 months as each could play a role in the partnership's long-term growth. For example, near-term investors should focus on the partnership's recent trend-status and long-term investors should pay close attention to any changes in the partnership's DCF-related as well as the partnership's ability to perform within the operational guidance it has and will continue to set forth over the next 12-24 months.
Disclosure: I have no positions in any stocks mentioned, but may initiate a long position in APL over the next 72 hours. I wrote this article myself, and it expresses my own opinions. I am not receiving compensation for it (other than from Seeking Alpha). I have no business relationship with any company whose stock is mentioned in this article.