I've spent the better part of the last few months writing about the recovery in the U.S. auto market - a recovery that I see as being spearheaded by Ford (NYSE:F), whose stock is up almost 15-fold since its lows in '08. In addition, companies like General Motors (NYSE:GM) have been part and parcel with the recovery, as U.S. sales continue to rise and hope for a turnaround in Europe takes a front seat.
Ford is a company that I've really taken a shine to this year. Recently, I penned an article stating my case for being bullish on Ford - claiming that the trend of possibly having the number one sedan in the U.S. in 2014 could telegraph new highs for the stock.
I predicted, in my last article, that the Fusion was going to be the key component for the automaker to compete for top selling sedan in the U.S. for 2014.
Ford has performed extremely well for investors in 2013, and in the last twelve months alone. Ford has returned, in the last twelve months, 67.7%. In addition, Ford has just started to up their dividends again.
I had previously predicted that Ford's bullish run is still no way near from over, and that run would be catalyzed by continued impressive sales of vehicles both here in the U.S. and overseas, where the auto markets have seemed to have bottomed.
It was reported this morning that Hyundai's (OTCPK:HYMLF) CEO, John Krafcik, has gone on the record and said that the U.S. government shutdown could affect the U.S. automobile market negatively. He's made a headline that's been picked up by news organizations across the board this morning. It echoes sentiments from executives at both Ford and GM. Autonews.com reported:
The prolonged U.S. government shutdown is damaging consumer confidence and may trim October new-vehicle sales by as much as 10 percent, said John Krafcik, CEO of Hyundai Motor Co.'s U.S. sales unit.

The standoff in Washington that began Oct. 1, leaving some government agencies closed and federal workers furloughed, is generating "anxiety" for many people, Krafcik said in an interview with Sara Eisen, an anchor of Bloomberg Surveillance.

"It's that anxiety that keeps customers, potential buyers, on the sidelines when making a big purchase like an automobile," he said. "We'll probably see the industry off five to 10 percent this month, compared to where it was in September. I think a lot of it has to do with this shutdown discussion."
Here's a couple of reasons why I wouldn't lend any credence to the government shutdown seriously effecting U.S. auto sales:
1. An automobile is a necessity - there's not too many people who, when they need a new car, have the option of waiting "a month or two" to feel out when the boobs in government are going to resolve their petty differences. You can only delay auto sales for so long, as long as the economy continues to improve.
2. Regardless of whether or not October sales are affected, the sales that would have occurred in October will occur whenever the government reconvenes; November at the very latest. So, the sales that were likely to occur in October will be offset by the sales in November, making it a wash and leaving little to no effect on 2013 sales as a whole.
3. As Seeking Alpha put it, "the assessment is far below where most auto analysts have October sales pegged."
It's likely that Hyundai's CEO is trying to bring PR attention to their recently launched program that allows federal workers affected by the shutdown to postpone loan and lease payments to Hyundai. Ford and GM have not launched similar programs.
Furthermore, my concern with U.S. auto growth is really based around whether or not companies like Ford can reach new sales highs in 2014; it's 2014 that I'm really worried about. Try as you'd like, 2013 has already proven itself to be a bang-up year for U.S. automakers.
Dethroning the Toyota Camry as the U.S.'s #1 sedan could be a major headline for Ford - and it's looking like less and less of a long shot for 2014 than it's been for years past.
In addition, Ford's momentum overseas seems to be turning around, as it's been argued that the auto market has finally hit a bottom. Earlier this month, it was reported that U.K. commercial auto registrations continued on the rise, as did interest in Ford trucks overseas:
Commercial vehicle registrations rose 12.4% in September, with greater confidence and impending Euro 6 legislation producing a strong recovery in truck volumes," said Mike Hawes, SMMT Chief Executive. "Encouragingly, van registration levels have stabilised, up around 10% in the month and year-to-date, after a variable year that reacted to model changes and changeable market conditions. Year-to-date truck demand is back to 2012 levels after a slow start to the year and we expect the last quarter to be very strong for the sector.
Regardless, through July of this year, Fusion was on pace to beat its 2012 numbers significantly.
Rank
Car
July
2013
YTD
% Change
July
2013
% Change
#1
Toyota (NYSE:TM) Camry
242,406
- 0.6%
34,780
+ 16.3%
#2
Honda (NYSE:HMC) Accord
218,367
+ 18.8%
31,507
+ 10.0%
#3
Nissan (OTCPK:NSANF) Altima
197,321
+ 7.4%
29,534
+ 11.0%
#4
Honda Civic
191,120
+ 1.9%
32,416
+ 29.6%
#5
Toyota Corolla/Matrix
183,435
+ 4.6%
24,463
+ 3.5%
#6
Ford Fusion
181,668
+ 13.4%
20,522

- 12.0%
In addition, I've previously argued that Ford continues to be a great investment at this point due to the upswing that's likely to occur with its dividends.
Alongside the company's credit being upgraded recently, dividends are another financial metric that will run commensurate with how the company as a whole is doing.
Buying into Ford now catches the dividends on an upswing, as Ford has consistently raised or lowered their offering in conjunction with how the business is performing. Ford is likely to be paying well above $0.10 dividends a year or two from now.
Here's Ford's dividend history: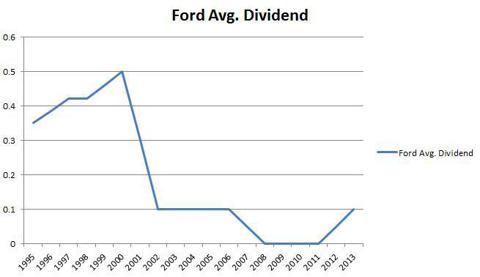 QTR remains bullish on Ford above all other U.S. automakers. I believe that an investment in Ford now will yield higher dividends and continued positive returns through 2014 - the only question is just how much higher can Ford go?
Best of luck to all investors, as always.
Disclosure: I have no positions in any stocks mentioned, and no plans to initiate any positions within the next 72 hours. I wrote this article myself, and it expresses my own opinions. I am not receiving compensation for it (other than from Seeking Alpha). I have no business relationship with any company whose stock is mentioned in this article.