This is the third in a series of three articles looking at undervalued utilities that pay high dividends. Part I is about National Grid (NYSE:NGG), Part II about Southern Company (NYSE:SO) and Part III is about PPL Corporation (NYSE:PPL).
I hold full positions in each of these utilities as part of my portfolio core of 22 stocks. The goals of my portfolio are preservation of capital, high current income and dividend growth that will offset inflation. These utilities make an important contribution toward my current income. Satellite holdings in REITs, MLPs and BDCs augment the core of the portfolio.
I have recently added to my positions in each due to their favorable valuation. You too might want to consider one, two or all three of these undervalued stocks. The purpose of this series of articles is to give you an overview of each of them to enable you to decide if you wish to further evaluate them as additions to your portfolio.
Comments on Changes Evolving in Utilities
1.) PPL Corporation provides an excellent example of the organizational trends in the electric utility industry in the past 100 years.
In 1920 eight utilities with 62 generating plants serving central and eastern Pennsylvania merged into a single corporate entity called Pennsylvania Power & Light Co. This consolidation was a model for much of what would happen to the nation's electric utility industry during the 1920s. From that time through the 1960s, the firm developed some of the largest coal generating plants in the world as the focus was on massive central generation.
In the 1970s the first energy saving programs for homeowners began, as conservation became a watchword. The Susquehanna nuclear station's two units begin commercial operation in 1983-1984. That ushers in a new era and the diverse fuel supply includes hydro, coal, oil and nuclear fission. In order to counter a drop in sales caused by an economic downturn, the marketing people begin a new approach, that of attracting new businesses into the region.
In the 1990s the electric industry enters a new era of consolidation and deregulation. As a result, Pennsylvania Power & Light restructures from a geographically organized traditional electric utility in a natural monopoly environment to a functionally organized electric power supplier in a competitive arena. Different firms could now supply generation, transmission and distribution. The 1990s begins the creation of utility environmental reports.
The acquisition of UK assets begins in the 2000s. James H. Miller became Chair and CEO in 2006. In that and the following years, coal plants were closed and a wind farm was added. Divestitures of non-core businesses add focus to the firm. By 2008, customers could participate in the creation of renewable energy. Through 2011 the company added distribution in the Midlands of England. Today this firm operates many and diverse businesses in multiple US regulatory jurisdictions, as well as the unregulated generation of power. It also operates in the UK. William Spence has been chairman and CEO since April 2012. Integration of the assets added in 2011 and 2011 is the biggest challenge that PPL faces.
Variations of this history occurred throughout the utility industry in this period.
2.) Now there is another change going on, this one more disruptive than the historic ones. I believe we can get a glimpse of the future by looking at Europe. The model of the large central generating station, the source of much of the industry's profit, is becoming obsolete as energy sources are distributed throughout the network. The grid is becoming a two-way street, perhaps a multidimensional network. One sees windmills scattered here and there, on the edges of French pastures or the tops of English buildings. In some areas, solar grids cover rooftops. Individual residents are not just consumers of electricity but generators of energy, selling their surplus back to the grid.
In concert with this is the increasingly smart grid, which begins at the consumer's smart electric meter. This smartness also has the effect of reducing peak demand and required generating capacity. Again, the profitable central generating system is challenged.
Since 2000, renewable energy sources have accounted for the large majority of new capacity additions in Europe. The share of non-hydro renewables has grown more than five-fold in Europe from 2 percent in 2000 to 11 percent as of 2011, on track to reach an EU-wide target of 20 percent of electricity from renewable sources by 2020. Many nations have already reached higher renewable shares, including 31 percent of electricity in Denmark, 22 percent in Germany, and 21 percent in Spain and Portugal combined.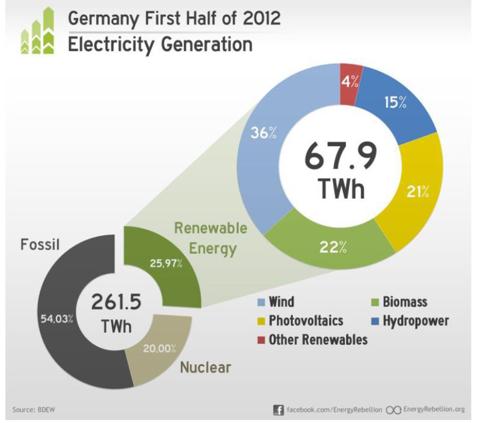 Surely, the US will follow this European trend. So far in this country there has been more talk than action. Much solar and wind generation is centralized by electric companies. Florida has over 300 days of sunshine a year and yet it is unusual to see solar units on a roof. I have never seen a power-generating windmill here. I am certain these things will change as coal continues to be unpopular, and there is little support for nuclear power. I believe we will soon enter the era of the producer-consumer, a time of more electrical efficiency and an evolving role for utilities.
The future of the electric power industry will be on "capturing the growing pool of value associated with renewable and distributed energy generation and other emerging technologies, capitalizing on their existing relationship with customers, and finding novel ways to serve customer needs through new business models and services," says Eurelectric.
"As change in the (electricity) sector accelerates, it will also increase the importance of innovation," the Eurelectric writes. "In order to capture the opportunities related to the growing value pools, the power sector will need to create new products, processes and business models. Innovation will be a precondition for the sector to grow."
Adding to the complexity of the utility business in the US is the fact that so many companies now operate in multiple US states. They must deal with many sets of regulations and regulators. Our traditional political divisions and regulatory structures are impairments to efficiency in the 21st century. The Eurozone gives us a working model to emulate. Like National Grid, which we discussed earlier, PPL Corporation does business in the US and UK. Southern Corporation is a leader in renewable energy and a capable influencer of public policy. We see these three firms as being ahead of the curve, as companies that will be rewarded for their innovation.
PPL Corporation

PPL Corporation is a large US based electric utility with significant electrical distribution business in the UK. In the US it provides the generation of electricity, the transmission of electricity and the distribution of electricity and gas to end users. In the UK it is primarily involved in the distribution of electricity in South Wales, Southwest and the Midlands.
Overall, it generates about 19,000 megawatts of electricity and distributes it to 10,200,000 customers. It is one of the larger US Utilities with 18,000 employees and a market cap of $19 Billion.
The company has transformed itself from being primarily in the unregulated (competitive) power generation business, to being a hybrid company with significant regulated business. Morningstar notes that,
While this diversification offers a more stable earnings profile, investors have less upside when power prices eventually rebound. However, PPL is still able to earn higher returns than its fully regulated peers. With widely diversified service territories, we believe PPL is a good candidate at the right price for a core holding in an income investor's portfolio.
The below table gives an overview of PPL's businesses.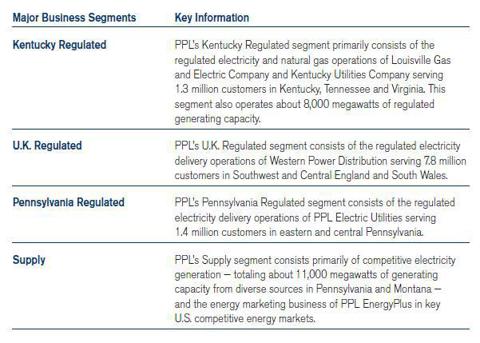 Performance
One way to illustrate the transformation that the company has made is to look at the top line figures for the last 10 years. The system continues to evolve. Hedging limits the downside risk of the conservatively managed supply (generation) portion of the business. The regulated side of the business will continue to produce modest but steady profits.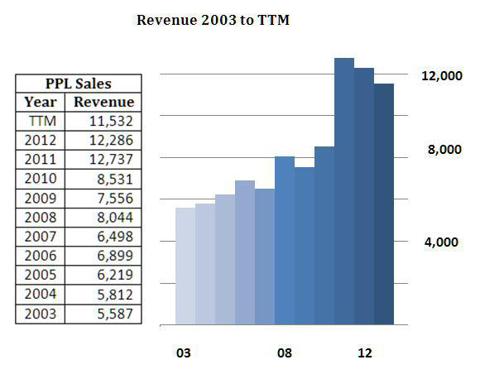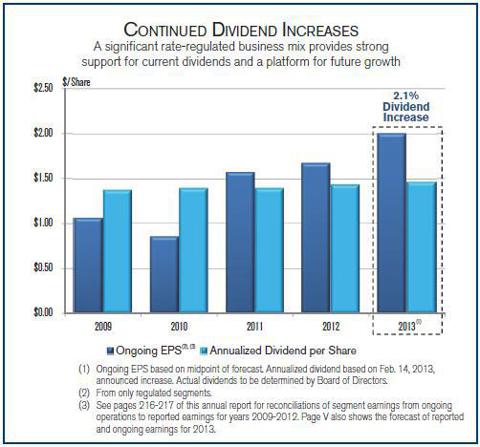 The 5-year DGR is 3.37%. The management has this to say about future dividends,
"Our recent transformational acquisitions in Kentucky and the United Kingdom have moved PPL toward an emphasis on stable rate-regulated earnings. This shift enhances PPL's earnings forecasts, dividends and credit ratings. The combination of growth prospects in our rate-regulated businesses and the diversity of our competitive generation fleet afford our Board of Directors and our management a diversified foundation for potentially growing the dividend in the future." PPL Corporation, 2012 Annual Report.
Due to low energy prices, the Supply (generation) part of the business has not produced much profit recently. The regulated side of the firm has provided income and stability; it will provide 85% of the profit in 2013. However, the three-year chart, below, shows PPL (blue line) lagging the Dow Jones Utility Index (green line) for the past 3 years. Certainly part of the problem is the slow recovery in the firm's regulated US service area.
There is a large capital budget planned in Kentucky, which will justify rate increases through 2017. Approximately two-thirds of the expenditures will earn returns not subject to a regulatory rate lag. That is, the investment will create income from the start.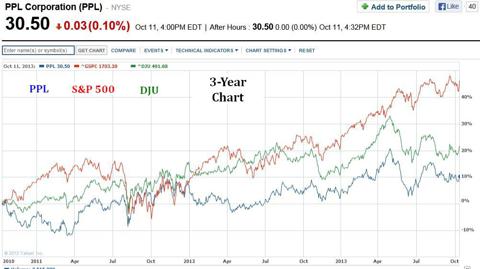 Valuation
We stated earlier in this series that there is usually a reason for undervaluation. Here is that reason.
Because this business is still in the process of transformation, it is more difficult to establish a value based on data like a historic P/E. The company has been in a state of change for several years and it is doubtful that the change is yet complete. Therefore, we must warn the investor that there is more uncertainty than usual in the valuation.
Better guidance concerning future performance could only be ascertained by doing pro-forma income statements for each of the operating units and rolling them up for each of the next few years. That is beyond the scope of this article and the information to do that is not readily available.
We will look first at Morningstar's Fair Value. It suggests a fair value of 35.00, with a medium degree of uncertainty. Since the stock is selling at 30.50, that would mean you can buy it at a nearly 15% discount to fair value, which gives you a nice margin of safety.
F.A.S.T Graphs is a tool I use for valuation with nearly every stock I look at. However, it is difficult to ascertain the best period to use to establish a historic P/E. I think that 5 years gives a likely valuation, and is a logical period concerning the firm's changing operations. In this case, it appears that the firm is above its average P/E but below the orange fair value line. Alternately, on a 7-year chart, the blue line is just below the orange line and the black line is below that. That supports the $35.00 Morningstar opinion. Having done my own DCF calculations and looked at additional F.A.S.T. Graphs charts, the best I can do is say I think the stock is worth about 32.00, plus or minus 10%. That is, I believe it is in its fair value range, if you will, of about 29 to about 35. As such, it is fairly valued or slightly undervalued.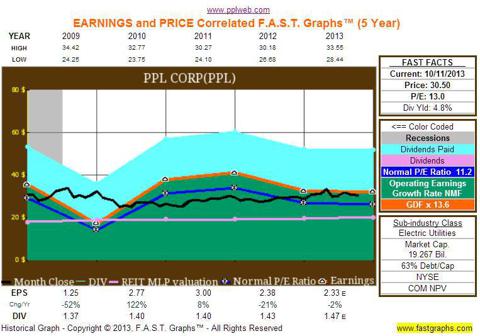 I will add that I would feel a little better about the firm if it had a little more cash and a little less debt.

Risks
PPL has the usual risk as any utility does in a time when interest rates may rise and diminish the value of the shares. Regulatory risk is always present, especially since it must ask for several increases in the next few years due to its capital expansion.

Conclusion
PPL is a fairly valued utility that pays a 4.83% dividend. This is near the highest return of US utilities. Paying dividends, increased on an annual basis, is part of PPL Corporation's culture. Moreover, though they are making many changes in the company operations, it is managed by the same people who paid increasing dividends for the last 265 quarters. It may have a weak 2014, but the situation should be better after that. I expect that it will at least make a token dividend increase next year. Though there are no certainties in this world, it appears PPL has a good future ahead of it.
I bought PPL on four separate occasions over a period of time at 28.33, 29.02, 29.34 and 30.33 and now hold a full position. I would be a buyer today at a price of 32.00 or lower.
Take care in doing your own due diligence and in discerning if this stock will further your portfolio goals. I wish you good luck.
Disclosure: I am long PPL, SO, NGG. I wrote this article myself, and it expresses my own opinions. I am not receiving compensation for it (other than from Seeking Alpha). I have no business relationship with any company whose stock is mentioned in this article.