Diversification has become the need of the hour for many businesses in the dynamic world of today. It tends to strengthen the company to be prepared against all odds. Any specific business risk can cause only limited harm to a diversified company as it has only a part of its funds invested in one particular business. The Southern Company (SO) is one such company that has adopted this rule.
Company profile
Southern company operates as a public electric utility company. The company is involved in the generation, transmission, and distribution of electricity through coal, nuclear, oil and gas, and hydro resources in the states of Alabama, Georgia, Florida, and Mississippi. It constructs, acquires, owns, and manages generation assets.
Historic financial performance
Revenue growth

Source: Southern SEC Filings and Morningstar
Over the last five years, the company's top line growth has been quite volatile; rising to the peak in one year and then, falling again. Changes in revenues are majorly influenced by the change in the volume of energy sold every year. Retail energy sales depend on electricity usage, changes in weather, and the customer frequency. Retail energy sales plunged by 7.7 billion KWHs in 2009 due to the lower consumption by industrial customers due to the slowdown in the U.S. economy. Demand was lower for the primary metal, chemical, and textile sectors, along with the stone, clay, and glass sector, which contributed most significantly to the decrease in industrial KWH sales. Unfavorable weather also adversely affected the KWH sales across all customer classes.
The company regained its growth momentum in 2010 and posted a double-digit top line growth of 11.1%. This growth was led by the retail energy sales, which increased by 11.6 billion KWHs in 2010 due to the cold weather in the first and fourth quarters of 2010 and warm weather in the second and third quarters 2010, increased industrial KWH sales, and customer growth of 0.3%. Higher demand for metals, chemicals, and transportation sectors also positively contributed to the increase in industrial KWH sales.
However, growth once again dropped in 2011 and ended up being negative in 2012 due to milder weather, lower contributions from market driven rates from commercial and industrial customers at Georgia Power and decreased revenues under rate certificated new plant environmental (Rate CNP Environmental) at Alabama Power.
Margins
Despite the volatility in the company's revenue over the years, the operating margin was overall increasing and remained within a decent range of 20-30%. There was only a slight decrease of 0.4% in 2010. As a percentage of sales, fuel expenses and other operational expenses had gone up to 38.56% and 22.49% in 2010 from 38.05% and 21.74% in 2009, respectively. This increase of $298 million in fuel expenses was led by an increase of 3.6% in the cost per KWH generated and an increase of 9.6% in the cost per KWH purchased. Other production expenses also increased in 2010 mainly due to a $178 million increase in outage and maintenance costs and an $86 million increase in commodity and labor costs.
Overall, the company was able to increase its operating margin by improving its operational efficiency. The company has drastically cut its fuel cost. As a percentage of sales, the company's fuel cost declined to 30.69% in 2012 from 40.1% in 2008 on the back of a decrease in the average cost of natural gas per KWH generated and a higher percentage of generation from lower cost natural gas fired resources. Since Southern produces electricity from various sources, it can shift to any resource whose prices decrease.
Major risks: Seasonality
The demand for electric power generation is highly correlated with the seasonal differences in the weather. The demand for power peaks during summer, with market prices reflecting the demand of power and available generating resources at that time. Power demand peaks can also be recorded during the winter. Thus, the overall operating results of Southern Company in the future may fluctuate substantially on a seasonal basis.
Valuation
In order to compute the intrinsic value of this stock and the upside potential, I have employed the multiples based valuation approach as it accounts for a number of important metrics. The following table shows the detailed calculation of the company's stock price. I have assigned the weights based on my judgment.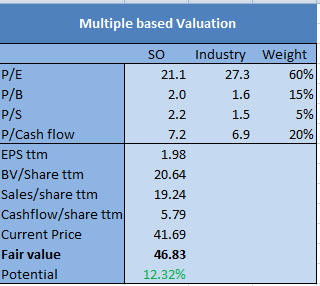 Source: Morningstar
The company's earnings and cash flow carry the most significance in the running of a company and value creation for shareholders. Thus, I have assigned more weight to these two metrics and least weight to price-to-sales as sales is a crude figure and does not directly increase shareholders' wealth. The multiples based valuation provides a target price of $46.83 with an upside potential of 12.32%.
Attractive dividend yield
Since this is a value stock, it is offering a high dividend yield of 4.79%. This means that the company is offering a stable and steadily increasing stream of income to its investors. Hence, I would recommend this stock for retirement portfolios.
Disclosure: I have no positions in any stocks mentioned, and no plans to initiate any positions within the next 72 hours. I wrote this article myself, and it expresses my own opinions. I am not receiving compensation for it (other than from Seeking Alpha). I have no business relationship with any company whose stock is mentioned in this article.