The recent tick higher in interest rates has some worrying over ongoing recovery in home building and construction spending. But, with rates still near historical lows and inventory still tight, opportunity remains for building suppliers like Simpson Manufacturing (NYSE:SSD), a maker of metal connectors for stick built construction and specialty concrete products.
Simpson has been scoring higher in the research conducted by my firm, E.B. Capital Markets, LLC, suggesting it's a good time to look at the catalysts likely to move the stock over the coming year.
Source: E.B. Capital Markets, LLC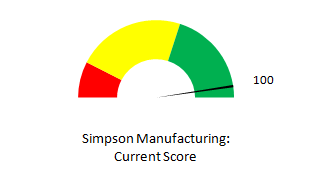 After reviewing the company's SEC filings, earnings reports, transcripts and marketing material, Simpson is positioned to benefit from increasingly stringent building codes and ongoing recovery in building activity -- particularly in regions prone to windstorms, hurricanes and earthquakes.
The main drivers supporting shares over the coming year include;
1. Rising home building activity reflected by permit growth;
2. Improving office construction spending;
3. Operational margin growth from cost cutting; and
4. International sales opportunity.
Stronger, safer homes and buildings
Every home and building constructed uses a variety of materials connected together by fasteners like those sold by Simpson. The company operates two business units. One produces connectors for wood products, the other produces concrete solutions.
The company's Strong-Tie product line includes various fastening systems, fasteners, shear walls, and truss plates. Concrete products include various adhesives, chemicals, anchors and reinforcing materials. Products across both business units are designed for construction in regions with strict building codes, often in areas facing natural disaster risks.
The company's business is built from the ground up. Initially, demand begins with concrete related product lines, used to create foundations and pillars, and then transitions into wood oriented fasteners, which are used to connect walls, roofs, floors and siding.
As a result, the company's product line is distributed through major retailers like Home Depot (NYSE:HD), independent lumberyards and other channels directed at architects, developers and local contractors.
The various products manufactured and sold through these channels are built on high volume production lines, allowing Simpson to expand into markets like Australia, New Zealand and Europe.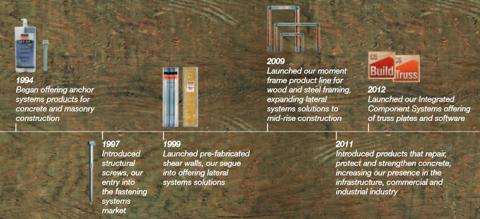 Industry tides support construction demand
Simpson generates 85% of its sales from its wood products, and 50-60% of those sales are tied to new residential housing starts. Importantly, sales are influenced by building activity in coastal and midwest regions where storm damage results in rebuilding to generationally stricter building codes.
As a result, national and regional home building activity offers a backdrop for improving sales.
In the most recently reported month of August, U.S. homebuilders sold an annualized 421,000 new homes, a rate 12.5% higher than a year ago.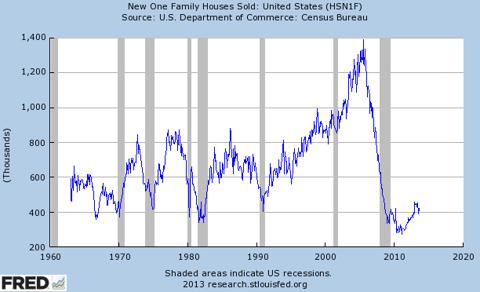 Building permits provide a less volatile look at future construction material demand, including Simpson fasteners. Permits also suggest the company's sales will continue higher.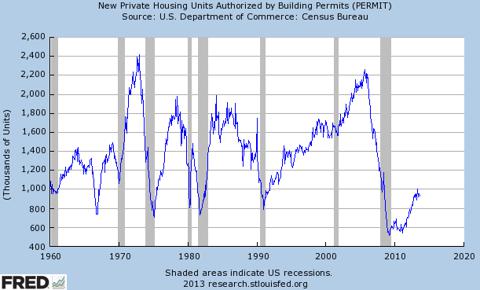 Further supporting demand for Simpson's products, construction in hurricane prone Florida is picking up with 4,637 permits issued for single family homes in August. That's 30.7% more permits issued in August than last year. Yet, it remains well below peak and long term permit activity dating back to the late 1980's, suggesting plenty of room for growth.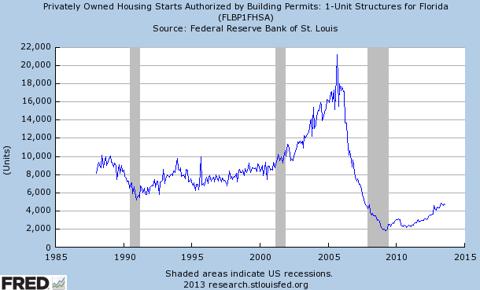 California, another important market for structurally stringent construction materials, is similarly bouncing back. August permits issued totaled 3,386, up 38.5% from last year. Again, while climbing from lows activity remains well below historical norms.
The growth in these markets was highlighted in Simpson's Q2 conference call, "Certainly seeing some improved areas in the Southeast. Some areas improving ...California, both Northern and Southern California markets," said CEO Karen Colonias.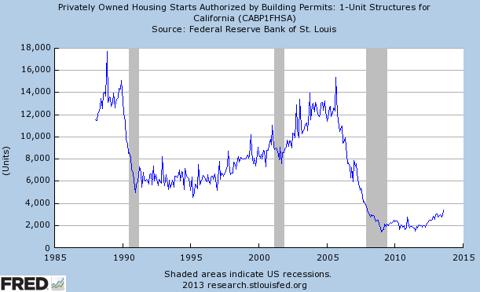 And, while Simpson generates the bulk of its sales in North America, there are signs of improvement in Europe and Asia too. Those markets have significant exposure to buildings constructed prior to the advent of stricter codes.
Euro area construction production edged up 0.3% month over month in July, led by a 1.1% lift in euro area building construction. That marked a fourth consecutive month of month over month growth. As a result, Simpson hopes to see its European operations turn profitable as early as next year.
"I would say Europe would break even or better," according to CFO Brian Magstadt.
Meanwhile, Asia sales -- while growing more quickly -- will need to grow further before translating into profits.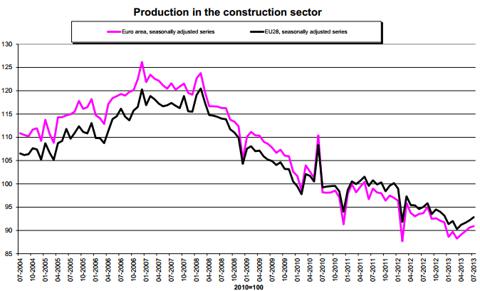 Translating growth into sales and profit
Simpson has a lot of spare capacity it built to meet market demand during the 2000 heydays. Currently, the company estimates it's only running at 60-70% utilization. That suggests ongoing demand should continue to support not only sales, but margins thanks to leverage.
Simpson lost Lowe's as a customer in 2012, which amounted to a $20 million annualized headwind, yet sales still increased by 10.5% in North America from last year. The company saw growth in all United States regions and sales to homebuilders, ex-Lowe's headwind, were up 6% from a year ago. Importantly, sales to Home Depot -- Simpson's biggest customer accounting for more than 10% of sales -- improved by 10% year-over-year.
Offsetting North American strength, European sales fell 5.9% from a year ago. But, half that drop-off was tied to exiting the company's heavy-duty mechanical anchor business there. Sales in Asia were up 28% to $3.5 million, but still account for just 2% of total sales.
Worldwide, net sales increased 2.8% to $350.1 million in the first half of 2013 from $340.4 million in the first half of 2012. Global concrete sales improved 8% in the first six months, outpacing a 2% lift in wood products. This suggests wood products growth should pick up given concrete leads wood related sales.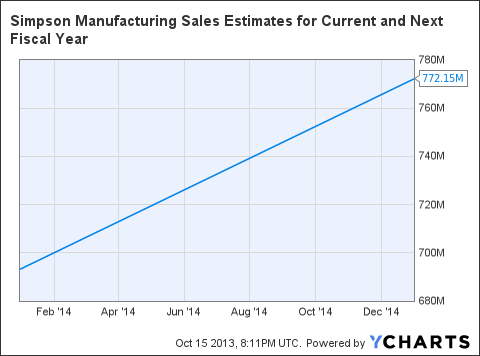 SSD Sales Estimates for Current and Next Fiscal Year data by YCharts
Across all geographies, gross profit improved to $89.4 million from $83.1 million as gross margin fell 10 basis points to 45.7%. North American gross margin fell to 47.6% from 48.2% as the company cut prices in exchange for volume growth. Sales of the company's concrete products in the U.S., which carry lower margins, were up 12% in the quarter from last year, which also weighed down profit margins.
Gross margins in Europe moved up to 39.2% from 37.3%, thanks to exiting the lower margin heavy anchor business, and lower concrete sales as a percentage of total revenue.
Net income rose slightly to $23.3 million from $23.1 million in the first six months; translating in earnings per share of $0.48, in line with a year ago.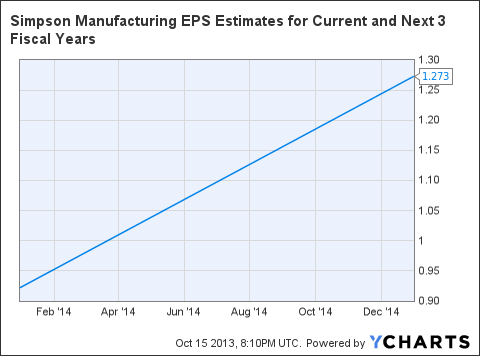 SSD EPS Estimates for Current and Next 3 Fiscal Years data by YCharts
Driving profits into the future
To drive future growth, Simpson has done over 1,500 store resets including new signage and point-of-purchase materials. The company is also in the process of integrating acquisitions made in 2010 and 2011. Those acquisitions strengthened its infrastructure, commercial and industrial offering. As a result, improving construction spending for non-residential projects should help those acquired businesses make more of a profit impact in the coming couple years. In the most recently reported month of July, non-residential construction spending continued its post-recessionary uptrend, reaching a seasonally adjusted annual rate of $296.8 billion.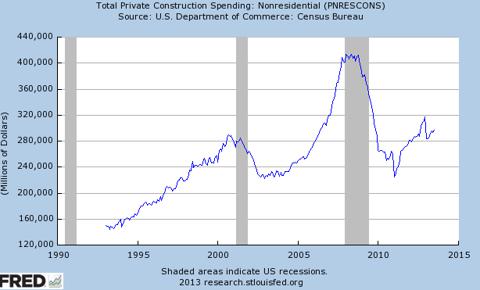 The company also moved into the truss plate and software engineering business through Integrated Component Systems. Simpson has high hopes for the truss plate business, a market they've barely participated in previously. Simpson thinks it can leverage its existing distribution and client base to win a share of this $300 million a year market over the coming two years. Simpson also continues to invest in developing new products. It spent $11.5 million on R&D last year and launched a series of products including Strong Frame, built with a structural fuse designed to fail under stress for easier repair, a new wood screw ideal for minimizing floor damage tied to settling, and a new truss connector designed to resist uplift from high wind.
Those products, combined with ongoing growth in North America, recovery in Europe and expansion in Asia should help drive business in 2014.
Tailwinds offset risk for upside
The company is leaner than it was in the mid 2000's, giving it a more margin friendly position as demand returns. As long as the company can contain input costs, shareholders should benefit from improving cash flow.
SSD Free Cash Flow TTM data by YCharts
If operating cash does improve, that would support additional buyback activity like the company's 342,000 share buy in June. That spent just $9.8 million of the $50 million existing authorization, offering plenty of room for future purchases.
Despite the company sitting on $3.4 per share in cash and little debt, short sellers remain pessimistic. If the company can continue to grow alongside recovering construction markets, they may find their pressured to cover the 9 days of volume, or 4.6% of the share float, they hold short.
As for timing, shares are typically solid performers into year end. According to the Seasonal Investor database, Simpson has gained ground in 8 of the past 10 Q4's, generating a median 13.28% return.

All in all, the improving construction activity, particularly in storm prone regions, and plenty of running room back toward peak activity may offer a compelling opportunity to get long
.
Disclosure: I have no positions in any stocks mentioned, but may initiate a long position in SSD over the next 72 hours. I wrote this article myself, and it expresses my own opinions. I am not receiving compensation for it (other than from Seeking Alpha). I have no business relationship with any company whose stock is mentioned in this article.