The telecom network industry in the U.S. is highly dividend-sensitive. As evidenced, after a fall in dividend price from $0.72 to $0.54, the share price of CenturyLink (CTL) fell over 22% on February 14, 2013. Investors started fearing a similar cut in dividends of peer companies like Windstream (WIN) and Frontier Communications (FTR) due to which the companies' shares fell 7.34% and 5.78% respectively. Since then, CenturyLink has distributed dividends at $0.54 per share in all the quarters to date.
CenturyLink considering Savvis as its new growth story
Despite not much growth in business, CenturyLink has been able to generate enough cash flow in the past quarters. The reason for this is its business mix, which includes Savvis, which it acquired in 2011. Presently, the company is marketing its cloud services, along with its network capabilities, in order to attract small-to-medium enterprises. Approximately one-third of Savvis's new bookings are generated from CenturyLink's existing customers, which is the reason we see the company focusing more on this cross-selling opportunity. CenturyLink has over 50 datacenters in its hosting-managed cloud services business, spread around North America, Asia, and Europe.
In the first week of this month, CenturyLink increased its product portfolio, including suites like Big data, business applications, content management, and e-commerce. With the growing cloud computing market in the technology industry, telecommunication companies like CenturyLink find this as a huge monetization opportunity for the future. This is in line with opening its new datacenter in Minneapolis-St. Paul by spring of 2014.
Savvis contributed 7.68% of CenturyLink's total revenue in the second quarter of this year, growing from 6.51% contribution in the fourth quarter of 2011. Based on the company's expansion plans, and present growth in this segment, we can expect double-digit revenue contribution from Savvis in the coming four to five years.
Cash Distribution - Compulsory for this industry
CenturyLink has a different viewpoint regarding the reduced dividend rates. The reason being, the company wants to concentrate on reducing its leverage. CenturyLink aims at reducing its debt from present roughly five times the EBITDA to three times in the coming two years through the allotted capital expenditure.
Going forward, we expect CenturyLink to pay $0.54 as dividend in the last quarter of 2013. With the growth in free cash flows, and completion of the debt reduction target, we expect it will increase the dividends, at least by the end of next year.
Meanwhile, CenturyLink is also concentrating on share buybacks. The company announced a share buyback scheme worth $2 billion early this year. It completed $1 billion in share buybacks as on August 7, 2013. Based on the pace at which it is buying back shares, we can expect CenturyLink to complete this program by the first quarter of 2014, followed by the launch of a new repurchase program.
Peer-side dividend scenario
CenturyLink's peer companies like Windstream and Frontier Communication are both known for their high dividend yields. The companies have a dividend yield of 12.50% and 9.30% respectively, while CenturyLink stays well below at 6.90%.
Windstream has been consistently giving dividends at $0.25 per share since the last quarter of 2006. Given its growing business, there have been expectations regarding a rise in dividend, as the revenue of the company has doubled in the past five years. Still, due to the declining trend in the stock price since December 2010, investors hesitate before securing a position in this stock. However, one already holding this stock shouldn't worry, as based on the present state of business, and the dividend yield, recovery in stock price can be expected in the near term.
Similarly, since 2004, Frontier Communications provided $0.25 per share as dividend. However, the acquisition of landlines from Verizon created integration problems, along with unorganized debt management. Due to this, the interest expense became a burden, impacting the net income. Henceforth, the dividends declined from the $0.25 mark in second quarter of 2010, to $0.10 since 2012. Based on the present scenario, we expect the dividend price to remain the same in the coming quarters also.
We are bullish on Frontier Communications. Please read our previous research: How You Should Play Frontier Communications
Valuation standpoint
We will be considering the price-to-book ratio for valuation. The domestic telecommunication service industry's average price-to-book ratio is 1.9 times. On the other side, the price-to-book ratio of CenturyLink, Windstream, and Frontier are 1 times, 5.14 times, 1.07 times respectively. This shows that CenturyLink and Frontier are presently undervalued, while Windstream, with such a high price-to-book value, is overvalued. As further indication, companies with high price-to-book value, tend to post high return on assets. For example, Windstream has a higher return on assets of 4.22%, compared to CenturyLink and Frontier's 3.44%, and 3.93% respectively.
To provide more substance to this stance, we will be considering price-to-sales ratio of these companies, along with their industry average. The domestic telecommunication service industry's average price-to-sales ratio stands at 1.1 times. While the price-to-sales ratio of CenturyLink, Windstream, and Frontier are at 1.1 times, 0.80 times, 0.86 times respectively. Based on this valuation metric, CenturyLink is presently fairly valued, while Windstream and Frontier both are undervalued stocks.
CenturyLink's revenue has been stagnant around $4.5 billion for the last five quarters. That's why the stock is fairly valued, post the decline in its stock price experienced this year. Windstream's stock price has yet to experience a rise, based on its growing business.
Still good days are not near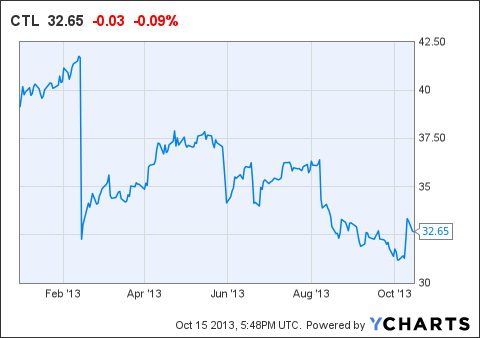 From the valuation viewpoint, CenturyLink is a mixed bag; it isn't overvalued, but we aren't anxious to have a position, due to its stock price performance. On the year-to-date basis, CenturyLink has displayed a decline of over 19% in its stock price, as on October 9, 2013.
CenturyLink still is a well-run business, which is in the midst of driving stronger revenue streams through its growing segments and stabilizing its EBITDA. The timing of this stabilization is still unclear to us, but the company's strategies provide base to its ongoing stagnant growth. Based on the buyback support and continued acquisitions, CenturyLink is likely to attract investors as its revenue and EBITDA begin moving in the direction of improvement in the coming future.
Disclosure: I have no positions in any stocks mentioned, and no plans to initiate any positions within the next 72 hours. I wrote this article myself, and it expresses my own opinions. I am not receiving compensation for it (other than from Seeking Alpha). I have no business relationship with any company whose stock is mentioned in this article.
Additional disclosure: Fusion Research is a team of equity analysts. This article was written by Rohit Gupta, one of our research analysts. We did not receive compensation for this article (other than from Seeking Alpha), and we have no business relationship with any company whose stock is mentioned in this article.