In online gaming Zynga (ZNGA) has been the talk of the town among investors. Some investors consider Zynga a good investment option, as its expansion into real money games in the U.K. and the change in top management are positive catalysts. Others think of Zynga as a loss-making gaming company that is losing its luster in the social gaming business. The company's second quarter results were dismal, and the next earnings report is due on Oct 24, 2013. Wall Street analysts expect Zynga's EPS to lie in the range of $0.02-$0.05 from $0.01 per share in the first quarter, and it to have revenue of $175 million - $200 million.
King takes the throne
What happened in the past should stay in the past; investors should keep this phrase in mind before investing in any company, especially Zynga. There is no doubt that Zynga found success with its three of the top five Facebook (FB) games in terms of Monthly Active Users, or MAU, but its popularity is quickly diminishing. King.com, its biggest rival in the online gaming industry, has dethroned Zynga and taken the lead as the most used app on Facebook in terms of MAU. Zynga's management must decide what the company should do in order to stop the user decline and regain its position from King.com. British game developer, King, has nearly 50 million Daily Active Users, or DAU, on its game Candy Crush Saga alone, which contributes more than 3% of all domestic mobile time spent, up from 0% in December 2012 in the U.S.
Investors and users are still unclear about Zynga's strategy on next game releases, which gives a limited opportunity to build Zynga's forward performance. The success of King.com indicates that there is a huge growth opportunity in the online gaming market. Even if the competition in online gaming is intense, mobile monetization is certainly possible. Though there is no concept of brand loyalty in social games, King.com has been able to grab user's attention due to the addictive nature of its game. If Zynga is able to come out with such an addictive and blockbuster game, just like its Ville series, it could expect to regain its past glory.
The importance of the mobile segment
After amending its partnership with Facebook in 2012, Zynga is looking towards mobile as its next distribution platform for games. In our last report, we discussed how Zynga's dependence on Facebook is declining, as total bookings represented only 68% in the second quarter, from 76% in the first quarter. Total bookings are the total revenue from ads and amount of virtual goods, like chips sold in the game. The mobile gaming platform offers a growth opportunity as its popularity increases, thus increasing mobile advertising. Zynga's performance has been negative relative to an expanding market opportunity.
Mobile bookings declined to $51 billion in the second quarter of 2013, and representing 27% of the total bookings, from $57 million in the second quarter of 2012. Mobile bookings were up 1% quarter over quarter, but down 12% year over year since its new mobile game launches didn't generate enough bookings to offset previous games. We believe that as the mobile gaming business is becoming extremely competitive as big players are migrating due to low entry barriers. Other major console players, like Electronic Arts (EA), have joined the bandwagon and are offering a diversified range of games on mobile. This will further create hurdles for Zynga to develop an outstanding game to attract users. Even if Zynga develops an appealing mobile game, user acquisition from other players is going to be a headwind for it, as other games have gained huge popularity on mobile platforms.
No more online gambling
Zynga was optimistic about a potential opportunity to enter real money gambling in the U.S. It started offering real money gaming in the U.K. in partnership with bwin.party earlier this year. Zynga applied for licensing in the U.S. in the two states, Nevada and New Jersey, who have already legalized on-line gambling.
However, in its second quarter results, Zynga announced that it will no longer pursue real money gambling in the U.S., and had recently withdrawn its application for license in Nevada. The company said that it wanted to focus on social-gaming and social-casino offerings. However, Zynga is still testing real money gambling in U.K. in partnership with bwin.party. Zynga has presence in online gambling with Zynga Plus Casino and Zynga Plus Poker gambling products, and the company could have capitalized on their strength to make its mark in the U.S. online gambling market. In our last report, we discussed the U.K online gambling market opportunity and how could Zynga take advantage in this growing industry. This gave a positive signal that real money gambling in the U.S. isn't completely off the table, and company could pursue this opportunity in the coming years.
On the other hand, Borgata Hotel Casino, owned by Marina District Development, received its first online gaming license in New Jersey on October 9, 2013. Marina District Development is a joint venture between Boyd Gaming (BYD) and MGM Resorts International (MGM). New Jersey is the third state after Nevada and Delaware to legalize online gambling in the U.S. New Jersey online gambling is expected to start from late November this year and generate $500 million-$1 billion yearly. New Jersey is considered the most lucrative market among the three states, as it will allow all forms of gambling, unlike Nevada, which only allows poker games.
Atlantic City in New Jersey has seen casino revenue plunge from $5.2 billion in 2006 to $3 billion in 2012, as people are gambling in casinos near their homes rather than traveling to Atlantic City. Thus, online gambling presents a wonderful opportunity for these people to gamble without the need to travel miles away from home. Borgata is one of the 12 casino hotels in Atlantic City, and it has been the dominant casino in terms of annual gambling revenue. We think Boyd Gaming and MGM Resorts are better qualified to exploit the opportunity in online gambling, with a well-established user base and prior expertise in casino and casino-like operations.
Bottomline
Zynga has definitely surprised investors in the last month, showing more than 25% appreciation in its stock. The announcement of game updates and the real-money game was one of the reasons for the rise.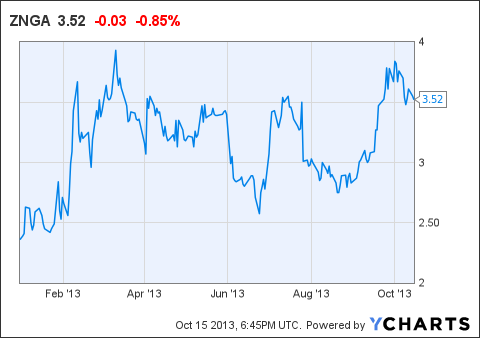 Investors might be interested in Zynga for its cheap valuation and the rise in its share price. However, investors must look at the bigger picture and avoid short term developments. Zynga has faced a number of challenges over the past year and has lost its social gaming dominance to its competitor King.com. It has a negative PEG ratio of 1.69, implying negative earnings in the coming years. It's Non-GAAP EPS is also expected to be -$0.07 in 2013 from $0.07 year ago. Although Zynga is diversifying its business away from social gaming to real money gaming, it will take time to reap benefits. Until then, Zynga needs to focus on its core business and develop hit games to generate profits. We see Zynga as a high risk investment that requires a higher level of return, and therefore investors are better off avoiding Zynga.
Disclosure: I have no positions in any stocks mentioned, and no plans to initiate any positions within the next 72 hours. I wrote this article myself, and it expresses my own opinions. I am not receiving compensation for it (other than from Seeking Alpha). I have no business relationship with any company whose stock is mentioned in this article.
Additional disclosure: Fusion Research is a team of equity analysts. This article was written by Rohit Gupta, one of our research analysts. We did not receive compensation for this article (other than from Seeking Alpha), and we have no business relationship with any company whose stock is mentioned in this article.