Recently, two of the nation's largest homebuilders posted decent third-quarter results. Recent data also revealed a continued upward trajectory in home prices across the US. Let's dig into the developments.
Housing Price Improvements
The S&P/Case Shiller 20-City Composite Home Price Index (1) increased 1.84% sequentially to 162.49, revealing that housing prices have now finally recovered to 2004 levels. The pace of expansion is off slightly from the previous sequential month's rate of 2.2% growth, but we do not believe the slight slowdown in the rate of growth is enough to draw any significant conclusions with respect to the pace of the upward trajectory. All of the 20 cities measured in the index showed improvement for the fourth month in a row.
(1) The S&P/Case-Shiller Home Price Indices are calculated monthly using a three-month moving average. Index levels are published with a two-month lag.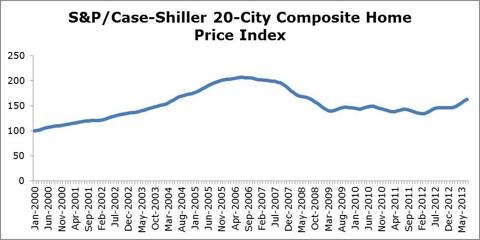 Source: S&P/Case-Shiller
Will Rising Interest Rates Start Hurting Demand?
The consensus opinion quickly blames interest rates for the recent dip in buying activity. Pending home sales declined 1.6% sequentially in August, and the aggressive upward move in interest rates may have caused some panic among buyers. The monthly decline may be a combination of buyers quickly locking in low rates as well as a seasonal swoon.
However, with mortgage rates declining (again) and other factors such as employment and economic growth improving, we think the August results are simply a blip on the longer-term radar. The management teams of Lennar and KB Home noted interest rates had a mild impact on results, and both believe long-term housing fundamentals are robust.
With the Federal Reserve committed to bond purchases, we believe substantial interest rate increases are less of a concern in the near term. However, if rates do rise significantly, we think other factors, namely employment and wage growth, will be strong enough to compensate for the higher rates (cost of borrowing).
Lennar
Lennar's (NYSE:LEN) third-quarter headline results were strong as both top and bottom line performance exceeded consensus expectations. Revenue totaled $1.6 billion, a 46% year-over-year increase, while earnings per share surged 35% year-over-year to $0.54.
Costs
Gross margins were solid, increasing 170 basis points year-over-year to 24.9% as the firm benefited greatly from selling houses on land acquired in the aftermath of the real estate bubble (specifically, communities where land was acquired subsequent to November 30, 2008). SG&A declined 180 basis points as a percentage of sales to 10.2%, driven largely by the company leveraging fixed costs.
Deliveries

Image Source: LEN
Deliveries were particularly strong in all geographies, though the east stood out for its fantastic growth (up 46% year-over-year). In total, deliveries rose 37% from the same period last year (4,990/3,655, as shown above).
Backlog and Orders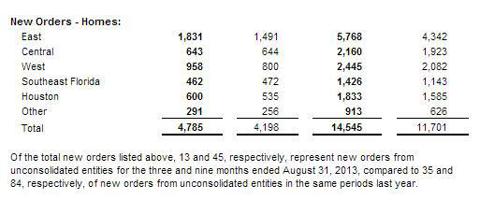 Image Source: LEN
Lennar's new unit orders increased 14% year-over-year during the quarter to 4,785 homes, while the order value soared 32% year-over-year to $1.5 billion. The firm's housing backlog currently sits at 5,958 units, which is also 32% higher than the year-ago period, while the backlog is 53% more valuable than the year-ago period at $1.9 billion.
Lennar's cancellation rate totaled 18% during the third quarter compared to 14% during the second quarter, but we're not reading too much into the increase. On the conference call, CEO Stuart Miller provided plenty of insight into the US housing market, which can best be summarized by the following quote:
"We continue to feel...that this housing recovery is fundamentally based and driven by a long-term demographic need for dwelling units. We believe we're still in the beginning stages of a recovery that will be sustained for several more years."
KB Home
KB Home (NYSE:KBH) posted solid third quarter results, though its top line fell slightly short of consensus estimates as revenue grew 29% year-over-year to $549 million. The firm improved from a loss of $0.86 per share during the third quarter of 2012 to a profit of $0.14 per share.
Costs
As with Lennar, housing gross margins strengthened during the third quarter, rising 150 basis points year-over-year to 18.2% of sales. While this remains below the firm's goal of gross margins in the low-20% range, we're pleased to see the ongoing improvement.
SG&A leveraging was also impressive during the quarter, as SG&A declined 250 basis points year-over-year as a percentage of revenue, to 11.6%. On an absolute basis, fixed costs increased just 6.9% year-over-year, highlighting the firm's focus on maintaining a lean cost structure.
Deliveries

Image Source: KBH
Home deliveries advanced at a much lower pace at KB Home than at Lennar, increasing 6% year-over-year to 1,825 units. CFO Jeff Kaminski commented on why the firm isn't focused on unit delivery growth specifically, noting on the conference call:
"To maximize the value realized from our active communities, we have been carefully balancing pace and price and focusing on top line revenue growth and margin expansion, with less emphasis on unit net order comparisons between reporting periods."
We like the firm's commitment to gross margins, and as long as the firm's solvency isn't in question (it isn't at the moment), we're comfortable with the KB Home maximizing gross margin dollars.
Backlog and Orders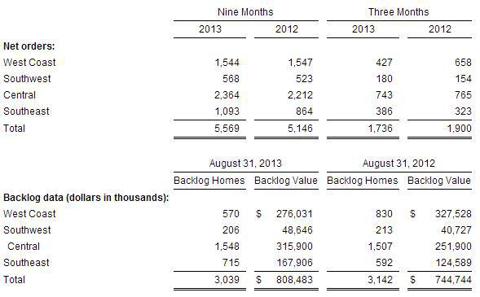 Image Source: KBH
Order trends at KB Home weren't nearly as robust as those of Lennar, as net orders declined 9% year-over-year to 1,736 units. Management offered a lengthy explanation for the occurrence, but it seems to us that the high cancellation rate (33%) and/or uptick in interest rates caused some significant weakness on the West Coast (orders fell to 427 from 658 in the prior-year period). We're interested to see if cancellations moderate during the fourth quarter, once the interest rate shock wears off.
As for the firm's backlog, the number of units declined 3% year-over-year to 3,039 as a result of the weak quarter for new orders. Still, the firm's backlog sits at a healthy $808 million, 8.5% higher than the year-ago period.
Valuentum's Take
Combined, Lennar and KB Home cover the majority of the US, and we think third quarter results reveal that the housing market remains resilient, though growth may not be quite as strong as comparisons become more difficult. Excluding the West Coast at KB Home, order trends were mostly positive, despite the laundry list of summer headwinds.
After the group's recent equity price tumble, we no longer believe shares of homebuilders look overvalued, but we'd have to see an even greater pullback to consider adding any of the homebuilding cohort to the portfolio of our Best Ideas Newsletter. In any case, we continue to watch developments closely.
Disclosure: I have no positions in any stocks mentioned, and no plans to initiate any positions within the next 72 hours. I wrote this article myself, and it expresses my own opinions. I am not receiving compensation for it (other than from Seeking Alpha). I have no business relationship with any company whose stock is mentioned in this article.