By Brendan Gilmartin
Goldman Sachs (NYSE:GS) is scheduled to report 3Q2013 earnings before the opening bell on Thursday, October 17. The firm indicated it would provide a press release at 7:30 a.m. EST and follow with a conference call at 9:30 a.m. Please note that in past reporting periods, Goldman Sachs reported earnings approximately 15 minutes ahead of the scheduled release time. Goldman's results also have the potential to impact the financial sector as well as the broader market gauges, particularly the index futures, given the investment bank's influence.

Outliers & Strategy
Key measures covered by Selerity:
Earnings Per Share: Goldman Sachs typically provides a "clean" number that is comparable to consensus. The current Street estimate is $2.43 with a range of $2.02 to $2.86. (Source: Yahoo! Finance)
Revenues are seen coming in at $7.36 bln, a decrease of 11.9% from 3Q2012. The range is $6.70 bln to $8.93 bln.
SELERITY TAKE: Now officially a member of the Dow Jones Industrial Average, Goldman Sachs' earnings are even more critical to the market. Following mixed reports from JPMorgan Chase (NYSE:JPM) and Citigroup (NYSE:C), Goldman results will be a key litmus test measuring the health of the U.S. financial services sector. For its part, JPMorgan reported a 17% sequential decline in investment banking revenue, while Citigroup called current environment "challenging" and "uneven." For Citigroup's part, Citigroup saw notable weakness in advisory revenues and debt underwriting. But with Goldman Sachs shares off 6% from the recent 52-week high of $170 in mid-September, market expectations have tempered somewhat, leaving the door open for a strong market reaction if it delivers a profound beat on earnings expectations. Look for EPS at the high end of estimates (>$2.60) and revenues comfortably above consensus (>$7.65 bln) to warrant a bullish response. Conversely, earnings that are in line or are below consensus would elicit a negative reaction.
Implied Volatility: The options markets are implying a 3.20% move one day after earnings are disseminated.
Recent News
10/05: According to a post on Barron's Online, Goldman Sachs shares appear overbought following a roughly 40% advance over the previous 12 months, and a series of headwinds, including a tighter regulatory climate. Other factors that may weigh on Goldman include declining M&A volumes and a dependence on investment and lending activity.
Technical Review
Goldman Sachs' shares have reclaimed the 20-Day & 50-day SMA after bouncing off support near $153 over the past week. The failure to overcome the intersection of the shorter-term moving averages, (which coincides with $160 resistance) does raise some near-term concerns. With that said, it will take a decidedly positive earnings release to push the shares through this near-term level. Beyond that, there is room to run to the high $160s. A miss could drag the overall market lower and Goldman's stock back to the 200-day SMA near $153. (Chart courtesy of StockCharts.com)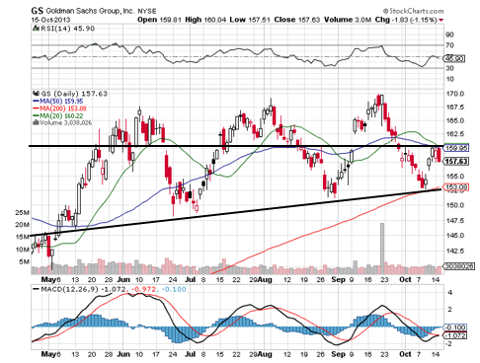 Summary
Despite recent pullback from the 52-week high of $170, triggered in part by the uncertainty stemming from the U.S. government shutdown and broader market decline, the Street continues to place high expectations on Goldman. A decline in investment banking revenues at Citigroup and JPMorgan Chase have some investors and market observers erring on the side of caution, while a tighter regulatory backdrop and high compensation ratios that could keep earnings this quarter in check. Conversely, Goldman shares are now trading at a reasonable multiple and should benefit from an improving trading environment. Look for the broader market to respond favorably if Goldman is able to deliver a characteristically strong report relative to market expectations given the recent inclusion into the Dow Jones Industrial Average.
DISCLAIMER: By using this report, you acknowledge that Selerity, Inc. is in no way liable for losses or gains arising out of commentary, analysis, and or data in this report. Your investment decisions and recommendations are made entirely at your discretion. Selerity does not own securities in companies that they write about, is not an investment adviser, and the content contained herein is not an endorsement to buy or sell any securities. No content published as part of this report constitutes a recommendation that any particular investment, security, portfolio of securities, transaction or investment strategy is suitable for any specific person.
Disclosure: I have no positions in any stocks mentioned, and no plans to initiate any positions within the next 72 hours. I wrote this article myself, and it expresses my own opinions. I am not receiving compensation for it (other than from Seeking Alpha). I have no business relationship with any company whose stock is mentioned in this article.