The Irish economy has strengthened and is on track to wean itself off the Eurozone and International Monetary Fund bailout program, bolstering related country-specific exchange traded fund.
The iShares MSCI Ireland Capped Index ETF (NYSEARCA:EIRL) was 1.1% higher Monday. EIRL has surged 33.2% year-to-date.
Prime Minister Enda Kenny stated that the Republic of Ireland is on track to finish its international bailout program by December, BBC reports.
"Tonight I can confirm that Ireland is on track to exit the EU/IMF bailout on December 15. And we won't go back," Kenny said in the article. "It won't mean that our financial troubles are over. Yes, there are still fragile times ahead. There's still a long way to go. But at last, the era of the bailout will be no more. The economic emergency will be over."
Ireland needed an 85 billion euro, or $115.5 billion, bailout after its largest banks collapsed in 2010 during the so-called Eurozone financial crisis. The bailout also came with stringent austerity measures to make sure the economy stayed on course.
Kenny, though, warned that the new national budget due to be announced on Tuesday would be "tough," with another 2.5 billion euro, or $3.4 billion, in taxes and spending cuts, which would bring the country's deficit to 4.8% next year, or below the 5.1% target.
If Ireland stays on course, the country will be the first Eurozone member to take itself off emergency aid. Other countries still on the bailout program include Portugal, Cyprus and Greece.
Standard & Poor's ratings agency previously upgraded Irish credit from "stable" to "positive" in July due to the quickly declining debt deficit. Investors are taking note of Ireland's investment thesis as EIRL's assets under management total has nearly doubled since the start of this year.
iShares MSCI Ireland Capped Index ETF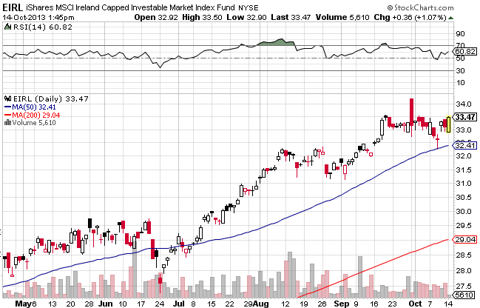 Max Chen contributed to this article.
Disclosure: I have no positions in any stocks mentioned, and no plans to initiate any positions within the next 72 hours. I wrote this article myself, and it expresses my own opinions. I am not receiving compensation for it. I have no business relationship with any company whose stock is mentioned in this article.