In 2008, while the 5 remaining legacy airlines lost a cumulative $4.6 billion (excludes special charges), the 25 top executives collectively received over $90 million in compensation, averaging over $3.6 million per executive.
The legacy airlines are: American (NASDAQ:AMR), Delta (NYSE:DAL), United (UAUA), Continental (NYSE:CAL) and US Airways (LCC).
So, while upper management did rather well, how did the other stake holders come out?
In just one year, these 5 legacy carriers lost an incredible $17 billion of stock-holder equity as their cumulative market cap dropped from $21.9 billion to only $5 billion.

6,300 jobs were eliminated in 2008.
The average annual wage per employee was $57,000 and unchanged from a decade ago.
I guess we could use our imagination to estimate how much executive compensation would increase if the airlines actually made money?
Charts below will provide airline-to-airline comparisons for upper level executive compensation. Data is also included for the low cost carrier Southwest Airlines (NYSE:LUV).
Of the 6 airlines in this analysis, Southwest was the only carrier to have made a profit in 2008.
The 2008 net losses excluding special items for each legacy airline were:
American - $1.183 billion
Delta - $ 503 million
United - $1.729 billion
Continental - $ 351 million
US Airways - $ 803 million
Southwest had a net profit of $294 million.
See figure 1 for more detailed breakdowns of executive compensation.
(click on chart to expand it)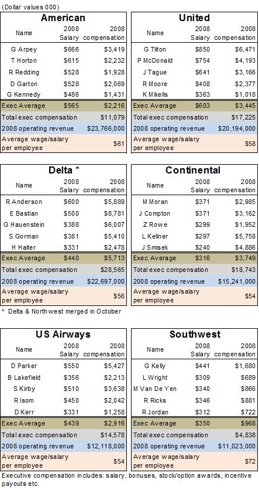 Figure 1
Figure 2 below charts the total compensation for the 5 top executives from each airline (in thousands).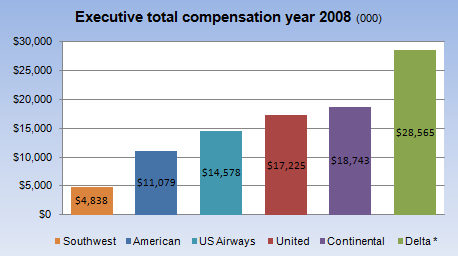 Figure 2
Each airline has a large variance in size and operating revenues. Figure 3 provides executive compensation as a ratio to each airline's total wage/benefit expense for year 2008.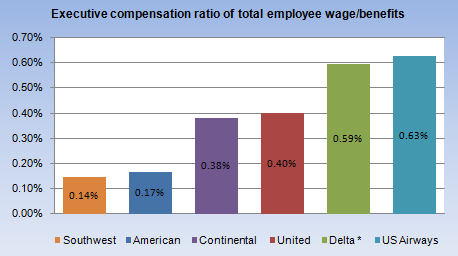 Figure 3
Figure 4 below further provides a ratio for executive compensation as a percentage of total operating revenues for year 2008.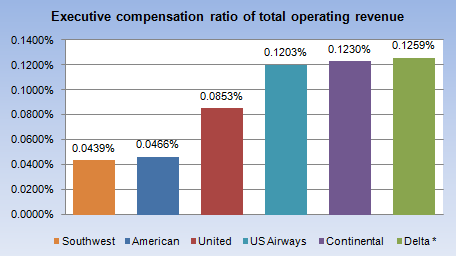 Figure 4
There should be no argument airline executives have faced unprecedented challenges since 9/11. It should also come as no surprise that after losing so much, airline employees and investors have a difficult time understanding "executive compensation".
Disclosure: The above opinions should not be used to determine the worth of any stock or investment. At the time of writing, the author and his family hold stock and derivative positions in AMR.