By: Brendan Gilmartin
Google (NASDAQ:GOOG) is scheduled to report 3Q 2013 earnings after the close of trading on Thursday, October 17. Results are usually available in the minutes after the closing bell with a conference call slated to get underway at 4:30 p.m. EST. The S&P E-Mini, NASDAQ 100 E-Mini futures contracts and PowerShares QQQ (NASDAQ:QQQ) tend to see active trading off the results.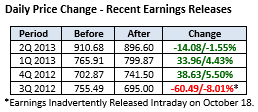 Outliers And Strategy
Google is expected to earn $10.35 per share (on a Non-GAAP basis) on revenue (ex-TAC) of $14.82 bln. The high estimates on the Street are $11.37 per share and $15.34 bln, respectively (Source: Yahoo Finance). Given the run-up in Google shares, look for earnings at the high end of this range in order to sustain the advance.
Our Take: Since recently dipping toward support near $850 (just above the 200-Day SMA), Google shares have rallied ahead of the 3Q earnings release, gaining about 5% off the low on October 9. Google is also coming off a weak 2Q release, posting earnings of $9.56, more than 11% below the consensus at the time, making investors somewhat skittish ahead of the 3Q numbers. With that being said, Street sentiment overall is subdued, leaving the door open for Google, which is benefiting from international growth, mobile expansion and improving margins to be in position to deliver surprisingly strong results. Should Non-GAAP EPS top $11.00 per share (>6% beat/average price move is 6% off earnings) and Revenue Ex-TAC exceed $15.0 bln, Google could make a run back toward the 52-week high of $928 on July 15.
Recent News
10/11: Deutsche Bank reiterated a Buy rating and a $970 price target on Google ahead of the 3Q earnings release, according to a post on StreetInsider.com. The firm noted that expectations leading up to earnings are a bit weaker than usual due to concerns over slower growth in Enhanced Campaigns and declining paid clicks. However, Deutsche Bank expects growth in Google Websites and international expansion to result in earnings and revenues above expectations.
Technical Review
After a steep sell-off to begin the month, Google shares have rebounded over the past week, pushing back through the 50-Day SMA near $875. Should earnings surprise to the upside, Google could make a run back toward the $900/$910 resistance area. Conversely, there is downside to the 200-Day SMA near $840 in the event Google issues a second consecutive weaker than expected quarterly release. (Chart courtesy of StockCharts.com)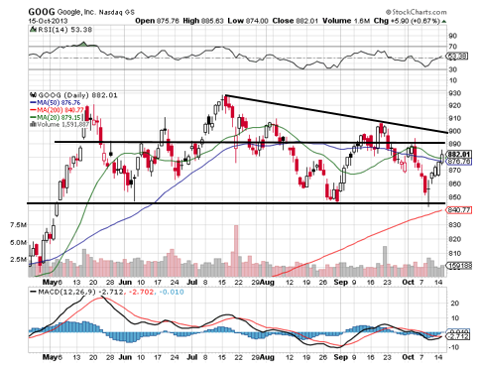 Summary
Google shares are rallying ahead of the 3Q earrings release, benefiting from its aggressive expansion in mobile, its dominant position in search, increasing ad revenues, growth in the YouTube segment, and relative valuation. Given this positive backdrop, Google needs to deliver solid results for the 3Q period in order to recapture the 52-week high of $928 established in July. Historically, Google has not issued earnings that missed consensus estimates over two consecutive quarters, so it's unlikely that Non-GAAP EPS and revenues would miss forecasts as analysts have tempered their expectations. Nevertheless, an earnings miss would be seen as a major negative surprise and likely have broad market consequences.
DISCLAIMER: By using this report, you acknowledge that Selerity, Inc. is in no way liable for losses or gains arising out of commentary, analysis and or data in this report. Your investment decisions and recommendations are made entirely at your discretion. Selerity does not own securities in companies that they write about, is not an investment adviser, and the content contained herein is not an endorsement to buy or sell any securities. No content published as part of this report constitutes a recommendation that any particular investment, security, portfolio of securities, transaction or investment strategy is suitable for any specific person.
Disclosure: I have no positions in any stocks mentioned, and no plans to initiate any positions within the next 72 hours. I wrote this article myself, and it expresses my own opinions. I am not receiving compensation for it (other than from Seeking Alpha). I have no business relationship with any company whose stock is mentioned in this article.