I have predominantly written about development-phase pharmaceutical and medical device companies over the years through multiple venues. Although risky investment choices, these companies can provide for phenomenal upside for investors if clinical trial data and the regulatory decisions are positive for the entities. Conversely, the downside can be significant with clinical data needing to prove efficacy and tolerable safety profiles with any number of issues compromising trial data. With no revenue generated, these companies rely heavily on sales of common shares and warrants in order to fund their operations. These stock issuances dilute existing shareholder positions and may keep risk-averse investors from opening large positions in these often upstart companies.
While researching investment choices, I stumbled upon a small medical-field company that I believe also has solid upside potential but without the risks associated with clinical trial failures or FDA rejections. While the company is in the early stages of revenue generation and therefore partly dependent on shareholder funds through stock offerings, the regulatory environment is ripe for the picking for this entity as its product offering is for a largely unmet need. Actually, the company's product will fill a need that is a regulatory requirement coming in the very near future as the industry is required to evolve in order to comply with the ongoing changes incurred as the pharmaceutical, medical and medical insurance fields grow and change. Still in the early stages of marketing and deployment, $36.2 million market capitalization CodeSmart Holdings (OTC:ITEN) is an investment option I believe pharmaceutical and medical device investors like myself should research more closely for investment consideration.
CodeSmart is a rapidly evolving company that went public via a May 3rd acquisition. Its primary business model is to provide training via online courses and partnerships with universities nationwide to help healthcare providers gain compliance with a federal mandate in which all healthcare providers must transition from ICD-9 to ICD-10 by October 1, 2014. ICD-10 is a two-part requirement comprised of ICD-10-CM for diagnosis coding for all U.S. healthcare settings and ICD-10-PCS for inpatient procedure coding for inpatient hospital settings. ICD-10 replaces the antiquated ICD-9 that has been in place since 1979 which utilized 3-5 numeric characters representing illnesses and conditions, and alpha-numeric "E codes," which described external causes of injuries, poisonings, and adverse effects; and "V codes" which described factors influencing health status and contact with health services. ICD-10 represents a sweeping change to the system expanding the number of codes from ICD-9's 14,000 to the current version of ICD-10 with 76,000 different codes with the ability to expand it to over 172,000 using sub-classifications. With every healthcare business in the U.S. required to come into compliance within the next year, CodeSmart's business model is attempting to address the need for a huge market.
According to the company's website, an existing coder may take 2 to 6 months to complete the program of study depending on their existing skill set while new coders may take up to 9 months or longer to complete the course. With just under a year left to meet regulatory requirements, I see real urgency coming as procrastinating healthcare providers are faced with the daunting task of coming into compliance in the closing months a year from now. So, CodeSmart claims to have an online ICD-10 training program for anybody in the healthcare sector. How is this business model being implemented, and what types of people are currently coming onboard? To best answer the question, investors should review the company's press releases since its May 2013 inception. Each press release seems to confirm CodeSmart's intention to be on the forefront of ICD-10 training and its commitment to sticking with its business model. Many of the announcements are accolades ranging from HIMSS endorsing the company as a top ICD-10 training solution, to the company being featured in Forbes and even Umbrella Research initiating coverage on the company with a "buy" rating and a $12 price target (shares closed Tuesday at $2.29). However, I believe the company's announcements about providing its services to multiple universities, hospitals and other entities are those in which interested investors should read more closely. Among the announced agreements include those with the following universities and healthcare-related entities: University of Central Florida Regional Extension Center (UCF-REC), Binghamton University, part of the State University of New York system, The Ballard Group, Jvion, State University of New York at Oswego, CIRACET, Amerinet and a host of others with three in October alone including the Veterans Affairs office located in Austin, Texas, North Oaks Health System in Louisiana, and San Jorge Children's Hospital in Puerto Rico. These are just a small sampling and apparently only scratch the surface as the Umbrella Research analysis claims that CodeSmart is "endorsed by over 60 colleges and universities nationwide for its quality of education."
CodeSmart's business model certainly seems to have legitimized itself via a slew of accolades and agreements, and it would appear that the company should be well on its way to a profitable future. However, the current market capitalization appears to indicate that investors seem to be unsure of the company's potential. I believe entry at today's current levels could return significant gains for investors if these partnerships begin to generate solid revenue and attract additional clients through "word of mouth" or other networking means that universities and the healthcare sectors use for its communications. I do believe this is still a high-risk investment as any company would be at this stage of development. Nonetheless, the market addressed is significant with a huge need to fill as the October 2014 deadline begins to close in.
CodeSmart released its Q2 2013 results on August 19th with the quarter closing on June 30th. With the new business model in its infancy, revenue at the time for the quarter was only $24,157, which was generated as a result of three new coders, five existing coders and for twenty-five modules (online sections completed at the time). With over 60 colleges and universities now endorsing the program and the industry-wide regulatory requirements in place, I believe Q3 could prove to be very telling of the company's successful entry into the field. The weeks heading into the mid-November Q3 results release could be exciting with little downside likely relative to its afore-mentioned small pharmaceutical or medical device company counterparts with no clinical data or FDA surprises being part of the mixture. CodeSmart operated at a loss for Q2 of $2,828,083 with virtually no cash or equivalents as of June 30th. I would anticipate some type of private placement or financing in the near future depending on the nature of the Q2 cash burn. According to the company's August 26th "Letter to Shareholders," only 5% of physicians have actually begun their ICD-10 training. With an easy-to-access online course, CodeSmart could be in just the right place at the right time as rushed implementation begins to take place.
Tuesday's closing share price of $2.28 represented a market capitalization of $36.2 million. Trading has been light recently with an average of 115,501 shares traded daily over the last month. As the Q3 filing approaches, I would anticipate a significant increase in volume as investors hedge their bets about the investment. With a 52-week range of $1.85-$7.02, the upside potential is certainly promising while a disappointing quarter could send shares down to its 52-week lows. Early investors in CodeSmart's common shares apparently believed strongly in the $111 million valuation that the company traded at above the $7.0 share price. With the company working hard at obtaining exposure and striking up many agreements since its May inception, new investors could very well see significant gains from current levels. Q3 results could be an indicator of how the business model is living up to the expectations of the IPO time frame buyers from May and June. Risk-averse investors could very well find CodeSmart a worthy candidate for investment consideration moving forward if successful implementation of the online course business model appears to be gaining traction and if competition is dealt with adequately. Interested investors are advised to perform much additional research before making an investment decision. If they do determine that it is a wise investment they should consider the risk/rewards of an investment at current levels or after the release of the Q3 results in the coming weeks if numbers are impressive.
Although a bit on the optimistic side, I believe Umbrella Research's projected earnings deserve a review. With Q2 2013 having very little actual revenue, the research report noted no real earnings for the quarter while it gave a projection for the Q3 revenue of $1.2 million.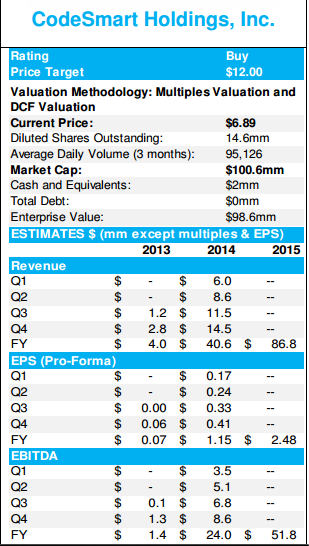 Disclosure: I am long OTC:ITEN. I wrote this article myself, and it expresses my own opinions. I am not receiving compensation for it (other than from Seeking Alpha). I have no business relationship with any company whose stock is mentioned in this article.