I'm relentlessly in search of companies repurchasing shares. Although my hunt is never a complete failure, I infrequently find anything worth sinking my teeth into. In other words, new share repurchase plans are announced daily but lately, aside from Microsoft (NASDAQ:MSFT) and Lockheed Martin (NYSE:LMT), there just hasn't been much to get excited about. Nearly everything is at the top of their 52 week spread; there's not much value. However, I did manage to identify two companies, DLH Holdings Corporation (NASDAQ:DLHC) and Urban Outfitters Inc. (NASDAQ:URBN). DLH Holdings is poised to benefit from military downsizing and plans to repurchase shares ahead of an approximate 50 percent growth in contract revenue. Urban Outfitters Inc. is taking advantage of an opportunity provided by the U.S. economy to repurchase shares during a period when the company's stock is negatively affected by poor economic confidence relevant to sequestration and the U.S. national debt limit; the company is fundamentally healthy and undervalued.
DLH Holdings Corporation
DLH Holdings Corporation is contracted by The Department of Veterans Affairs to provide healthcare solutions, logistics and technical services, and contingency/staff augmentation services to active duty military as well as military veterans. Upon ending active service and returning to American society, every service member is required to register with the Department of Veterans Affairs as a part of the "check out" or separation process. As a crucial aspect of the separation process, service members undergo a thorough medical examination. If a young man in his early twenties, for example, is found to have a loss of cartilage in both knee caps and significant hearing loss in his left ear, those health issues are documented and noted in his file with the VA. Even if there is no immediate treatment required, the Department of Veterans Affairs will provide treatment and medication years or even decades later if the health issue (or issues) originating from military service require treatment or medication at that time. As our nations veterans age, the amount of veterans requiring treatment will undoubtedly continue to grow.
With the issuance of two new government contracts on September 25 and September 30th, DLH Holdings Corporation will be contracted to operate the Veterans Outpatient Mail Order Pharmacy on behalf of the Department of Veterans Affairs and also provide professional and administrative support to the Army's medical force. The Army contract dictates DLH Holdings will provide training and modernization to the Army's medical force and also take control of and manage a portion of the Army's pharmaceutical stock pile.
These 2 contracts position DLH Holdings to be a benefactor of military downsizing as Operation Enduring Freedom draws to an end. This statement is supported by a 3.6 percent increase in Congressional funding of the Department of Veterans Affairs. The company's forward looking contractual revenue growth of approximately 50 percent (a result of the two recent contracts) from 2013 to 2014 is congruent with the increase in Congressional funding. Gross profit has grown 24.2% from 2012 to 2013, and the issuance of the two aforementioned contracts clearly indicate this trend will continue. This revenue growth supplemented with a $350,000.00 share repurchase program and provides investors with reason to buy into the bullish argument for DLH Holdings Corporation. An increase in funding of The Department of Veterans Affairs healthcare has bi-partisan support in Congress, and although the company is economically dependent on The Department of Veterans Affairs, Congress funds VA healthcare a year in advance, so sequestration should only have minimal effect, if any, on the company.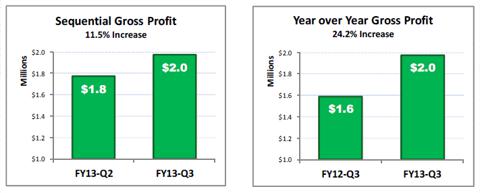 Source: Q3 FY 13 DLH Holdings Inc. Investor Presentation
We believe repurchasing our shares is a prudent use of our cash and that this share repurchase plan will also provide us with adequate flexibility for future initiatives, - Zachary C. Parker, President and Chief Executive Officer of DLH Holdings Corporation.
Aside from announcing a $350,000.00 share repurchase program, the company hasn't made much information public. Based on statements made by Mr. Parker, it's likely that the company believes its stock to be undervalued. According to the 3rd Quarter 2013 financial statements, the company issued 250,000 options as a result of stock based compensation this year. It would be reasonable to speculate the company intends to repurchase shares in order to offset the dilutive effects of the issuance of those options and also possibly retain some shares as treasury shares.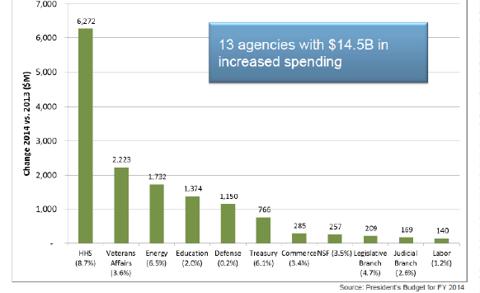 Urban Outfitters Inc.
Analysis of the Companies Standing as of Mid Q3 FY 14
From a fundamental standpoint, initiating a long position in Urban Outfitters looks to be "text book." The company is trading just 6 percent off of its 52 week low and nearly 20 percent off of its 52 week high headed into the holiday season. It has no debt and a P/E multiple around 19. When looking at the financial statements for the 2nd quarter of the fiscal year 2014, I begin to draw the conclusion that Urban Outfitters earnings miss is not cyclical. Although the company was punished for their second quarter earnings miss, blame should be attributed more too economic conditions and an overall decrease in consumer spending. This notion is supported by consistent annual sales growth since 2011, relevant to strengthening U.S. economic confidence and a sharp drop in stock price also relevant to a plummeting economic confidence. The fact that Urban Outfitters Inc. is demonstrating healthy growth, as indicated in the statements below, which is not reflected in the stock price, hints at the company is undervalued.
Moving to the retail segment, we're presently on pace to open 14 new stores this year. The second quarter saw three new store openings, including Sherman Oaks, CA, our largest mall store to date, and a relocation of our Bellevue, WA store that more than doubled the selling square footage. Early indications point to an excellent customer response; they can now shop wider assortments of our apparel, accessories and intimates, and our display and merchandising teams are empowered with more space to reinforce the brand aesthetic, both of which, we believe, lead to a more compelling overall experience for customers. In total, Free People now directly operates 83 stores, and we anticipate ending the year with approximately 90 stores in North America.- COO Dave Hayne Q2 FY 14 Conference call

Source: YCharts.com
A Foreword Looking Analysis
To begin with, as the chart above indicates, economic confidence is to retail clothing as inflation is to precious metals. Sequestration, debt ceiling fears, and the anticipation of the inevitable taper of Fed's economic stimulus have resulted in consumer confidence plummeting to a 24 month low, which will likely result in an abrupt end to the 24 months of sales growth evident in Urban Outfitters financial statements. The stock was hammered recently as a result of current Q3 progress reported alongside the Q2 FY14 form 10K.
The Q3 progress is congruent to the consumer's economic confidence. Since economic confidence, or lack of, is associated with sequestration and debt ceiling issues being debated on by Congress it is reasonable to draw the conclusion that post Q3 FY14 reporting will provide investors with a more opportunistic point of entry. An additional point which supports this notion would be the company's exposure to foreign currency such as E.U. Euro. As the chart below indicates, the exchange rate between the U.S. Dollar and the E.U. Euro will negatively impact the company's net income reported for operations in the 3rd Quarter.

Source: YCharts.com
Winning the Popularity Contest
Urban Outfitters is basically just a slightly "beaten down" retailer. Beaten down in the sense that, in the retail clothing business, the price of the company's stock is predicated upon the strength of consumer spending and economic confidence. Secondarily, the value of company is also predicated on the value of the brand name. The cooler the brand name is, the more the brand name is worth. As of late, Urban Outfitters has struggled to "fit in," so how do they plan change this? They took a step back, looked at American "pop culture" and then looked at themselves and realized social media and alcohol are cool. So if they wanted to be cool, they need alcohol and social media, a simple yet absolutely brilliant conception. The company has created an app that gives users rewards points redeemable for in store merchandise when mentioning their brand name on a major social networking site. In addition to their "cool" and innovative new marketing campaign, they have applied for restaurant and liquor licenses at their new location being constructed in Brooklyn. How do you get in with the cool kids? Join a social networking site and throw a party.
Conclusion:
DLH Holdings Corporation:
DLH Holdings was issued two new government contracts which position the company to be a benefactor of military downsizing in the short term and aging post 9-11 war veterans over the much longer term. The issuance of the two contracts are in line with a 3.6 percent increase in Congressional funding of the Department of Veterans Affairs. The issuance of these two contracts also supports the notion that revenue growth observed over 2012 and 2013 will continue into 2014. The company is economically dependent on The Department of Veterans Affairs and receives 96 percent of its revenue from the DVA. However, funding of DVA Health Care has bi-partisan support in Congress and is funded a year in advance, so the effects of sequestration should be minimal. The company is buying back shares ahead of substantial revenue growth, and investors interested in adding a small healthcare provider to their portfolio should give DLH Holdings their consideration.
Urban Outfitters Inc.
Urban Outfitters Inc. has suffered from plummeting consumer economic confidence and a poor exchange rate between the U.S. Dollar and the E.U Euro. Although the company has been punished in the financial markets lately, this punishment can be attributed to sequestration and debt ceiling fears in the United States, and not to the company's operations. Urban Outfitters Inc. is fundamentally healthy but will likely continue its stock price will likely continue downward. Post 3rd quarter FY14 will provide investors interested in initiating a long position the opportunity to do so. Since economic confidence is to retail clothing as inflation is to precious metals, the company's stock price will likely rebound once Congressional debates pertaining to a continuing resolution and the U.S. national debt are resolved and consumer confidence in the U.S. economy begins to recover once again. Innovation is not commonly observed in the retail sector, but Urban Outfitters has begun an innovative marketing campaign and an began to apply for restaurant an liquor licenses in aninnovative attempt to attract consumers to their stores and brand name.
Disclosure: I am long DLHC. I wrote this article myself, and it expresses my own opinions. I am not receiving compensation for it (other than from Seeking Alpha). I have no business relationship with any company whose stock is mentioned in this article.