A recent report from GigaOM suggests that Google (NASDAQ:GOOG) is in the process of rebranding its smart TV offering from Google TV to Android TV. While this change may seem purely cosmetic, I believe it has deeper implications for the Search King's overall strategy that is good news for investors. Unlike Apple (NASDAQ:AAPL), which is a closed system - meaning if you are running iOS, you are using Apple hardware as well - Android is known as an operating system that is effective across manufacturers and enjoys 79.3% of global market share according to IDC. By rebranding its smart TV option, Google sends the message that it is not responsible for the hardware - an area in which it has struggled, leaving that to others like Samsung (OTC:SSNLF).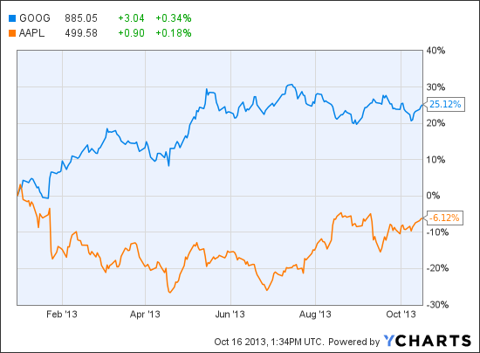 In the video below, I discuss some of the ramifications of the move by Google, what the company is doing with both Android and Chrome, and even with a P/E over 25, Google stock remains a must-own option for your technology portfolio.
Disclosure: I have no positions in any stocks mentioned, and no plans to initiate any positions within the next 72 hours. I wrote this article myself, and it expresses my own opinions. I am not receiving compensation for it (other than from Seeking Alpha). I have no business relationship with any company whose stock is mentioned in this article.