By Brian Langenberg, CFA
It happens all the time. A theme gets started or, in this case, revived, and analysts start yapping to each other in a closed circle of self-reinforcing talk about "improving this" or "how should we be thinking."
One thesis that we have heard repeatedly for 15 years is that the world is short on water and that emerging markets will someday be a big growth opportunity. Directionally, it makes sense to us that rising incomes and urbanization will drive growth in water and wastewater markets. The issues are (a) when, (b) how fast, and (c) who says US or European companies will necessarily benefit?
This question is not academic: Last quarter, it was painful for investors in Xylem (NYSE:XYL), which has the best collection of water-related assets in the world, with the possible exception of the undermanaged portfolio of Siemens (SI). I've repeatedly advised water enthusiasts to have a "gastronomical processing event," flush their toilet, and then ponder the rest of the cycle to take the glamour from this business. Alas, my creative idea does not always get it done.

Unfortunately, talk can be dangerous. Although "water" seems like such an obvious necessity, somebody forgot to tell the real world. In that real world, Earth's population is already getting by on its existing water infrastructure, which, when you get right down to it, primarily involves pumps, pipes, filtration and some analytics. Given the customer - think government - change and innovation are slow, and developed world budgets are tight. For all the potential benefits of modernized water infrastructure, greater environmental compliance, and safety, "water" does not have outages like your electrical grid, takes a lower share of people's wallets, and is unseen. Every state in the United States has a public utility commission hounding the electrical companies, but nobody rails against the plumbing.
Growth regions are clearly going to continue building out, but local competition abounds. Such nations as China and India are seeking to build their own industrial base, and pump manufacturing is a good way to get there.
So, how do we monitor all this? Part of the equation is certainly regular interviews with management teams about their growth plans and objectives and attending investment conferences. But that is a very different environment from your local water reclamation facility.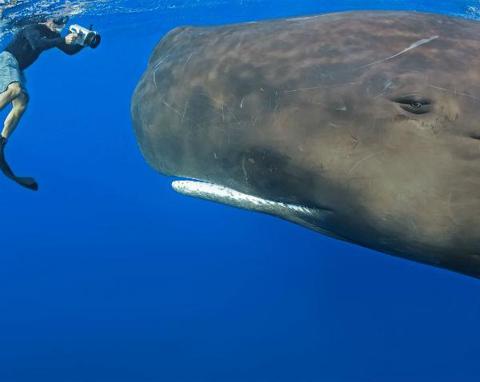 Think of the above photo as sitting in front of your trading screen and listening to a company presentation. We don't think this is the best way to get an edge.
That is what makes conferences so fun - and valuable. First, you actually get to meet people who have real jobs or at least not financial services jobs. Second, they will tell you what they actually do, what customers think, and scuttlebutt about other companies. We particularly enjoy talking to people from small private companies who cannot even spell "slide deck."
What follows is our synopsis of two recent days at WEFTEC, which is the premier water and wastewater trade show. We've consistently found that we can learn more in two days walking the floor than in two weeks of "analyst meetings." Here, in a nutshell, is what we can tell you after two days of speaking with managements of public and private companies, combined with our own observations and background.
KEY POINTS:
We attended our first WEFTEC show around 1998. What has changed in the industry since then? Nothing.
Demand: It's all replacement.
Theories and aspirational business models exist or are being developed around automation, asset management, integration of sensing and control to achieve the benefits of energy savings, better regulatory compliance and plant security.
However, the business is controlled by consulting engineers, relationships with municipalities and tight relationships with distributors. We are unaware of any mayor or city manager - from the Tea Party or the left wing - who was elected on a promise to redo the plumbing.
Deals: Everybody is looking for bolt-on acquisitions, but nobody "has" to do anything. I could envision - and this is a bit of speculation - that Siemens's water assets could be helpful to others, and that company is currently in "trim the pain" mode. Siemens's Infrastructure and Cities' sector has hardly been a resounding success.
Companies visited include, but are not limited to, the following, and I've included our own estimates of relative floor space and foot traffic at the show.
Company

Floor

Space

Foot

Traffic

Comment
Siemens (SI)

100

100

Several participants commented they have the best assets and portfolio breadth but have done nothing with them and are losing people.
Pentair (NYSE:PNR)

100

75

Larger, nicer footprint than at past shows. Management seems to have a line of sight to hit 15% margin in 2015, and we think they have the potential to do so.
Xylem (XYL)

70

70

Broad portfolio. Good discussion with management about analytics and evolution under the "House of Brands" concept. We sense they may have lost a bit of share, at least in municipal pumps.
Ovivo (part of GLV Group, Canada)

70

70

Have not done work on them, but their booth was busy and energetic.
Trojan Technologies (Danaher)

60

60

Booth looked full. Note they won some Chicago muni business, and that may have boosted interest.
Alfa Laval (OTCPK:ALFVY)

50

75

Really a heat exchanger company that plays in the space. Very busy booth. "Larger" equipment (after all, they are northern European), which, coupled with foot traffic at Trojan, suggests municipal interest in potential "larger capex" spending - though nobody told us they saw a pickup coming.
Gorman-Rupp (NYSEMKT:GRC)

50

50

Nice visit with CEO Jeff Gorman and his team. Just blocking and tackling as usual on his small to mid-size muni customers but has also expanded the company's reach in recent years, including end markets (agriculture) and geography (more global, including a South African deal in 2012). Also continue to achieve success in niche power generation markets - though volume would help - and is well positioned down the road.
SPX Corporation

30

30

Water is not a huge market for them. Participated in a booth tour - highlighted recent product innovations that should help them keep up with the market.
Hach Company (Danaher (NYSE:DHR))

20

30

Hach president Lance Reisman led booth tour highlighting recent innovation that can allow a water treatment facility to save energy and labor costs while improving regulatory compliance. Adoption may be slow, but the product looks ahead of the game. We also sense a greater emphasis on day-to-day new product development instead of just breakthrough projects.
Ebara Corporation (OTCPK:EBCOY)

20

20

Same old Ebara. Nothing new in the booth. They play on large West Coast projects and use price.
Calgon Carbon Corporation (NYSE:CCC)

20

0?

You could almost hear a pin drop in their area.
WEG

15

5

Motors and drives player. Currently a rounding error in the US municipal market. But the parent is capable, growing and investing in North American footprint, and over time, they should grow.
General Electric (NYSE:GE)

15

5

Small presence at the show relative to not only GE but also revenue base of their water business, which is primarily specialty chemicals, desalination and some filtration.
Emerson Electric Company (NYSE:EMR)

10

10

Not really a player in the space because EMR is automation; the industry wants pumps, motors and filtration. A platform deal could change that just as motors field devices once provided Process with a path to migrate upward in automation.
Does this negate the value of the research tools and technology at our disposal? Of course not. But it does highlight the necessity of basic field work that allows for the identification of mismatches between financial market expectations and reality - which is how we capture profits and avoid losses.
Disclaimer: Please note that the content of this site should not be construed as investment advice, nor do the opinions expressed necessarily reflect the views of CFA Institute.