This is my 100th article at Seeking Alpha. It is an update of my first article using nearly the same title. This centennial article revisits the stocks I wrote about 33 months ago, and the article which was published on January 13, 2011. Let us look at my original investment thesis and the 5 stocks I selected to illustrate it.
At the time, I suggested that a number of countries might grow their GDPs at a faster rate than the U.S. in 2011. Noting, that depending on which prognosticator you believed, these countries ranged from Australia to Canada and Indonesia to Brazil. I also noted that regardless of which countries prospered the most, there was a consensus that there would be growing demand in emerging markets. I asked the question, "As a dividend growth investor how can you best prosper from this international growth?"
It turned out that the countries I casually mentioned did have higher annual increases in GDP than the U.S.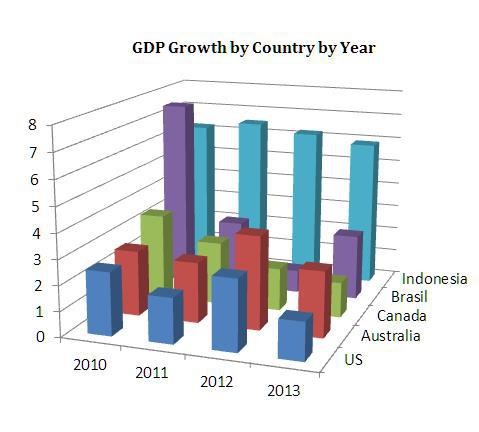 My investment thesis was that the way to capitalize on the spending of emerging nations and the important growth in their GDP was not to invest directly in emerging markets stocks. That was a very popular thing to do at the time, as emerging market stocks had been beating the U.S. markets handily for the six months prior to the publication of my article.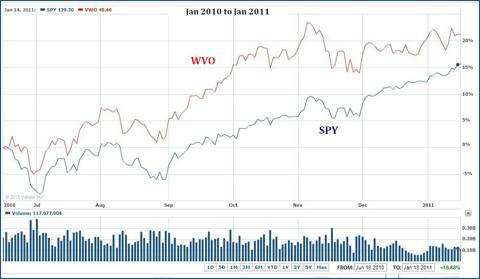 My contention was that the best way to reap the benefits of the increase in discretionary income in emerging nations, as represented in part by increasing GDP numbers, was to own stock in large US firms that had global markets.
"Below I have listed 5 well-known large-cap US companies, shown with their yields, which have about half or more than half of their sales from international sources. I posit that owning these companies is a very good way to participate in global economic growth in 2011 and beyond.

"These companies are stalwarts of American capitalism, which have expanded their markets in up to 180 countries worldwide. "Blue Chips," they offer relative safety and reliability with long records of increasing dividend payments. They provide well below average risk and low volatility while yielding over 3% dividends.
The Companies
Here are those firms with updated information.
Abbott Labs (NYSE:ABT) - Since that January 2011 article the company has divided, becoming two corporations in January of 2013. I chose to continue my investment in the firm by holding shares of AbbVie, Inc. (NYSE:ABBV), in part because I invest for current income and have a yield hurdle of 3.0%. AbbVie is a research-based biopharmaceutical company. Its products are used to treat diseases including rheumatoid arthritis, psoriasis, Crohn's disease, HIV and cystic fibrosis complications. However, for this study, I will chart the progress of ABT.
AbbVie now has 86% of the market cap of the former combined firm, and it has a current market capitalization of $70.7 billion. The P/E is 14.3 and it yields a dividend of 3.45%. On the opening page of the investor section of its website, a message appears in rotation with two others. It says consumers in 170+ countries are receiving the benefit of its products.
Abbott, ABT, is now the provider of nutritionals, devices, diagnostics and established pharmaceuticals. While these products have adequate margin, Abbott is not as efficient in its marketing and delivery as its medical supply peers. Its task now is to become more efficient and remove cost from a bloated system. This portion of the reorganized and divided firms has a market cap of $55 billion, a yield of 1.66% and a P/E of only 8.6%.
Abbott appears to be undervalued at 35 and Morningstar quotes a Fair Value of 40. Analysts rate it at 2.4, a buy. It looks like it has broken out of its downward trending trading channel this week, and is moving strongly upward.
Johnson & Johnson (NYSE:JNJ) - This healthcare giant now has a market cap of $252 billion, which compares to $172 billion when I wrote the previous article just 33 months ago. Categorized as a major drug manufacturer, it might be more accurate to call it a conglomerate of healthcare product producers.
It is engaged in the research and development, manufacture and sale of a range of products in the healthcare field within its Consumer, Pharmaceutical and Medical Devices, and Diagnostics business segments. It has a current ttm P/E of 19.9 and pays a dividend of $2.64, which is a yield of 2.83% at its price of 89.93.
Kimberly-Clark (NYSE:KMB) - This firm has a long and enduring international business. It has been in business 140 years and now employs 58,000 people. Manufacturing facilities in are located in 37 countries, and its leading brands are sold in 175 countries. Incredibly, nearly one-quarter of the world's population uses its products every day. With brands like Kleenex, Scott, Huggies, Pull-Ups, Kotex, Poise and Depend, Kimberly-Clark holds the No. 1 or No. 2 brand share in more than 80 countries.
The firm has a market cap of $37.0 billion, a P/E of 20.7 and a current yield of 3.28%. It continues to execute nearly perfectly, based on the Global Business Plan it initiated in 2003. The average annual increases over the period are revenues 5%, EPS 5%, dividends 9.3%. These are very significant increases for a mature firm, and it includes a growing component of sales outside North America, which now accounts for more than 50% of total sales. This is up from 47% since the original article.
McDonald's (NYSE:MCD) The Golden Arches continue to increase in number throughout the world. They emerged subtlety and discretely in Paris and with exuberance throughout the Philippines. While there is universality in a burger and a cola, the dietary habits of local populations are taken into account. The firm has tremendous advantages of scale and one of the strongest brand names in the world, which is supported by a massive $788 million advertising budget. A well-developed franchise system is a key component of continuing international growth. Sales keep increasing and now the portion of total sales that come from the US is less than 32%. McDonald's serves 69 million people a day in 118 countries from 34,000 restaurants, which have an average daily gross of over twice the industry average at $2.6 million. The Plan to Win, developed under CEO Skinner, is now successfully executed by CEO Don Thompson.
The $94 billion market cap company has a P/E of 17.2, well below that of the market, and pays a dividend of 3.28%. Trading at about 94, this firm is undervalued by many measures. Morningstar puts the Fair Value at 105 and its 4 star rating confirms the undervaluation. It is also selling well below its long-term average P/E of over 18.8. I believe that this is an excellent time to add to your position in MCD, although I cannot assure you that the stock is at its near-term bottom.
Proctor & Gamble (NYSE:PG) - This 170 year old firm has 23 $1 billion brands and another 20 $500 Million brands. These include Tide, Pampers, Dawn, Tampax, Crest, Charmin, Bounty, Gillette, Ivory Soap and Clairol. Its sales efforts reach 180 countries, and it has manufacturing facilities in 40 countries. Over 55% of the sales come from outside the US.
This is a massive company with a market capitalization of $212.5 billion. Its revenues are $84 billion, which is equal to the GDP of Ecuador. It currently sells for about 78, has a P/E of 20.4 (ttm Morningstar) and a yield of 3.00%. This firm has had some difficulties in the past several years, perhaps expanding to some emerging markets that were not yet at a point where there was adequate demand for its pricey products. It has refocused that marketing approach and is now in the process of a $10 billion cost cutting campaign.
While the impact of the cost cutting will not be immediate, long-term PG will prosper. A bit out of favor with investors, this stock is currently undervalued according to Morningstar, which gives it a Fair Value of 87 and 4 stars. Analysts give it a buy with a 2.2 consensus rating. It has been in a trading range between a low of 75 and a high of 82 for the past 6 or 7 months. A F.A.S.T Graph indicates an average P/E for the past 7 years of 16.8 and its current P/E is 18.2. I am not convinced it is worth the premium and I would not be a buyer at over 70. However, that is in part because of my portfolio goals and the yield is right at my hurdle rate of 3.0%. You might come to a different conclusion and find it a buy.
Investment Alternatives, Then and Now
I would ask you to take a quick look at the first graph, which showed the price of emerging market stocks, VWO, compared to the S&P 500, SPY. Clearly, the emerging market stock had done much better during the six-month period prior to my article. However, my investment thesis was that the best way to reach these markets was with large cap consumer oriented US stocks, the above five companies.
Let us look first at the S&P 500 vs the Emerging Market stocks for the period since my article. What we see below is that the US stock market trounced the Emerging Markets by a strong 25%, reversing the earlier trend.
Performance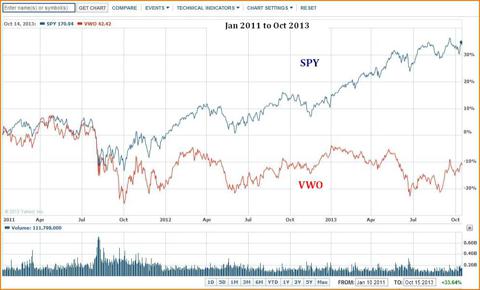 Since it is not SPY that we bought, but rather 5 large cap stocks, let us look at how they have fared in the period. Emerging markets, VWO, continues as the red line.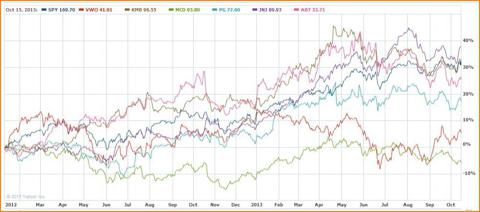 Visually approximated increase numbers.
JNJ Purple, the top performer, up almost 40%
KMB Brown, just below that up over 30%
SPY Blue, again, just over 30%
ABT Pink, comes in as up about 25%.
PG Light Blue, a gain of almost 20%
WVO Red, Emerging Markets, way below SPY with a gain of only 5%
MCD Light Green, the laggard of the group, at -5%
Conclusion
I believe that in the last 33 months, my investment thesis proved to be correct. The five large cap, US based international stocks have been a better investment than an investment in emerging markets. The average gain was about 22% with an average dividend yield of about 3.00%.
This far exceeds the gains of the Emerging Markets ETF, which was only about 5%. It pays a current dividend of about 3.70%.
Interestingly, S&P 500 had a larger gain than our handpicked US based blue chips. It outperformed the emerging markets' 5% gain and the average large-cap gain of 22% with a 30% total gain. Even considering the difference in dividends, SPY still beat the 5 stocks roughly 30% to 25%. This is an important take-away as it demonstrates that the investor in individual dividend growth stocks might not do as well as the ETF holder of SPY, which is simply a S&P 500 Index Fund.
Caution to investors
This article is not an in depth analysis of any stock and contains rounded and approximated numbers and generalizations. It is not presented as a decision-making guide, but rather is an overview of stocks for your further consideration. Before investing in any securities determine the suitability of the stock for your portfolio and do your own due diligence.
Acknowledgements
On this publication of my 100th article, I want to acknowledge whose assistance is instrumental to whatever success I have had at Seeking Alpha. The indefatigable and considerate effort of the editors has been most important. While there are some who have been anonymous and many whose names I have forgotten, several stand out in their helpfulness; let me thank you here. Shira Jacobson, who coached me and facilitated the publishing of this first article, Mary Hunt who was crucial to my growth as a SA writer, and Michael Hopkins with whom I have worked closely for some time. Michael makes a lot of things happen in an orderly way and has an encouraging manner.
There are others further behind the scenes who are contributors to my efforts. I made a comment to a support person once that it would be most helpful to submit an image with a correction. Within hours the facility to do so was online. A computer consultant in Israel worked through Internet Explorer issues with me. The people, who do the corrections, like Radhakrishnan R, amaze me with their prompt removal of my mistakes.
Other authors continue to be a helpful source of support. I would name the first among them as Chuck Carnavale. Others include David Van Knapp, Emmet Kodesh, David Fish, David Crosetti and Eric Parnell.
Of course my followers and other readers continue to make it possible to continue and I thank you all.
Disclosure: I am long ABBV, MCD, PG, KMB, JNJ. I wrote this article myself, and it expresses my own opinions. I am not receiving compensation for it (other than from Seeking Alpha). I have no business relationship with any company whose stock is mentioned in this article.