The Permian Basin, the latest shale oil darling, is located in West Texas and the adjoining area of southeastern New Mexico. It covers an expanse of approximately 250 miles wide and 300 miles long, with oil and natural gas production ranging from depths from a few hundred feet to five miles below the surface. The 38-county Permian Basin consists of the eastern Midland Basin, the Central Basin Platform, and the western Delaware Basin. Compared to the second quarter 2013, the well count increased most notably in the Permian (up 66 wells or 3%), Williston (up 54 wells or 8%) and Eagle Ford (up 44 wells or 4%) basins, notes Baker Hughes (BHI).
Concho Resources (NYSE:CXO) is a smaller, younger, and nimble independent oil and gas producer, a pure-play E&P firm. Concho, with $11.7 billion market capitalization, was executing horizontal drilling early in the Permian, claiming 299 horizontal wells (with first production after January 1, 2009). It was ahead of its peers, even larger peers, in drilling horizontally in the Permian. In 2011, Concho divested its North Dakota Bakken assets for approximately $200 million and redeployed this capital in the Permian Basin, with other moves totaling over $500 million in the Midland and Delaware Basins.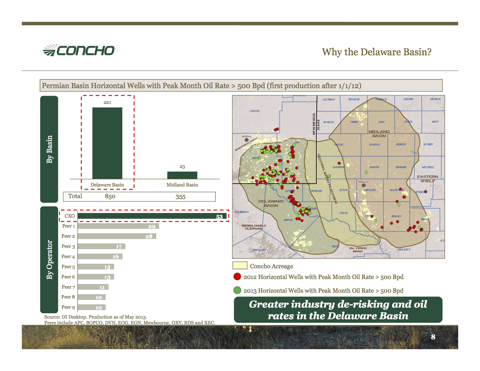 Concho has pushed its crude oil production to 63% of total production, which is 22% over the last four quarters. Other E&P firms -- Apache (NYSE:APA), Pioneer Natural Resources (NYSE:PXD), and Devon (NYSE:DVN), to name a few -- have been moving their mixes to more oil, as they can do so. Obviously, oil prices in the $100 range makes drilling profitable. Oil production was 46,900 p/d in third quarter 2012, growing to 57,100 at second quarter 2013. In terms of revenue, 83% of Concho's revenue mix was oil, 10% NGL and 7% dry gas in the second quarter 2013. It has had an accelerated growth plan in place beginning in the second quarter 2012, resulting in 128% growth in Delaware production.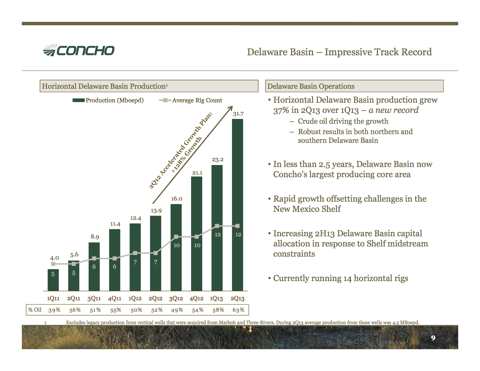 Concho's activity in the Delaware Basin is its largest producing core area. The Delaware-Permian rig count is 147, of which 78% or 114 are horizontal, for 1,500 horizontal wells with first production after first of the year 2010. Plans there included roughly 175 horizontals in 2013.
In 2008, Concho Resources purchased 330,000 acres from Midland-based Henry Petroleum, a pioneering re-developer of the Spraberry/Wolfcamp play. It refers to this prolific play as the Wolfberry, a hybrid name that honors the firm where the acreage originated. In the Midland Basin, the largest Basin in the Permian housing the Spraberry/Wolfcamp mega field, the rig count is 228, with 81 of them horizontal. Concho plans to increase its horizontal activity and further test this "emerging" part of its portfolio. It is concentrating in Upton County, with plans to test in Andrews, Midland and Ector counties. It suggests that initial well results are among the best relative to the industry.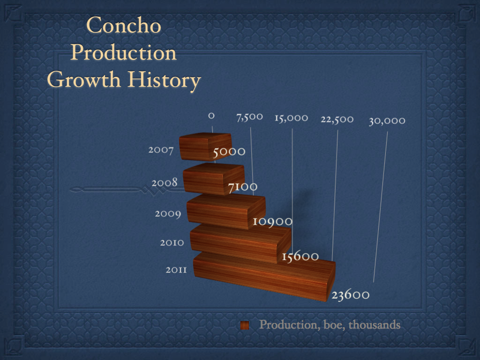 Notably, estimated proved reserves are 447MMboe at year-end 2012, with a 422% reserve replacement ratio. A recent 24/7 Wall St article offers: "The Deutsche Bank target for the stock is $118, and the consensus is posted at $110." Concho was trading at $116 near the end of the day on October 16. Concho has its initial public offering in 2007, priced at $11.50 per share.
There are many success stories in the Permian Basin. Numerous true-grit type entrepreneurs rolled up their sleeves along the way.
Sources include:
http://media.corporate-ir.net/media_files/IROL/21/211775/October%20Investor%20Presentation%20VFinal.pdf
http://media.corporate-ir.net/media_files/IROL/21/211775/Executive%20Oil%20Conference%20Presentation%20VFinal%20-%20Website.pdf
Disclosure: I have no positions in any stocks mentioned, and no plans to initiate any positions within the next 72 hours. I wrote this article myself, and it expresses my own opinions. I am not receiving compensation for it (other than from Seeking Alpha). I have no business relationship with any company whose stock is mentioned in this article.