Deutsche Telekom (Doyt-chuh Tele-caum) (OTCQX:DTEGY) is a German telecom giant headquartered in Bonn with operations across the globe:
Through its subsidiaries, the company offers services to ~132 million customers in 4 business segments: Germany, Europe (excluding Germany), USA, and Systems Solutions & Group Headquarters/ Shared Services. In the last twelve months, the company collected $74.9B in revenues from total assets of $116.1B and posted an EBITDA of $23B (for currency translation purposes, a 52wk avg FX rate of EURUSD = 1.3186 is used). The company lost $6.5B during the same period and earned -$6.1B in fiscal 2012. These losses are results of one-time expenses. They were preceded with at least 7 years of positive earnings, although the balance sheet carries an accumulated deficit of $36.3B.
Deutsche Telekom's stock has shown a decent return in the past 10 years: although the current price is at or slightly below the market price in the same period a decade ago, dividend income compensated for the lack of growth. An investor who bought the stock in the end of 2003 - beginning of 2004 at a price of $17-19 has so far earned a pre-tax income of $8.57 (using the aforementioned FX rate): a cash return of at least 44% (or 3% CAGR). As mentioned before, the stock experienced strong downside pressure in 2008 and has failed to recover to pre-crisis levels, having traded in the diapason of $10-$15 for the past 5 years:
As a result, the stock has underperformed the S&P 500 for the entire period since the beginning of the crisis. Possible explanations for this fiasco are, but not limited to, high levels of long-term debt, volatile earnings, sluggish growth of revenues, and operational inefficiencies because of the size of the Group. Nevertheless, share price edged up to the upper resistance level of $16-17 per share and the stock trades on the forward dividend yield of 4.4% (2013 fiscal dividend payable in 2014 amounts to 0.5 euro or $0.66 at given FX rate). Here is a snapshot of last Friday's Total Enterprise Value figures:
Valuation
I would like to start off with valuation in order to show that the stock is fairly valued at current price. The excess value depends on qualitative metrics and management's success in executing propositions outlined in the most recent presentation.
Starting off with relative valuation, I focused on P/E ratios across the global telecom industry and selected 16 companies with a market capitalization range between $20B and $135B. The calculations showed a median P/E ratio of 16.7X (1st and 3rd quartiles of 13.9X and 19.2X, respectively). The standard deviation in this sample is rather large, 49.9X. I decided to put Deutsche Telekom in the bottom 25% because of the company's poor Net Income-generating abilities and balance sheet risk.
Having inputted EPS estimates gathered from Bloomberg and applying a P/E ratio of 13.9X, I obtained the following sensitivity table: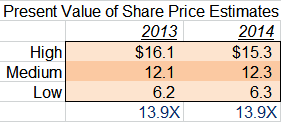 (There was no available data for 2015, which I have normally presented for other companies in previous analyses)
Friday's closing price of $15.43 remains on the upper end of the range between the Medium and High figures in the matrix. The stock currently trades within the expected value boundaries.
It is important to assess the historical multiples' range. Since P/E is not a good representative of Deutsche Telekom's value, I used a more comprehensive EV/EBITDA multiple:
The stock was hit hard in 2008, which caused the average to be significantly below the median. I used the median figure instead of mean in the DCF model to calculate the Terminal Value because it is not susceptible to extremes like the mean.
Subsequently, the output of the model gives us the following figures:
The distribution of the value drivers shows the weighted-average effect of each driver on the estimated fair value of the stock:
One can see from the picture that the shareholders' equity's book value per share makes up over a third of the fair value of the stock. This should give investors a level of confidence. Next 5- years' Free Cash Flows (both Dividends and Adjusted FCFs) make up approximately a quarter of the total fair value, while Terminal Value, the most uncontrollable driver due to market risk, represents almost 40% of the total value.
To sum up, the current price is inside the range of estimated fair values per share. The stock offers razor-thin, if any, margin of safety in the market. This is why we should explore the factors that may contribute to additional value and that have not been encompassed by the models.
Catalysts for Value Growth
I have decided to focus on five catalysts that will contribute to extra value creation over the next 5 years:
Capital Investment and Future Payoff
Global Repositioning and Portfolio Revision
Debt and Liquidity Management
Operational Optimization
Reduction in Pension Obligations
The necessary information has been gathered from annual reports, management's presentations, and the company's Investor Relations website section.
Capital Investment and Future Payoff
Historical financials show that CAPEX spending represents a significant percentage of cash-generating assets (PP&E + Intangibles). In particular, LTM CAPEX totaled 11% of Q2's PP&E+ Intangibles balance. Deutsche Telekom's D&A rate has exceeded CAPEX in every year for at least the last 10 years, which favorably contributed to free cash flow composition. This differential enabled the company to pay more than $36B over the past 8 years.
In December 2013, Deutsche Telekom plans to spend 30B Euros on CAPEX in the next 3 years (that is, 2013-2015). This is why the company cut the dividend to 0.5 Euros per share. Deutsche Telekom wants to preserve current credit ratings and keep debt ratios intact: "In light of the considerable investments we are planning, we have decided to adjust our dividend to a sustainable level." The focus will be on Germany, the company's home market, where the company is to build an LTE network and integrate optical fiber and vectoring technology into the existing fixed network. Broadband market is highly important for the long-term success of the company: as Telefonica's (NYSE:TEF) presentation showed, Germany lags behind other European countries in the size of smartphone share in the market. Nevertheless, Q2 presentation slides show that smartphone sales picked up in the past 12 months, accounting for 86% of all device sales, up from 71% in the same period a year ago.
Deutsche Telekom's management believes there is no time to wait: "Hesitation now means playing catch-up later. We are investing in the future - with resolve and a clear strategy," said René Obermann, the company's Chairman of the Board of Management, "The investment plans we have presented today will lay the foundation for future growth. And it is the people in Germany in particular who will benefit more than ever from the modern infrastructure." Timotheus Höttges, Deutsche Telekom's CFO, thinks that making the move during all the economic and financial turbulence in Europe is the right action: "These investment plans will ensure Deutsche Telekom remains absolutely sound and reliable over the long term. We are going against the flow with our high investments in these times of economic challenges - because we have worked hard to establish sound balance sheet ratios and now have the necessary leeway. Our dividend planning offers our investors both an attractive return and planning reliability…We are pioneers of this innovative solution in Germany."
Not let us turn to numbers. By 2016, the company plans to supply 85+% of population with data speeds exceeding 150Mb/s, provide 65% of population with optical fiber network, and trump competition in the form of cable network operators. In the future, Deutsche Telekom wants to unlock synergies between LTE and vectoring to boost download speeds up to 200Mb/s and upload speeds to around 90Mb/s.
These projects should be major revenue drivers in 2014 and onwards (the management expects to "stabilize" them after a number of declining quarters). The company sees itself shifting away from traditional fixed-network and mobile businesses into mobile services and connected home markets:
On top of revenue growth, Deutsche Telekom expects to achieve higher EBITDA margins (~40% vs. current 31%).
Global Repositioning and Portfolio Revision
Recent news about Deutsche Telekom's proposed sale of its investment in T-Mobile USA indicates that the German giant will gradually leave the American market. The company sees "no synergies" with its American unit and expects a gloomy future for T-Mobile. "We still believe that T-Mobile will operate at a significant disadvantage over the long run versus its two far larger rivals, who both produce massive cash flows to reinvest in network improvements, additional spectrum and customer acquisition," writes Michael Hodel of Morningstar LLC. The result of this sale will be a $3.1B boost to Deutsche Telekom's cash balance: essentially, there will be no increase in total assets unless there is a gain on sale. On the other hand, the investment is a part of the Long-Term Investments' balance of $7.564B. This means Current Assets will increase, Working Capital will increase, major liquidity ratios will improve, and Free Cash Flows for the period will decline.
Deutsche Telekom believes in innovation and balances organic development with business unit integration through M&A. T-Venture, the Group's venture capital fund, makes equity investments into new business concepts and technologies in order to expand Deutsche Telekom Innovation unit's scope and know-how. The company also grows "brains" on its own territory in an incubator called Hub:Raum.

The company's corporate customer arm, T-Systems, has amassed a client base in excess of 2.6M customers, including BP and Georg Fischer AG, in the cloud service business by emphasizing maximum security. Combined, T-Systems, Mobile Services, Internet, and Intelligent Network Solutions earned revenues in excess of 20B Euros in fiscal 2012 and continue to be the highest growth areas of the Group:
The corporation focuses on younger and faster-growing businesses, while "patching up" the older cash-generating units with innovation.
Debt and Liquidity Management
As many other European carriers, especially Telefonica, Deutsche Telekom is loaded with debt (over $50B): Long-Term Debt-to-Equity ratio is above 2:1, Debt-to-EBITDA is between 2.0X and 2.5X, while the Total Debt-to-Assets ratio is 0.79. The good news is that the debt profile is quite diversified in duration and nature:
Although the company will most likely rollover its debt, it generates sufficient Free Cash Flows to address the capital structure, if necessity arises. Deutsche Telekom aims to maintain equity ratios of 25-35%, while holding credit ratings above A-/BBB by showing sufficient liquidity to cover maturities for at least two years ($7.34B cash balance in 2013Q2 does suffice the requirement for this fiscal year). In fact, in 2012, the company reduced its long-term debt by 8% from 40.2B Euros to 36.9B Euros through a combination of operating cash flow contributions and inflows from sales of non-strategic equity investments.
Operational Optimization
Early in 2013, specifically, during the 2013Q1 Q&A session, Deutsche Telekom's CFO confirmed plans on reducing indirect costs by $2B Euros through optimization measures such as Lean Admin and Save for Service. The first program aims at non-operational departments of the company and offers pre-retirement/severance packages to induce employees to leave the company. Essentially, it is a "huge head count reduction." The Save for Service program is the biggest driver for cost reduction and is in essence an all-IP migration. This program, however, requires some upfront investment in order to provide longer-term benefits.
Reduction in Pension Obligations
Defined Benefit pension funds have become burdens for almost any large corporation in the times of sliding interest rates:
(The rate used to discount estimated cash flows should be determined by reference to market yields at the balance sheet date on high quality corporate bonds. [IAS 19.78])
Companies have experienced balance sheet pressure as their pension-related liabilities, which are variable in nature, have kept increasing caused by declines in interest rates. Because the unfunded portion of such liabilities is included in the calculation of the Total Enterprise Value and, therefore, affects the estimated fair value of the company's equity, it is important to pay attention to changes in this "uncapped" financial liability. Let us look at the change in Deutsche Telekom's pension-related obligations over time: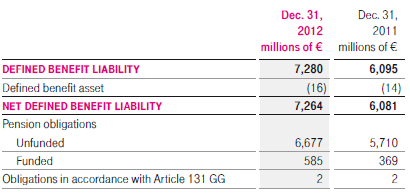 The Net Defined Benefit liability has increased by over 1B Euros in the period from 2011 to 2012. The main reason for this adverse change is the funds' correlation with the interest rates. I built a matrix that summarizes the impacts of changes in interest rates on pension-related obligations:
Interest rates are expected to gradually increase in the next several years, which will have a favorable impact on Deutsche Telecom's equity. Besides balance sheet, a reduction in DBOs will have a material impact on income in years to come (it will lead to a smaller service cost). Overall, this balance sheet driver, often neglected in the calculation of fair value, can both be a tailwind and a headwind for the company.
Summary
Deutsche Telekom is in the process of transforming its portfolio into a highly competitive mix of products and services. The stock has long been lagging behind the broader market but has recently gained momentum. If backed by solid fundamentals and an adequate communication between management and shareholders during the process of the company's transformation, shares of this German giant may offer a great upside in the long run. Current dividend of ~4.4%, which is paid once a year, pays no German withholding tax and may compensate the opportunity cost of waiting.
Conclusion
I issue a "BUY" recommendation on shares of Deutsche Telekom with an undefined price target.
Analyst Recommendations
Disclosure: I have no positions in any stocks mentioned, and no plans to initiate any positions within the next 72 hours. I wrote this article myself, and it expresses my own opinions. I am not receiving compensation for it (other than from Seeking Alpha). I have no business relationship with any company whose stock is mentioned in this article.