During this prolonged downturn in the precious metals market, many mining companies are struggling to turn a profit and have either slashed or completely abandoned exploration activities to lower their total all-in costs. While I do believe that gold (NYSEARCA:GLD) and silver (NYSEARCA:SLV) are due for a breakout because of the debt situation facing the US and the inevitable spike in inflation from the easy-money policies of the Fed, it is very hard to say when this will happen and it could take longer than expected. I had previously predicted a breakout of $1,500 gold by November, but it is looking like it could take a little bit longer for this to play out.
For this reason, it is important to own gold and silver miners (NYSEARCA:SIL) that have a significant cash balance and those that produce the metals at a very low all-in sustaining cost, because it remains difficult, if not impossible, to predict the price movements of gold and silver in the short term.
These companies that have solid balance sheets and industry leading cash costs will not only survive, but thrive going forward. Here I will discuss the price of silver and offer some miners I believe are the best in class.
Silver Price Forecast - Bright Future Ahead?
Right now the price of silver sits under $22 an ounce with gold under $1,300. Most silver miners, even the lowest cost producers, are struggling to record a profit and the all-in cost of production for the industry is basically around this $20-22 mark.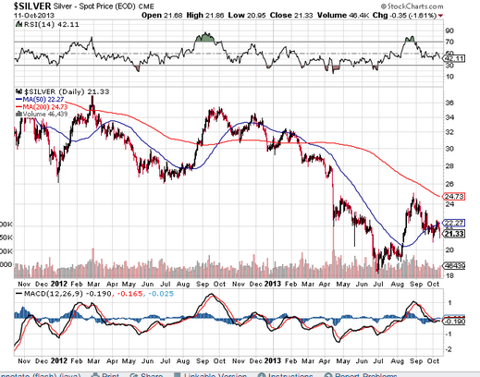 While this is worrisome for some companies in the short term, I believe in the long term this could lead to a higher silver price on that fact alone, as the higher cost mines shut down production and supply is taken off the market.
More importantly, virtually no new major supply of gold or silver is expected to hit the market as companies have scaled back exploration and development by a very large amount. Many mining companies are focused on survival at this point, and rightly so.
- Others face issues unrelated to the price of the metals. One example of a major silver project facing issues is Barrick Gold (NYSE:ABX) and their Pascua Lama project. This project was originally expected to come online in 2016 and average 35 million ounces of silver each year. The project is up in the air as the company ran into some permitting issues with the government of Chile. The company aims to construct the project's water management system in compliance with permit conditions for completion by the end of 2014, after which Barrick expects to resume remaining construction works. It is really hard to tell when this project will come online, if it ever does. That is a huge amount of silver that may never even hit the market.
- In July of this year, Alexco Resource (NYSEMKT:AXU) announced a shutdown of their Bellekeno mine in the Yukon because of lower silver prices. The company is hoping to bring the mine back online in Spring of 2014, but will need higher silver prices to do so. This mine produced 2.2 million ounces in 2012.
- The Treasure Mountain Mine in Canada was shut down in June of 2013. This was a mine that was expected to produce over 1.5 million silver equivalent ounces a year. Even with super-high grades, both these mines could not produce a profit at current silver prices.
These are just a few examples and there are many more. While the silver supply and demand story could take some time to materialize, it is definitely something investors need to keep an eye on.
Silver Supply and Demand
What is the supply and demand of silver?
- In 2012, total mine production finished the year at 787 million ounces of silver, and total supply came in at 1.048 billion, up slightly from 2011.
- We can simply compare this to gold to get a better idea of the rarity of silver compared to gold.
For the full-year 2012, total mine production for gold was 2,700 tonnes or 86.4 million troy ounces.
*So, 787 million ounces of silver was produced, compared to 86.4 million ounces of gold, giving us a gold to silver ratio of just 9.1.
- Total demand came primarily from industrial applications (465.9 million), implied net investment (silver ETF, 160 million), and coins and medals 92.7 million. Full numbers can be found at SilverInstitute.com.
Investment demand in 2013 is expected to finish a bit lower in 2013, somewhere around 105 million ounces, according to Kitco.com.
Still, I expect demand to pick up in the coming years as more and more investors start to realize the true value of silver.
Silver Over Gold?
There is a very good case that investors should choose silver over gold:
- First, silver is more affordable for the average person to invest in, unlike physical gold which requires a pretty significant investment.
I believe silver holds more potential than gold because any "average Joe" can get in the game. It's a very small market, so even just a few big investors coming into the market would push prices up a great deal.
- Next, silver has many, many industrial applications, after all 465.9 million ounces of demand came from industrial applications in 2012. These include insulation and energy, as silver is the best conductor of electricity. Silver is used in photography, medicine, electronics, the automotive industry, etc. There is not enough time to discuss all of silver's uses here so I will save that discussion for another day.
- Another interesting point about silver is that the historical gold:silver ratio is 16 to 1. The next interesting fact is that the ratio of silver in the ground to gold is estimated to be somewhere between 10-13 ounces.
- Next, the ratio of silver to gold production is just 9.1 to 1, as mentioned above, meaning about 9 ounces of silver is produced for every ounce of gold.
- Finally, according to gold/silver investor Eric Sprott, the actual ratio of investment in silver to gold is 1:1, meaning that investors are spending just as much money investing in silver than they are with gold.
- Despite all this, the current gold:silver ratio is 60.59, as you can see from the above chart. So, 60 ounces of silver can currently buy you one ounce of gold. This is nowhere near where the ratio should be, in my opinion, and I feel silver is very undervalued compared to gold.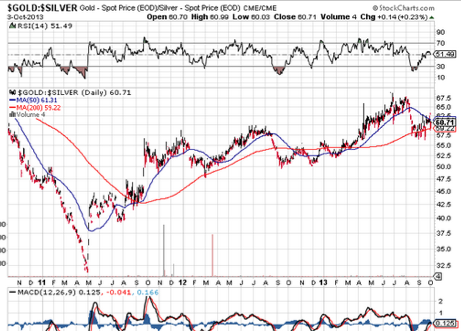 - A conservative estimate of the gold:silver ratio at 35:1 would put silver at $36 an ounce at the current gold price. With gold at $1,500, silver would sit over $42 an ounce. With gold back at the 2011 highs of $1,900 an ounce, we could see silver top $54 an ounce, or higher.
There is no telling what silver will do in the short term. However, I believe in the long-term, silver possesses tremendous upside potential. Silver has so many industrial uses and is used up and tossed away, while the primary use of gold is jewelry and investment. Silver tends to outperform when both are rising in price, and I expect silver to continue to do so in the future.
Why The Miners? Leverage is the Key
- While owning physical silver could result in more than a double from current prices if I am right, owning some high-quality silver miners could easily produce a return of over 300 - 400 percent.
For example, Endeavor Silver (NYSE:EXK) rose from $3.50 a share to over $12 a share, a gain of over 350 percent.
I am not guaranteeing this type of result in the future, but anything is possible. With many of these miners increasing production and with an increase in the price of silver, we could see real fireworks ahead.
Still, You Should Plan for the Worst
Silver investors need to ask themselves this question: if silver were to stay at $20-22 an ounce for the next 6-12 months, would your silver stock survive? I'm not predicting this will happen, but I believe investors need to select companies that, in a worst-case scenario, will survive at $20 silver for an extended period of time.
The bottom line is that there is a ton of upside in silver, but nobody knows for sure when its value will be realized.
What are the Best Silver Miners?
Here I will list some of my top 3 favorite silver miners. I am basing my rankings on balance sheet strength (cash and debt balance), all-in cost of production per ounce of silver, estimated production in 2014, and total reserves. There are many more silver miners I like, but some are too small to write about here on Seeking Alpha, and these are the safest picks I know.
| | | | | | |
| --- | --- | --- | --- | --- | --- |
| Company | Market Cap (Million) | Silver Production '13 (million, Aq Eq) | Reserves (M, Aq Eq) | All-In Cash Costs | Working Capital |
| SilverCrest | $172 | 2.4 | 276 | $13.26 | $29.4 |
| Endeavor | $387 | 10 | 206 | $18.18 | $33 |
| | | | | | |
| First Majestic | $1.25 (Billion) | 11.5 | 269.3 | $9.43 (Note below) | $80.4 |
| | | | | | |
#1 SilverCrest (NYSEMKT:SVLC)
SilverCrest is currently my favorite pick of the three because of their industry leading cash costs, solid balance sheet and production upside potential.
SilverCrest is still profitable, even at these depressed prices for precious metals. For the last quarter, SilverCrest reported cash flow from operations of $5.58 million with an impressive all-in sustaining cost per ounce of $13.26.
The company sold 647K of silver equivalent ounces, putting them on track to beat their 2013 full-year estimate of 2.4 million ounces.
Even more impressive, the company has a rock solid balance sheet. SilverCrest reported cash and equivalents of nearly $30 million at the end of last quarter, with a working capital position of $41.6 million.
A major expansion is currently underway at Santa Elena to increase production to 3,000 tonnes per day by 2014, bringing production to 3.5 million Aq eq ounces. The company's long-term goal is to produce more than 10 million a year from Santa Elena and the La Joya project.
SilverCrest has 37.7 million silver eq. ounces in reserves with 16.7 million in the indicated category and 223 million in inferred, for a total resource base of over 276 million silver eq. ounces.
The potential for SilverCrest is massive and I believe they are lower-risk due to their solid balance sheet, low cash costs and bi-metal production of both gold and silver.
Click here for further analysis of SilverCrest Mines.
#2 Endeavor ((EXK))
Endeavor Silver comes in at a close second.
The company is projecting total production of 10 million silver eq. ounces in 2013. Last year, the company produced 6.4 million, so this is a substantial increase in produce year-over-year.
The company is well on their way to completing that goal. For the second quarter of 2013, Endeavor reported production of 1,855,846 oz Silver (up 63%) and 22,947 oz Gold (up 95%) for total Aq eq. production of 3.23 million ounces.
- As of the last quarter, Endeavor had cash and equivalents of $22.3 million with no long-term debt. The company also has a $10 million line of credit available, so I believe the company has a pretty solid balance sheet.
- For the first half of 2013, Endeavor has reported operating cash flow of $43.3 million.
- Endeavor reports cash-costs of $10 an ounce, net of by-products, but the actual, all-in sustaining cost of production per ounce is $18.8, according to MD&A for Q2 2013. For the last quarter, the company reported mine earnings of $6.4 million and a net loss of $361K.
Endeavor has an aggressive growth plan to get to over 16 million Aq eq ounces a year by 2016 from its four mines. With an increase in the price of silver and the company holding the line on cash costs, this is a stock that holds enormous upside potential in my view.
#3 First Majestic (NYSE:AG)
First Majestic is perhaps the safest pick on this list because of their size and experience. They are projecting 11.3 to 11.7 million Aq eq ounces of production in 2013 from five mines, with a goal of getting that number to 16 million by the end of 2014.
First Majestic has cash and equivalents of $78.9 million with total working capital of over $80 million.
In the past quarter, First Majestic recorded operating cash flow of $20.7 million and mine earnings of $14.3 million, on an average realized silver price of just $22.19. This shows that the company is profitable at current silver prices and holds big upside should the price of silver rebound.
First Majestic also contains the most reserves of any company on this list, with a massive resource base of 269.3 million Aq eq ounces.
For First Majestic I have listed total cash costs of $9.43; please note that this is the total cash cost but not the all-in sustaining cost per ounce, which is the actual total cost. That number is likely around the $18-20 mark, but I could not get an exact number.
While this could be the best company on the list, that doesn't mean it will be the best performing stock on a silver rebound. I believe a company like SilverCrest, for example, holds more upside since they are such a smaller company. That is one main reason I've ranked First Majestic lower on the list, even though I believe they are the lowest risk here.
*Please Note: I have not mentioned Silver Wheaton (SLW) here as the company has been covered a number of times on Seeking Alpha. This is also a much larger company than the ones mentioned here. I believe the companies mentioned above provide the most upside, but Silver Wheaton possesses the least amount of risk. Silver Wheaton is also technically a streaming company, and not a silver miner.
These are all great companies that I will be covering in detail in the coming weeks, so please follow me for individual articles on each company.
Some Advice and Thoughts for Potential Silver Investors
- This is a very volatile market that isn't for everybody.
- You have to be able to stomach big swings in the price of your shares.
- Don't try to time the market, because in reality, nobody can buy at the exact bottom and sell at the exact top. Instead, dollar cost average or value cost average your positions every month.
- Always try to keep some cash on hand to average down positions if you need to.
- Stay away from options, futures, margin, etc.
- Finally, have some patience.
Investing in silver and the mining companies isn't for everyone. I believe an investment in physical silver should come before owning some of the mining companies. After all, the price of silver wouldn't rise if we all just put our money into the stocks.
If you have the risk tolerance and can stomach the volatility, and if you believe that silver prices hold upside in the coming years, you should definitely check out the miners mentioned above. Comment below to let me know what you think of my picks and follow me here on Seeking Alpha for further coverage of the silver sector.
Disclosure: I am long SLW, SVLC. I wrote this article myself, and it expresses my own opinions. I am not receiving compensation for it (other than from Seeking Alpha). I have no business relationship with any company whose stock is mentioned in this article.