Quite frankly, Philip Morris (NYSE:PM) has been a disappointing investment in 2013. YTD, the stock has lagged the broader market and has faced major currency-related headwinds and weaker volumes. However, at least for Q3 2013, Philip Morris seems to have finally managed to deal with these issues. This quarter was arguably Philip Morris' best one since 2012, with strong EPS, cash flow, and pricing power.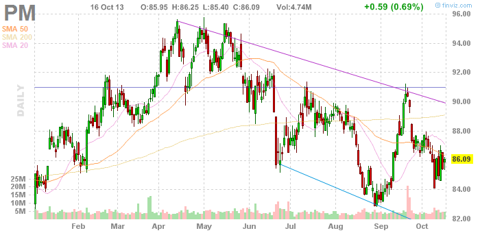 Q3 2013 Overview: Lower Volumes, largely offset by higher prices
On October 17, Philip Morris reported its Q3 2013 results. Below are some key quarterly and YTD stats:
Q3 2013
Reported EPS: $1.44 +9.1%

Currency Neutral EPS: $1.53 +15.9%

Cigarette Volumes: 223.1B units -5.7%

Net Revenues, ex-taxes: $7.9B +0.1%

Currency Neutral Net Revenues: +1.6%

Reported Operating Income: $3.7B -1.0%

Adjusted Operating Income: $3.7B -1.9%

Share Buybacks: 16.7M shares for $1.5B

Free Cash Flow: $3.0B +40.2%
YTD
Reported EPS: $4.02 +2.6%

Currency Neutral EPS: $4.25 +8.4%

Cigarette Volumes: 657.0B units -5.3%

Net Revenues, ex-taxes: $23.4B -0.3%

Currency Neutral Net Revenues: +1.7%

Reported Operating Income: $10.5B -2.9%

Adjusted Operating Income: $10.5B -3.3%

Share Buybacks: 50.1M shares for $4.5B

Free Cash Flow: $7.0B -0.8%
Philip Morris' results were mostly in line with expectations. EPS, both reported and adjusted, was strong. This was widely anticipated as the company hinted strongly last quarter that its price increases would mostly offset volume declines. Free cash flow staged a remarkable 40% increase from year ago levels. However, this metric does tend to be noisy, especially quarter to quarter. Revenues for Philip Morris were also in line with previous guidance.
Regarding cigarette volumes, this will likely be the focus of most analysts and critics of Philip Morris. Volumes fell across the board, with Asia seeing the sharpest drop at around 8%. However, these numbers continue to be skewed by the Philippines. In that country, Philip Morris is facing a competitor that is selling product at economical prices, mostly by avoiding excise taxes. Excluding the Philippines, Philip Morris' Asian volumes would have posted a 4.1% decline.
In Europe, Philip Morris continues to be hampered by the weak economy, high unemployment, and tax increases. Consumers in that region are shifting towards alternative tobacco products, including untaxed (read illegal) cigarettes.
Regarding market share, Philip Morris' brands continue to hold up well in nearly all markets. Marlboro volumes did decline slightly in Europe and other areas where prices were increased, but this is to be expected as prices in that region increased nearly 7%.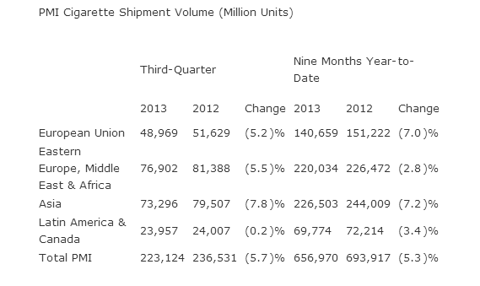 A look at Philip Morris' cash flow, payout ratio and share buybacks
Overall, it appears as if Philip Morris is operating well. While organic revenue and volume growth remains elusive, the company is able to "manufacture" EPS growth via stock buybacks. YTD, Philip Morris has bought back around 50M shares for $4.5B. These buybacks have probably added $0.10-$0.15 to Philip Morris' YTD EPS of $4.02.
Free cash flow, or FCF, came in at around $3B this quarter. YTD, Philip Morris' FCF of $7.0B has essentially been flat from 2012 levels. YTD, Philip Morris' dividend payout ratio using FCF has been around 60%. Using EPS, the payout ratio has been about 66%. Quite honestly, FCF is Philip Morris' most important metric, as this is how it funds dividends and stock buybacks.
Philip Morris anticipates a strong Q4 2013
While the evolution of the macro-economic environment and tax-paid cigarette industry volume remain a challenge, our business fundamentals are solid and we continue to anticipate a strong final quarter.
The above quote probably sums up Philip Morris' expectations for Q4 2013 in a nutshell. In the press release, Philip Morris did slightly lower its FY 2013 EPS range to $5.35-$5.40, from the previous range of $5.43-$5.53. Using the midpoint for both ranges, this new guidance lowers Q4 2013 EPS guidance by $0.10-$1.36. The company noted that this guidance is especially cautious. However, do note that the new guidance includes a $0.03 per share negative impact from organizational restructuring and a $0.01 per share negative impact from a special tax item. Adjusting for these one-time items, Philip Morris' new guidance lowers Q4 2013 EPS by around $0.06 per share.
Conclusion
At face value, Q3 2013 appears to be a middling quarter for Philip Morris. I am sure both bulls and bears will find many items to nitpick. That being said, Q3 2013 was actually Philip Morris best quarter thus far this year, as the prior two quarters were much weaker.
The key takeaways, in my opinion, are FCF and pricing power. Philip Morris was able to raise prices in key markets by around 7%, helping buffer the impact of lower volumes. This is seen in its robust FCF figures.
For long-term focused investors, Philip Morris remains a solid hold. FCF remains strong, dividends increases continue to be impressive, while stock buybacks continue unabated.
Disclaimer: The opinions in this article are for informational purposes only and should not be construed as a recommendation to buy or sell the stocks mentioned. Please do your own due diligence before making any investment decision.
Disclosure: I am long PM, MO. I wrote this article myself, and it expresses my own opinions. I am not receiving compensation for it (other than from Seeking Alpha). I have no business relationship with any company whose stock is mentioned in this article.