Following up last week's surprise announcements that Cel-Sci Corporation (NYSEMKT:CVM) had signed a Cooperative Research and Development Agreement (CRADA) with the Naval Medical Center in San Diego and that it would raise $17.8 million via a public offering of common stock and warrants, shares of the company suddenly looks not only technically oversold but also undervalued from a valuation perspective despite the recent dilution needed in order to continue their expensive Phase III trial for a first line treatment of head and neck cancer and the financial stability required for their continued listing on the NYSE.
The late-stage oncology company announced a 1-for-10 reverse stock split of its common stock, which took place in late September following what CEO Geert Kersten described as "numerous discussions with investors, advisors and our board about our capital structure."
He stated at the time: "We believe the resulting increase in share price will demonstrate the true value of Cel-Sci's common stock and broaden the appeal of our shares to investors, particularly institutional stockholders."
Unfortunately, if Cel-Sci was trying to avoid being a sub $1 stock, they may not have anticipated being right back under that key dollar notch so quickly. Other analysts have recently been telling traders to wait for CVM's new bottom before jumping in for what could be a great ride back up, but since the financing, many investors have been wondering where the new bottom is? Fortunately, there appear to be some signs pointing to it now and clarity may help set the table for some short term gains here.
To begin with, now it appears the company has at least enough money to last them through the first half of 2015 and in the process they have cleaned up their cap structure, held on to their major exchange listing and have begun announcing genuine key developments that appear to carry more positive and transparent implications from clinical data (from the new studies) as well as updates from the reportedly expedited entrollments of that PHASE III trial moving forward. That is something investors have been calling for during the past few years as Cel-Sci, like many other biotechnology companies, needs to keep raising money in order to successfully navigate the pricey FDA clinical trials process.
This week, the market also got positive unexpected news when Cel-Sci announced that it has signed a co-development and profit sharing agreement with Ergomed Clinical Research Ltd. for Cel-Sci's investigational immunotherapy drug Multikine ("Leucocyte Interleukin Injection") in HIV/HPV co-infected women with cervical dysplasia.
That follows last week's announcement that the Navy signed a cooperative research and development agreement to use Cel-Sci's Multikine in a study involving men and women patients with HIV and human papilloma virus with peri-anal warts. These peri-anal warts are a serious medical problem whose images shouldn't even looked at by the faint at heart.
As investors may know, Human Papilloma Virus (HPV) is the most common sexually transmitted disease and it appears that the company is going long and strong into developing drugs for two somewhat related, growing unmet medical needs in the same space.
Under the terms of this most recent agreement, Ergomed will assume 50% (up to $3 million) of the clinical and regulatory costs for the development of Multikine as a potential treatment for HIV/HPV co-infected women with cervical dysplasia, but that doesn't call our attention as much as the fact that in a relatively short period of time we will see if Multikine works at "melting away" these, often time, pre-cancerous growths. From all accounts, this is what was seen in studies at the University of Maryland after Multikine was administered and resulted in visual and histological evidence of clearance of lesions.
Furthermore, it is important to note that elimination of a number of HPV strains was determined by in situ polymerase chain reaction (PCR) performed on tissue biopsy collected before and after Multikine treatments. As reported by the investigators in those early studies, the volunteers all appeared to tolerate the treatment with no reported serious adverse events.
If these types of results are seen in these new studies, which will yield results, and possibly even marketable products much, much sooner than the historically slow PHASE III trial involving Multikine, then everything changes.
Plain and simple, Multikine is Cel-Sci and Cel-Sci is Multikine. If the drug works, it will show the market in a very visible way that it has the potential to treat many many different types of lesions and cancers. As one investor commenting on a previous Seeking Alpha thread put it: "favorable Multikine news would push this stock to anywhere from 200 to 2000 percent higher."
That the U.S. Navy and Ergomed have gotten behind Multikine the way they have after seeing some key clinical evidence right now speaks volumes to those who are paying close attention.
Risk-vs-Reward
To those who say that Cel-Sci has been raising money for far too long without a real product yet on the shelves, CEO Kersten said that during times of crisis, the first thing he's done is put himself on zero salary and that he and other officers of the firm have often had to put money into the company out of their own pockets to keep it alive.
"It shouldn't take this long," said Kersten in his most recent video interview. "But historically, first in a new class drugs take twenty eight - thirty years. Teva's big drug... Imclone's Erbitux, took the same time period. So why does it take so long? Because there's no money early on, people don't believe in it, it's regulatory this, regulatory that. It's the reality."
Honestly, as traders we may not stick around to see how it all plays out, but we will gladly trade in and out of this stock as it has the potential to reverse here. Right now we like Cel-Sci here as a very strong bottom bounce candidate. Traders who knew the company was bound to raise money again recently took a short position in the stock, they made their money and have all started to head for the exits. As the chart below shows, there has been a 90% decrease in the number of shorts.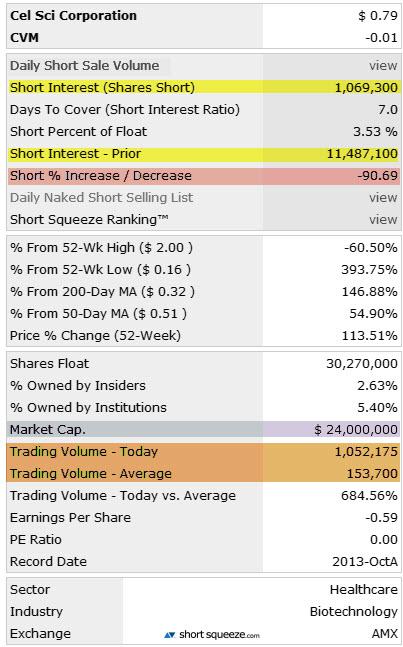 Right now, the price of the stock reflects a mere market cap of $24 million despite the fact that the company has far more than that in assets and cash right now.
Given the attractive terms, the recent financing the recent financing and should net the company closer to $20 million in cash.
Also, the company has among it's assets a $25 million state-of-the-art "Cold-Fill" facility where it manufactures it's other most valuable asset: Multikine itself. All of this for the world's first Phase III study in the world in which the investigational immunotherapy drug is given to cancer patients first, i.e. prior to their receiving any conventional treatment for cancer, including surgery, radiation and/or chemotherapy.
So why are shares trading 20% below the announced $1 pricing of the finance deal? Some believe that this is most likely because some of the "fast money" participants who got warrants in the financing deal have been selling them at a discount, right around the $0.80 mark. As soon as that "overhang" clears, the stock could see a quick re-appreciation.
There has also been heavy volume trading in the stock, indicating a willingness from eager buyers to grab these shares at today's prices and simply wait for the stock to turn for short term profits.
We feel like we should point out more negatives here, but frankly the stock has been so beat-up that we don't see a lot of fundamentally or technical risk left now. In fact, the company hints at more positive news on the horizon in regards to rapidly expanding enrollment in their PHASE III study to meet its recruitment goals-- something which has haunted the company and its shareholders for quite some time.
The NYSE recently granted Cel-Sci an extension until October 31, 2013 to regain compliance with the Exchange's continued listing standards and that should officially become a non-issue (think upcoming trade catalyst) after it too was something that had been hanging over investors' heads as a point of stress.
Bottom bouncers are one of our favorite low-risk plays in the market and after this week's news, Cel-Sci looks like an attractive candidate for just such a trade. Especially considering the potential for new, substantive positive news flow-- something the company has been lacking plenty of in recent times.
Disclosure: I am long CVM. I wrote this article myself, and it expresses my own opinions. I am not receiving compensation for it. I have no business relationship with any company whose stock is mentioned in this article.