Last night, the S&P 500 Index closed at 1721.54, just a bit below its September 18, 2013 all-time closing high of 1725.52 and 10% above the closing high of 1565.15 it hit back on October 9, 2007.
Which financial stocks have recently hit all-time highs? The chart below shows, for the 25 largest US financial institutions by market cap, the days since each hit its all-time closing high (blue bars) and last night's closing share price as a percentage of the all-time closing share price (green bars). Data is provided by SNL Financial LC: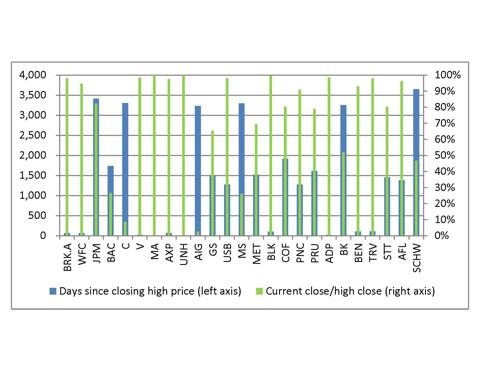 A good result is a high green bar and a low blue bar. That means the stock is at or near its all-time high. A bad result is a high blue bar. That means the stock's high price occurred in the distant past. A very bad result is a high blue bar plus a low green bar. That means the stock is nowhere near surpassing a high price it hit in the distant past.
What does this chart tell us? It tells us that the best performing financial stocks generally haven't been depository institutions. Citigroup's (NYSE:C) current price is a low 9% of its all-time high. That's not surprising, given the massive dilution caused by its required common equity issuances. What is surprising is that Citigroup's highest price occurred 3,303 trading days ago, in August 2000. So the stock was a disappointment even before the financial crisis. That's true for JPMorgan Chase (NYSE:JPM) too. Its high share price occurred in March 2000, when JPM was a fraction of its current size. Luckily JPM didn't suffer the magnitude of dilution that C did, and as a result, last night's closing price is 82% of the all-time high.
Wells Fargo (NYSE:WFC) hit its all-time high last July, and its current share price is 5% below this high. Its prior cyclical high occurred in September 2008. So WFC didn't experience a "lost decade" (or at least a lost eight years) the way C and JPM did.
Note that several of the stocks in the above chart are basically at their all-time highs, including Berkshire Hathaway (NYSE:BRK.A), Visa (NYSE:V) and MasterCard (NYSE:MA).
So when large bank stock investors reminisce about the "good old days", are they talking about the 1990s?
Disclosure: I have no positions in any stocks mentioned, and no plans to initiate any positions within the next 72 hours. I wrote this article myself, and it expresses my own opinions. I am not receiving compensation for it (other than from Seeking Alpha). I have no business relationship with any company whose stock is mentioned in this article.