Perhaps my least favored game show personality is Vanna White of "Wheel of Fortune" fame. Now I have no way of gauging your T.V. viewing preferences, so hopefully I didn't just lose half of my reading audience. In addition, I'd like to make something perfectly clear: I don't have anything against her personally. In fact, she seems quite nice. But let's be honest, her job function was extinct decades ago. Maybe I'm in the minority here, but getting paid an estimated $4 million a year - that's hundreds of dollars per minute of airtime mind you - for doing something unnecessary and less efficient just seems a bit off to me. It's sort of like handing someone a dollar to walk up to your T.V. and change the channel when you have the remote in your hand.
This point was made perfectly clear to me when I happened to catch a recent episode. Vanna forgot to start a puzzle, and guess what happened? Nothing, the game went on. And then it occurred to me: as much as I disagree with handing someone millions of dollars to walk back and forth, I couldn't argue with the idea that her "job" is precisely how the majority of us should be going about our investing lives. Allow me to explain.
I can't imagine that many are unfamiliar with Vanna's job but I'll break it down: she stands by a giant game show board, walks over to lighted squares, taps them, smiles and tries not to get in the way. All of which could be done by a computer or operator - granted not necessarily whilst clad in an evening gown, but still. Let me reiterate, her job is to: stand around, walk back and forth occasionally and keep on smiling. Ok, so how do we apply this to investing? That's easy.
Stand Around
From 1991 to 2010 the S&P 500 Index returned an average of 9.14% each year. During that same time, the average equity investor earned an average yearly return of just 3.83%.
Said differently, two decades worth of transaction fees, taxes and inopportune trading coupled with that meddlesome thing called "investor psychology" makes it clear that even matching the market is quite a task. First off, in a perfect world only half of the capital returns can be above the average - for every dollar outperformer there's a dollar underperformer. Add in frictional expenses and clearly more than half of the capital participants will trail the theoretical "average." As a group who is chiefly concerned with beating the "average" the contestant literally has a better chance of calling a coin flip in a given year.
But of course that's not to say that it can't be done, think "The Superinvestors of Graham-and-Doddsville." Nor is that to say that beating the market is the only goal out there. Think of focusing on an ever growing stream of income that covers all of one's expenses for instance. All I'm suggesting is that the average equity investor in the beginning of the 1990s could have achieved superior results by doing… well nothing. That is - as a group - they could have done better than they did by taking the Vanna White approach.
And it follows that this approach - standing around - is likely quite reasonable for a good portion of investors. When you hear about the debt limit or the fiscal cliff and the rest of the daily jibber-jabber, usually it's a good idea to take a step back from all those distractions. As I demonstrated in my last article even if you bring up a classic bad news example, it's possible that one's memory could simply be too short. The magic of compounding can only be "magical" in the longer term. Or expressed using a Warren Buffett quote: "Inactivity strikes us as intelligent behavior." (Perhaps I don't give Vanna enough credit!)
Walk Back and Forth Occasionally
Now before I get into too much hot water, it should be noted that Vanna does walk back and forth occasionally. In fact she does even more than this; sporadically touching pieces of glass as they light up. Here I believe that walking back and forth is an excellent proxy for "monitoring your holdings."
Whatever your strategy, it seems reasonable that the majority of investors have a better chance at meeting their goals with a long time horizon. It's very difficult to build a fortune in a year's time. With this in mind, I would advocate that the "standing around" ideology - i.e. not panicking, continuously contributing and having a long-term view - is at the heart of successful investing.
For instance, if you're a dividend growth investor, then building your core collection of the Coca-Colas (NYSE:KO), Procter & Gambles (NYSE:PG), Johnson & Johnsons (NYSE:JNJ), PepsiCos (NYSE:PEP) and McDonald's (NYSE:MCD) of the world is likely your first priority. But once you do that, it's not as though you can fall asleep for the next few decades and trust that everything will be A-Ok. To be fair everything still might still be fine, but it's always important to monitor your holdings. For instance, let's say that you are a partner with Sherwin-Williams (SHW), a company that has not only paid but also increased its dividend for the last 35 years. If you compared its current valuation to its perceived earnings power you might want to reiterate your investment thesis.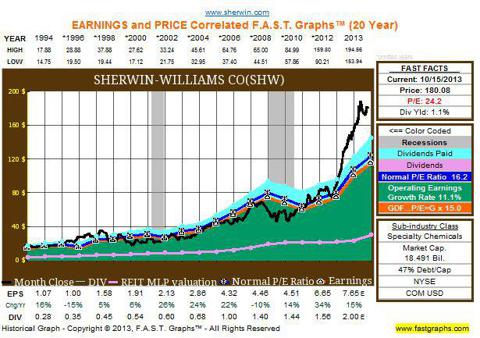 Knowing what would "make you sell" - or at the very least not buy - is paramount to monitoring one's holdings.
Keep on Smiling
Finally, Vanna sure does smile a lot. (I suppose receiving dollars per second doesn't hurt.) With this "task" I would like to make two points. First, within finance you are bombarded with an abundance of information and sales pitches - some useful, much of it downright harmful. But that's not the important part. The imperative thing to realize is that you're not comparing yourself to the market or John Jones next door or anyone really. You're simply working within your own expectations. In this way, if you have a strategy in place - whatever that might be - you can drown out the sidetracking alternative investing suggestions and focus on the task at hand. That is, if you like how you're investing you can listen patiently but ignore completely.
The second item that one can take from Vanna's sunny disposition is when you start to realize that your strategy is working. For example, if you're a dividend growth investor this would be the point where sizable income checks start hitting your account whether you do anything or not. You could forget about looking at your statement for a month or two and wouldn't you know the money still comes in, the game goes on. In fact, sometimes activity might actually hinder your lasting goals. When you can structure your life such that you don't really have to do anything to be successful, you've won. Eventually you get up in the morning, point to your brokerage statement and smile; just like Vanna.
So there you have it. If you want to be a successful investor, just take the lead from Vanna White: stand around, walk back and forth occasionally and keep on smiling. That is, take a long-term approach to investing. Continuously monitor your portfolio and potential partnerships. Filter out the various investing noise, have a strategy in place and "enjoy the fruits of your labor."
In reality Vanna White could just stand there and the game would go on as it normally does. Well I suppose that's not entirely true - really the game would be a bit quicker and perhaps you could fit in an extra puzzle or two, but you get the idea. Whether your job is to point at letters or to invest, most of the time you're just standing there smiling.
Disclosure: I am long JNJ, PG, KO, PEP, MCD. I wrote this article myself, and it expresses my own opinions. I am not receiving compensation for it (other than from Seeking Alpha). I have no business relationship with any company whose stock is mentioned in this article.