Now that we have a deal reached it appears that the field is set for a rally into the year-end. The price action in our indicator Cheniere Energy (NYSEMKT:LNG) would seem to indicate this and the bullishness we are seeing in names like Gulfport Energy (NASDAQ:GPOR), Diamondback Energy (NASDAQ:FANG), Laredo Petroleum (NYSE:LPI) and Pioneer Natural (NYSE:PXD) also leads us to believe that the breadth of this bullishness indicates that our belief is in fact real.
Right now we want investors to focus on plays in the Utica, Permian, Bakken and Eagle Ford shales. As it pertains to the Eagle Ford pay careful attention to the various windows because we are bullish the wet gas and condensate/oil windows and those companies with acreage there...not the dry gas plays in the Eagle Ford.
Chart of the Day:
Gold is rallying today after Washington reached a deal and investors have had a chance to analyze it. The thinking is that Yellen will keep the Fed on course with no tapering until early 2014, but sometime after the next debt ceiling fight, and that is enticing to bullion traders. We would not get caught up in this as it seems a trade; there are far better investment opportunities out there to put one's capital over the next 3-6 months.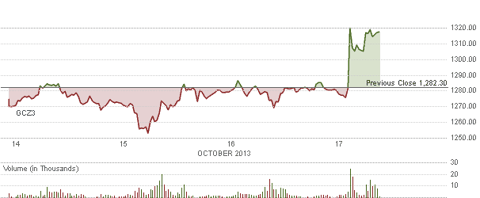 Source: CNBC
Commodity prices this morning are as follows:
Gold: $1314.20/ounce, up by $31.90/ounce
Silver: $21.76/ounce, up by $0.395/ounce
Oil: $101.07/barrel, down by $1.22/barrel
RBOB Gas: $2.6736/gallon, down by $0.0285/gallon
Natural Gas: $3.734/MMbtu, down by $0.035/MMbtu
Copper: $3.2805/pound, down by $0.0275/pound
Platinum: $1424.10/ounce, up by $25.90/ounce
The Indicators Continue To Indicate Bullishness...
We thought that Cheniere Energy was looking like it wanted to break out when we were looking for direction in our oil names not so long ago. We even discussed this fact in our morning articles as the stock broke back up above $30/share and then approached its highs. The stock has since rallied above $38/share and set fresh highs while the rest of the sector has followed suit. This is a momentum stock, but also a great barometer for measuring the risk-on trade in the energy markets and the fact that it continues higher dictates that we remain bullish the oil and natural gas names for the foreseeable future.
Some Issues In The Utica...
We would nibble on a dip below $65/share and increase buying as the shares approached $60/share. That seems the reasonable approach here.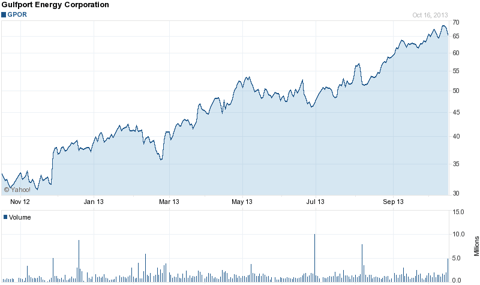 Source: Yahoo Finance
One of the few underperformers in the sector yesterday was Gulfport Energy which saw shares end the session down over 3% on volume of 4.9 million shares after the company issued another press release (see here) which indicated that it would again miss quarterly production guidance and its exit rate for the year. It appears that it is experiencing more drilling delays and issues, which have only recently become a problem. Before it was the midstream partners, now it is the drilling but regardless of the issues we know one thing for certain and that is that no matter what the problem is that the stock is a buy on the weakness. This has been the case all the way up to current levels and a quick look at the chart confirms this. This is a name which one must buy on weakness and generally quickly as the shares have a tendency to snap back. We are long the stock, so maybe our view is distorted a bit, but our portfolio does confirm that this is a name that works when buying on weakness.
The Permian Names Continue To Rally...
One of the additional benefits to owning Gulfport shares is the exposure that one gets to Diamondback Energy. Diamondback is 12.1% owned by Gulfport because of the acreage that was put into the company and the deal has worked out extremely well for both companies. Diamondback has been able to realize economies of scale in the Permian's most attractive new area while Gulfport has been able to focus on developing its Utica acreage while getting to participate in the increasing value of that Permian acreage via Diamondback equity - which had done nothing but go up.
One rarely gets the chance to see long-term linear charts of companies rising steadily, but Diamondback Energy has done just that. This is one of the more beautiful charts shareholders will see in their investing careers.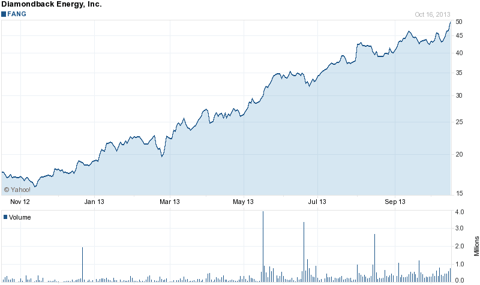 Source: Yahoo Finance
Yesterday Diamondback shares rose almost 6% on its press release (see here) that it had surpassed 10,000 BOE/d in production from its Permian assets. The company has been developing the acreage at a healthy pace, which has helped the share price rally the past few months but has recently brought out some skeptical analysts who questioned the company's acreage because of the lack of representation in the top 10 wells in the play. You can only work with what you have, and if you don't have a top 10 well then you simply don't have a top 10 well. But the company does have a great asset base, strong balance sheet and capable management team. The production announcement yesterday highlighted this and this is further reason for the shares to continue at its rise. We do see some potential issues ahead, but we believe that the trend will continue higher.
For those who are seeking diversification in the play, or looking to invest some of the winnings from Diamondback into another name, we think that Laredo Petroleum is an interesting name with considerable upside available for patient investors. Its stock was up just over 3.50% yesterday as many of these names rallied with the general market on news of a deal in Washington, as well as the increased chatter surrounding the Pioneer Natural research note, which was discussed on CNBC during the 9 a.m. hour on "Squawk on the Street." We are currently working on an article regarding Laredo Petroleum and hope to have that ready in the next week or two, so keep your eyes out for that.
Disclosure: I am long GPOR. I wrote this article myself, and it expresses my own opinions. I am not receiving compensation for it (other than from Seeking Alpha). I have no business relationship with any company whose stock is mentioned in this article.