On Wednesday, October 16, Statoil (NYSE:STO) announced that it would be abandoning a proposed $120M wind project off the coast of Maine, which industry officials once said could make Maine a leader in offshore wind power, after the state moved to reopen the competitive bidding process. In the wake of Wednesday's announcement, I wanted to highlight a number of the reasons why I still remain bullish on shares of Statoil.
#1 - Recapping Statoil's Abandonment of the Maine Project
As a result of Statoil's abandonment there are a number of negative catalysts regarding the state of Maine. For example, renewable industry officials, environmental groups and lawmakers say losing the project is a significant blow to Maine's ability to cultivate an offshore wind industry and doesn't bode well for future investment in the state.
According to a press release dated October 16, "Statoil gained initial state regulatory approval for a 20-year contract with the state to put four wind turbines 12 miles off the coast. But the company put its project on hold in July after Gov. Paul LePage signed legislation to reopen the competitive bidding process to allow the University of Maine to submit a proposal. LePage opposed Statoil's project, saying it would push $200 million in costs onto ratepayers. The company went on to say that changes in terms with the state and scheduling delays "made the project outlook too uncertain to proceed".
Are there any alternatives to consider? The company said in a statement that changes in terms with the state and scheduling delays "made the project outlook too uncertain to proceed." As a result of these changes Statoil said it was focusing on a project in Scotland while continuing to explore the United States' offshore wind market.
#2 - Recent Performance & Trend Status
On Wednesday shares of STO, which currently possess a market cap of $72.28 billion, a beta of 1.15, a forward P/E ratio of 8.67, and a current dividend yield of 3.83% ($0.87 USD), settled at a price of $22.72/share.
Based on their closing price of $22.72/share, shares of STO are trading 0.19% above their 20-day simple moving average, 2.20% above their 50-day simple moving average, and 0.25% below their 200-day simple moving average. These numbers indicate a short-term and mid-term uptrend for the stock and a slight long-term downtrend which generally translates into a moderate buying mode for most near-term traders.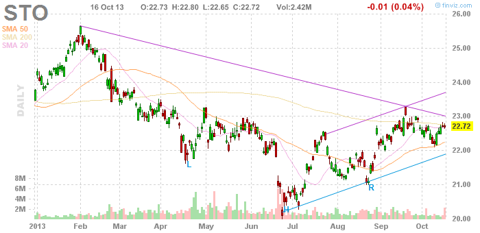 #3- Recent Dividend Behavior
Since 2009, the company has actually increased its annual dividend three times in the last four years. The company's forward dividend of 6.75NOK (converted to accurately demonstrate an upward trend in the dividend) makes this particular oil & gas play a highly considerable option, especially for those who may be in the market for a higher-yielding stream of annual income.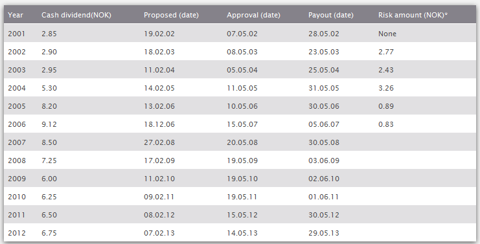 Statoil's Exposure to Risk
According to the company's website, "Statoil defines risk as a deviation from a specified reference value and the uncertainty associated with it. A positive deviation is defined as an upside risk, while a negative deviation is a downside risk. The reference value is expectation - most likely a forecast, percentile or target. The company manages these risks in order to ensure safer operations and its ability to reach the corporate goals it sets forth throughout the year".
Clearly there are a number of geographical and weather-related risks one must consider before investing in Statoil. However, one must understand that company has implemented a very high-risk operational strategy that, although aggressive, seems to have worked over the past decade.
Conclusion
For those of you who may be considering a position in Statoil, I'd keep a watchful eye on a number of catalysts over the next 12-24 months as each could play a role in the company's long-term growth.
For example, near-term investors should focus on the company's recent trend status and long-term investors should pay close attention to any growth related to the company's offshore wind operations, as improved revenues from Scotland rather than Maine could positively impact STO's annual dividend.
Disclosure: I am long STO. I wrote this article myself, and it expresses my own opinions. I am not receiving compensation for it (other than from Seeking Alpha). I have no business relationship with any company whose stock is mentioned in this article.