Glu Mobile's (NASDAQ:GLUU) newly released game Deer Hunter 2014 is a huge success. The game has topped the free charts and is also hanging in the top 10 spots of the Grossing charts. The game's performance has been an incredible hit so far for the small cap company, reaching the #1 Free Game spot on the iPhone, the iPad, the Mac, and the Android platform. Amazon (NASDAQ:AMZN) is the sole remaining platform for the game to be launched on, and the store seems to be excited as both Deer Hunter Reloaded and Deer Hunter 3D were featured in the #1 and #2 spots in the "Games For You" category of the homepage earlier this week.
The game is doing exceptionally well, but as an investor, what it really boils down to is how much revenue the game is bringing in. Below is the daily estimate provided by www.ThinkGaming.com for iOS revenue in the United States.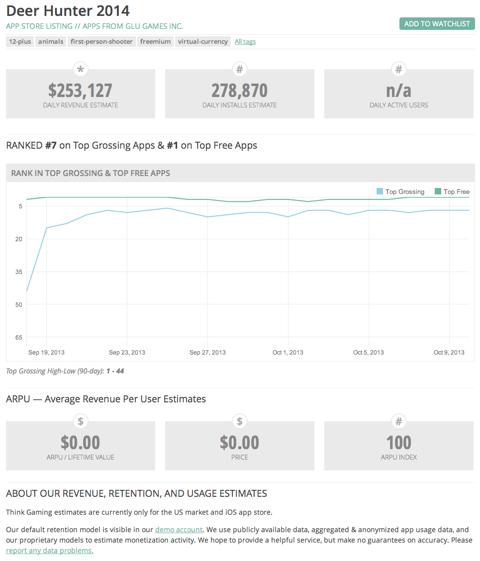 As you can see above, the estimates show Deer Hunter 2014 bringing in $253,127 in revenue per day, and gaining 278,870 new installs each day. Deer Hunter has been a couple spots higher and a couple spots lower on the top grossing list, but I will use the #7 Top Grossing app figures to demonstrate what this will translate to if Deer Hunter can remain in the top 10 grossing for the majority of the quarter.
Also of note, at the bottom of the graphic you will see that the $253,127 figure is an estimate of United States revenue, on iOS only. Meaning that the other 147 countries, and other 3 platforms are not included in this figure.
To calculate an estimate of total revenue, we can look at Glu's historical revenue figures to give us an idea of what to expect in total revenue from Deer Hunter 2014. We will need to take into account the % of Revenue from the United States, as well as from iOS. These are the figures which I obtained from Glu's 2nd quarter earnings call.
Revenue Percentage by Region
| | |
| --- | --- |
| North America | 40% |
| EMEA | 23% |
| APAC/China | 24% |
| Row/Latin America | 3% |
Revenue Percentage by Platform
| | |
| --- | --- |
| iOS | 63% |
| Android | 31% |
| Other | 6% |
To estimate total revenue generated per day, we will take the U.S. Revenue figure of $253,127, and multiply it by 2.5 (60% of revenue comes from outside North America and multiplying 60% by 2.5 gets us to 100% of total global revenues). This takes us to $632,800 in total global revenue on iOS. It is also important to note that revenue from Mexico and Canada are excluded for easy demonstration purposes, as they are part of the 40% of revenues from North America. Though including them would make the final figures much higher, I am using only the U.S. revenue figures for easier demonstration purposes, and to provide a nice cushion to my estimates.
We can then take that $632,800 in iOS revenue and multiply it by 1.58 (63% x 1.58 =100%) to get total platform revenues. That takes us to $999,824 in total Deer Hunter 2014 revenue per day.
Analysts are currently projecting for 2013 Annual revenue of $ 97.1 Million and 2014 Revenue of $113.5 Million. Glu's third quarter guidance calls for revenues between $19.6 Million and $21 Million.
With a current market cap of $239 Million, Glu would triple its projected 2014 revenues of $113.5 Million from Deer Hunter 2014 alone if it were able to show a similar staying power to Hay Day, Candy Crush, and Clash of Clans. With third quarter revenue guidance of $21M on the high end, Glu could raise its guidance by 50% to $30M and still beat that number by 300%! This would require Deer Hunter 2014 to remain in the top 10 Grossing charts for the entire 4th quarter which will not be an easy feat, but it also does not take into account any of Glu's other games that are still contributing millions of dollars to the bottom line. Not to mention the new 4th quarter release slate of Motocross Meltdown, Eternity Warriors III, Frontline Commando II, or any of Glu's 3rd party games.
Analyst Upgrades
Needless to say, analysts have chimed in with upgrades on Glu Mobile this week.
| | | | | |
| --- | --- | --- | --- | --- |
| Analyst | Rating | Prev Price Target | New Price Target | % Increase |
| Northland Capital | Outperform | $3.00 | $4.00 | 33% |
| B. Riley | Upgrade to Buy from Neutral | $2.75 | $3.75 | 36% |
| Canaccord Genuity | Buy | $3.00 | $4.00 | 33% |
While these three analysts have already raised their price targets, there are 5 firms still rating the company a hold including Benchmark that initiated coverage on August 15th with a 12 month Price Target of $2.42. Of the 9 analysts currently covering Glu Mobile, the average price target is $3.10. Even with the recent price target boosts to $4, I still find their price targets to undervalue Glu given the success of Deer Hunter 2014.
Taking into account my estimates above, I believe that Glu will post better than expected earnings on October 30th and should raise guidance significantly for the 4th quarter. However, knowing Glu's management, and their 3 years+ streak of earnings beats greater than 25%, they will likely guide only slightly higher. They will also likely call for breakeven results in the 4th quarter, only to surprise with a substantial profit.
Bullish Technical Setup
Not only has Glu Mobile drastically improved fundamentally, it is also set up beautifully technically. The stock closed on Oct 16th, at $3.13, which is not only above the current average price target of $3.10, but it is also above Glu's 20, 50, and 200 day exponential moving averages. Now that the 20 day moving average has crossed through both the 50 and 200 day moving average, and is holding substantially above both… we can expect the 50 day to cross through the 200 day exponential moving average in the days to come, creating the almighty Golden Cross. The 50 day currently sits at $2.63 and has been curling up at a rate of about .02 per day for the last several days towards the 200 day moving average which stands at $2.74. At the current .02 per day rate I suspect the bullish cross to occur in about 6 trading days, slating it to occur on or around Thursday Oct 24th.
Here is the chart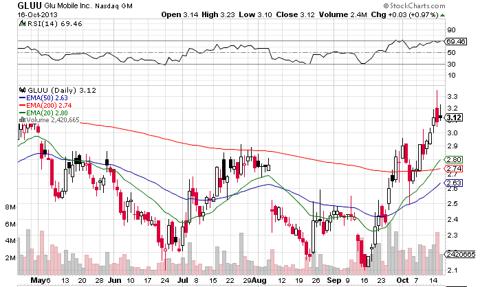 The bullish momentum from the Golden Cross should send the shares through resistance into the high $3 range, and when the company reports on the 30th, I expect the stock to break above its 52 Week high of $3.86 set back in March of this year when the company announced plans to enter real money gambling. It is crazy to think that the stock rallied so much on a chance of real money gambling revenues, but now that the company has produced a record setting, revenue generating game, the stock still can not break out of the low 3's because of the heavy short interest.
Short Interest
Shorts have been in control of Glu's stock for over a year now and that trade has paid off handsomely. Now that the trend has changed from bearish to bullish and Glu is making record revenue, the tides have turned and they are slowly being forced to cover.
Here is the Current Share Statistics
| | | |
| --- | --- | --- |
| Shares Outstanding | 70.53 Million | |
| Float | 59.22 Million | % of Float |
| Institutional Ownership | 14.7 Million | 24.8% |
| Insider Ownership | 18.16 Million | 30.7% |
| Shares Short | 13.53 Million | 22.85% |
| Shares Available to Longs | 12.83 Million | 21.7% |
As you can see, there are very limited shares available (12.83M) to people interested in taking a position. The stock is easily manipulated, and with the number of shares sold short outweighing the number of shares long, the shorts have control yes, but they have put themselves between a rock and a hard place. The heavy weight of the shares they have amassed has managed to hold the stock down, and they are banking on the stock dropping 13% again as it has the last 4 quarters. When they are surprised that it is just not going to pay off this time, there will not be enough shares to go around. The stock is extremely undervalued at these levels because of the predicament the shorts are in, but it creates a great entry point for those wanting to buy shares and who have just a little bit of patience.
Conclusion
Simply put, Glu is set to explode higher. A compilation of bullish technicals, record setting revenue, improved fundamentals, and a very high short interest, will make for quite the ride. I highly suggest that you get in, buckle your seat belt, and enjoy the ride.
Disclosure: I am long GLUU. I wrote this article myself, and it expresses my own opinions. I am not receiving compensation for it (other than from Seeking Alpha). I have no business relationship with any company whose stock is mentioned in this article.
Additional disclosure: These figures are simply estimates simply calculated upon estimates provided by ThinkGaming.com. Variables include a difference in actual monetization figures than those used in either my or ThinkGaming's calculations.