With 215 million users, Amazon (NASDAQ:AMZN) is roughly 40% larger that eBay's (NASDAQ:EBAY) PayPal, but still appreciably smaller than both Facebook (NASDAQ:FB) and Google+ (NASDAQ:GOOG). As such, the release of Amazon's new Login and Pay system has the potential to create an important new revenue stream for the online retail giant. Relative to its competitors there are various pros and cons of the service that will influence its success, and, therefore, the impact it will have on shareholders.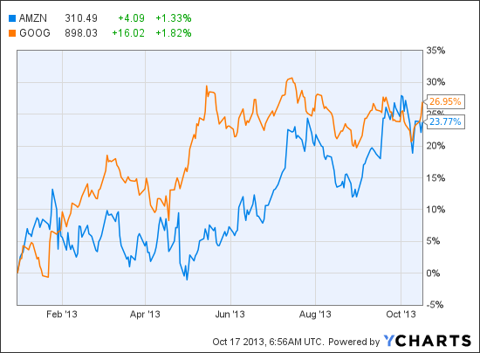 AMZN data by YCharts
In the video below, I discuss the various pros and cons of Amazon's service relative to PayPal, Facebook, and Google, and explore why shareholders should be watching the ongoing success or lack thereof. Amazon continues to create innovative new products and services, but facing the ongoing question of "where are the earnings?" If Amazon can achieve profitability to match its revenue growth, it will become an even greater force in the tech space.
Disclosure: I have no positions in any stocks mentioned, and no plans to initiate any positions within the next 72 hours. I wrote this article myself, and it expresses my own opinions. I am not receiving compensation for it (other than from Seeking Alpha). I have no business relationship with any company whose stock is mentioned in this article.