Incorporating a company in Bermuda has many advantages including the following:
Bermuda is a tax heaven and it does not levy taxes on corporate profits, dividends and capital gains;
Companies in Bermuda have all the powers of a natural person;
The Bermudan government cooperates with companies and there is very little regulation;
Companies domiciled in Bermuda and listed primarily on U.S. exchanges can be included in U.S. based indexes such as the S&P, Russell and Dow.
Three companies incorporated in Bermuda for different reasons are Signet Jewelers (NYSE:SIG), Helen of Troy (NASDAQ:HELE), and Orient-Express Hotels (OEH). Signet Jewelers' reason for incorporating in Bermuda is mainly to be included in U.S. indexes. Signet was based in England until 2008. The company has historically derived an increasing portion of its annual revenues from the U.S. (currently over 80%) and its shareholders are primarily U.S. institutions and individuals. The company gained approval from the England and Wales High Court to relocate to Bermuda. By moving to Bermuda and not the U.S., Signet has all the benefits available to U.S.-listed and domiciled companies while avoiding potentially regulations and lawsuits.
Helen of Troy is domiciled in Bermuda primarily for the tax advantages. The company's effective tax rate is about 15% compared with about 35% for companies domiciled in the U.S. And, finally, Orient-Express is listed in Bermuda to take advantage of its laws protecting companies against activist investors. Orient-Express has two classes of shares with the majority of the voting shares in the hands of a Bermuda-based holding company.
It's a long trip from England to the U.S.
Signet is the largest jewelry retailer in the world recently surpassing Wal-Mart (NYSE:WMT). The company sells jewelry in the U.S. under the Kay and Jared store names and under the H. Samuel and Ernest James names in the U.K. Signet has a rapidly evolving digital ecosystem including online sales and social media. The company's most recent strategy is to expand in outlets with the $57 million acquisition of Ultra Stores and currently has about 110 outlet stores from less than 40 prior to the acquisition. Outlets are currently the most popular retail format attracting more customers than malls and stand-alone stores. In terms of products, Signet opportunities lie in its branded (Jane Seymor open hearts, Neil Lane bridal, and Tolkowsky diamonds) and customizable jewelry initiatives. Also, it is offering diverse store formats and is actively managing its store leases by analyzing store performance particularly when a lease is up for renewal. The company's major publicly traded competitors in the U.S. include Tiffany (NYSE:TIF) and Zale (NYSE:ZLC) and it also faces competition from department store and smaller jewelry stores.
In terms of valuation, Signet appears to be fairly valued. The company is showing solid growth rates driven by the initiatives mentioned above. A headwind for the company could be raw materials inflation, competition from other jewelry retailers, and prolonged economic problems in the U.S. On the positive side, jewelry demand is not likely to be disrupted by new technologies and an industry consolidation could strengthen the largest companies such as Signet. Below is a table comparing a few valuation measures of Signet to those of Tiffany and Zale.
| | | | |
| --- | --- | --- | --- |
| | CIG | TIF | ZLC |
| Price-to-earnings (trailing) | 16.1 | 22.1 | 780 |
| PE-to-growth | 1.1 | 1.6 | 0.6 |
| Price-to-book value | 2.5 | 3.6 | 2.7 |
| Dividend yield | 0.80% | 1.80% | nil |
| Enterprise value-to-CFO | 22.4 | 20.3 | 18.1 |
| Gross margin | 38.1% | 57.1% | 52.1% |
| International sales (latest quarter)* | 15.8% | 52.0% | n/a |
| Online sales (latest quarter for Signet and fiscal year for Zale) | 3.5% | n/a | 5.3% |
CFO - cash flow from operations; Source: Reuters, Capital IQ, SEC filings, author's calculations.
*Tiffany's international sales exclude international sales in the Americas and Zale operates only in the U.S. And Canada.
As seen from the above table, Signet has the lowest gross margin meaning that there is space for improvement. It trades at the lowest PE and price-to-book value ratios and at an average PE-to-growth ratio. Also, it has a dividend yield of less than 1% and relatively low international and online sales, all of which are likely to rise in the future.
Saving a buck from Uncle Sam
Helen of Troy is the company that is clearly taking advantage of Bermuda's tax laws. During its latest fiscal year ended Feb. 28, 2013, the company reported an effective tax rate of 14.6% compared with effective tax rates of 37.7% and 55% for Jarden (NYSE:JAH) and Spectrum Brands (NYSE:SPB), respectively. Jarden (with such brands as Coleman, K2, Crockpot, Mr. Coffee and Quickie) and Spectrum Brands (Rayovac, VARTA, George Foreman and Farberware) are two other major consumer products companies. In dollar terms, if Jarden's and Spectrum Brands' tax rate was 14.6%, they could have saved $90 million ($0.80 per share) and $44 million ($0.84 per share) during their latest fiscal years, respectively.
Helen of Troy is benefiting not only from lower tax rates but also from its exposure to such growing industries as healthcare/home environment, housewares and personal care. The company owns such leading brands as OXO and Good Grips (in housewares), SoftHeat and PUR (in healthcare/home environment), and Brut and PRO Beauty Tools (in personal care). In addition, the company manufactures and markets brands licensed from third parties including Revlon, Dr. Scholls, Braun, and Febreze. As a result, it has been able to more than double its sales in the last five years, organically and through acquisitions, to $1.3 billion for its 2013 fiscal year. For comparison, Jarden and Spectrum Brands sales grew cumulatively 24% and 34% during the past five years respectively. In addition to having a faster growth and paying lower taxes than most of its competitors, Helen of Troy is attractively valued based on a number of measures as seen from the table below.
| | | | |
| --- | --- | --- | --- |
| | HELE | JAH | SPB |
| Price-to-earnings (trailing) | 13.6 | 27.2 | 25.4 |
| Price-to-sales | 1.1 | 0.9 | 0.9 |
| Gross margin | 39.5% | 28.6% | 33.9% |
| Enterprise value-to-CFO | 12.5 | 19.8 | 27.1 |
| International sales | 21.3% | 39.1% | 45.5% |
Source: Reuters, Capital IQ, SEC filings, author's calculations.
Why shareholders hate Orient-Express
The last company in this Bermuda trio is Orient-Express. The company offers luxury hotels and cruises across the globe. Despite charging an average of $2,700 per room per night at its Cipriani hotel in Venice and $500 per room per night at its newest hotel, El Encanto in Santa Barbara, the company has not been able to generate profits for at least the past five years. Part of the reason behind this poor performance is that four (unnamed) directors hold about 63% of the voting power in the company through a dual-class structure and a Bermuda-based holding company.
Orient-Express is able to get away from shareholder activism because the company's headquarters is in Bermuda, which places much more power in the hands of the company than in minority shareholders compared to the U.S. In fact, Orient-Express rejected a takeover by Tata Group for $12.63 per share. Orient-Express common stock has not been able to go over $14 per share since this offer. Currently, the company is trying to return to profitability by focusing on group offerings (up 36% vs. last year) and new products (El Canto and a second river cruise in Myanmar). Also, its hotels in Brazil are fully booked for the World Cup in 2014, with a 30-day minimum stay.
| | | | |
| --- | --- | --- | --- |
| | OEH | MHGC | H |
| Price-to-sales | 2.8 | 1.1 | 1.7 |
| Price-to-book value | 1.8 | n/a | 1.5 |
| Gross margin | 55.6% | 51.7% | 21.0% |
| Net profit margin | negative | negative | 2.9% |
| Enterprise value-to-CFO | 33.3 | negative | 17.2 |
Source: Reuters, Capital IQ, SEC filings, author's calculations.
As seen from the above table, Orient-Express has similar gross margin and a similar negative profit to another luxury hospitality company, Morgans Hotel Group (NASDAQ:MHGC). However, Orient-Express has a positive cash flow from operations, which emphasizes its capability to continue its operations without the need of additional capital. Compared to Hyatt Hotels (NYSE:H), whose properties are not as upscale as Orient-Express, it has more than two times Hyatt's gross margin but seems overvalued based on price-to-sales, price-to-book value, and enterprise value-to-CFO measures. It should be noted that the price-to-book value ratio for Orient-Express is not very reliable as the company is likely carrying many of its properties on its books below their market value. This is evident in the company's large deferred tax liability of over $160 million, which may have to be paid if the company changes its owner.
Conclusion
Similar to people, corporations move to other countries for a variety of reasons. Bermuda is able to attract leading companies with its tax system (or lack of it) and also with its proximity to New York City, laws favoring companies and not shareholders, and a legal system similar to that of the U.S. and the U.K. (but with less regulation). Signet Jewelers, Helen of Troy, and Orient-Express seem to be taking full advantage of Bermuda's friendliness towards companies while their shares are attractively valued.
To sum it up, Signet Jewelers is likely to benefit from expansion in the U.S. and other markets and a consolidation in the jewelry industry. Helen of Troy is currently banking on being able to pay significantly less in taxes and reinvest the profits into acquisitions and new products. And Orient-Express continues to offer new products despite its lack of profitability signifying the company's confidence in its long-term business prospects. Investors looking to invest in offshore companies with large presence in the U.S., should consider Signet Jewelers, Helen of Troy and Orient-Express, which all have unique advantages due to their Bermuda base.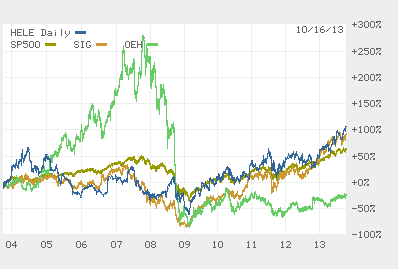 10-year performance of Signet, Helen of Troy, and Orient-Express compared to the S&P 500.
Disclosure: I am long OEH. I wrote this article myself, and it expresses my own opinions. I am not receiving compensation for it (other than from Seeking Alpha). I have no business relationship with any company whose stock is mentioned in this article.