Pharmacy giant Walgreen (WAG) posted strong fourth-quarter results bolstered by solid prescription comps. Sales increased 5.1% year-over-year to $17.9 billion, roughly in-line with consensus estimates. Adjusted earnings per share increased 16% year-over-year to $0.73, also in-line with consensus expectations. For the full fiscal year, Walgreen generated free cash flow around $3 billion, equal to 4.3% of revenue.
Comps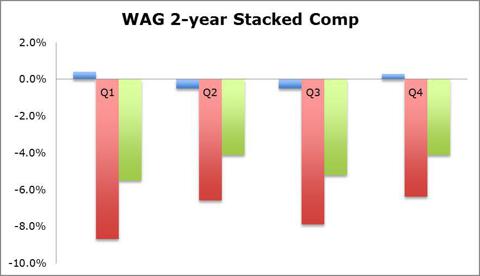 Source: Company Filings, Valuentum
Although the 2-year trend remains negative, Walgreen posted positive same-store sales during the fourth quarter, with front-end sales up 1.6% year-over-year and prescription sales up 6.4% year-over-year (resulting in total same-store sales growth of 4.6%). The comp gains came in spite of declining traffic, leading us to believe that new initiatives such as the rewards program and increased private label penetration are prompting customers to spend more.
Still, the fourth quarter reflects just the second consecutive quarter of positive comp growth. Walgreen will have to dramatically improve traffic and conversions to turn the two-year trend positive. It is also important to note that converting branded to generic drugs has also had a material drag on sales performance, though it should (theoretically) have no impact on front-end sales.
Margins
Gross margin comparisons were difficult, as the measure declined 20 basis points year-over-year, to 28.9% of sales. However, management sounded optimistic that, over the long term, increased generic penetration will be positive for gross margins. Still, the firm will have to deal with loyalty and promotional headwinds on front-end goods in the interim.
As for SG&A, spending increased just 0.9% year-over-year on an absolute basis and declined 100 basis points as a percentage of sales to 23.9%. We're impressed by the cost control, particularly in light of remodeling efforts and capital allocated toward Alliance Boots.
Guidance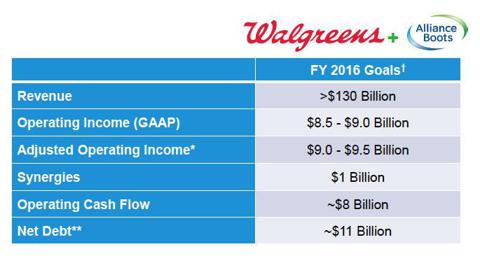 Image Source: WAG Presentation
Walgreen doesn't provide any specific near-term guidance, but the firm continues to work towards ambitious fiscal year 2016 goals. While the sales goal may be attainable, we're not too optimistic about Alliance Boots synergies, which totaled just $154 million during fiscal year 2013. This wouldn't be the first time an acquirer over-estimated cost synergies, but the reasoning behind the deal was predicated on extracting additional cash flow. If that doesn't occur, the deal looks less attractive, in our view.
Valuentum's Take
Although traffic remains weak, front-end sales increased at the fastest rate since the second quarter of fiscal year 2012. Walgreen was notably behind peers such as CVS (NYSE:CVS) with respect to loyalty programs, but the program implementation seems to be effective.
All things considered, we think shares of Walgreen look fairly valued at this juncture, and its only slightly better-than-average annual dividend yield (2.3% at the time of writing) keeps us on the sidelines in the portfolio of our Dividend Growth Newsletter.
Disclosure: I have no positions in any stocks mentioned, and no plans to initiate any positions within the next 72 hours. I wrote this article myself, and it expresses my own opinions. I am not receiving compensation for it (other than from Seeking Alpha). I have no business relationship with any company whose stock is mentioned in this article.