[click to enlarge charts]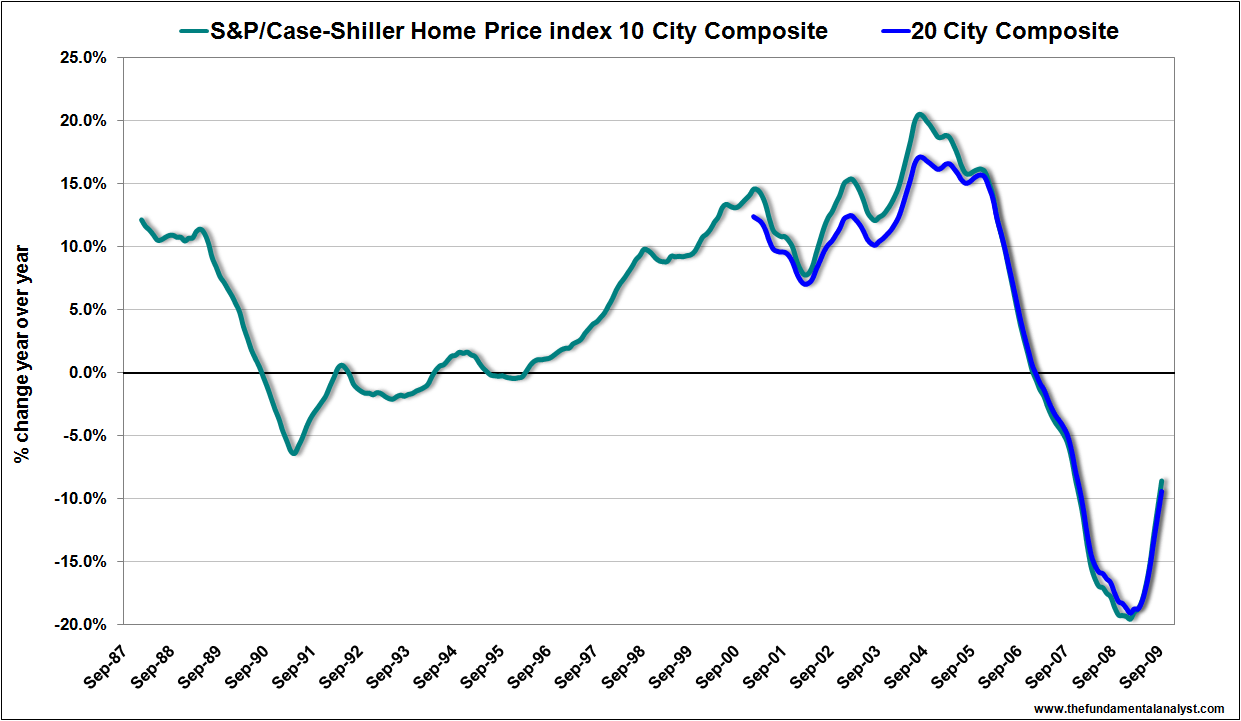 Case-Shiller home price data for September showed home prices rose for the fifth straight month. The 20 city series rising 0.3% from August whilst the 10 city index rose 0.4%. The year over year comparisons continue to improve with the 20 city index down -9.4% from a year ago whilst the 10 city index is down -8.5%. Remember these are the non-seasonally adjusted numbers.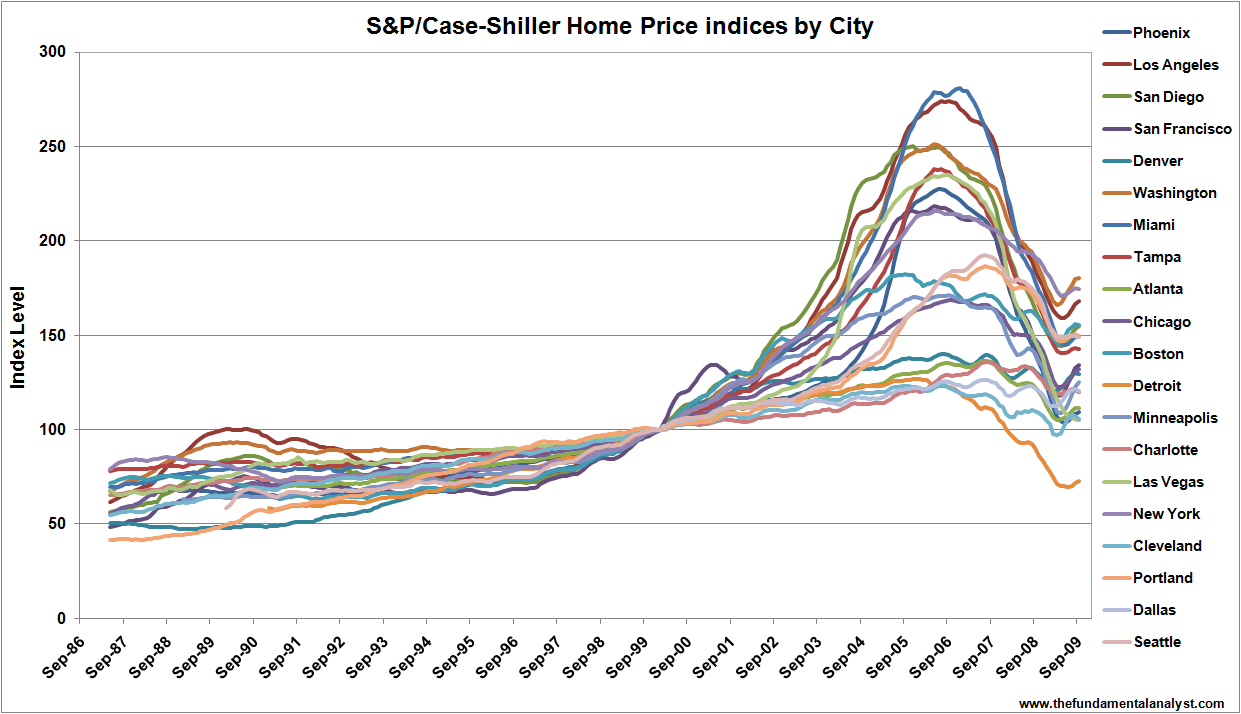 The chart above clearly shows that all cities have experienced a bounce in prices in recent months with the exception of Las Vegas which continues to make fresh lows- house prices in that city are now more than -55% below their peak of August 2006. However despite the bounce, in the most recent month of data, only 9 cities out 20 showed price rises as compared with August when 17 cities rose in price.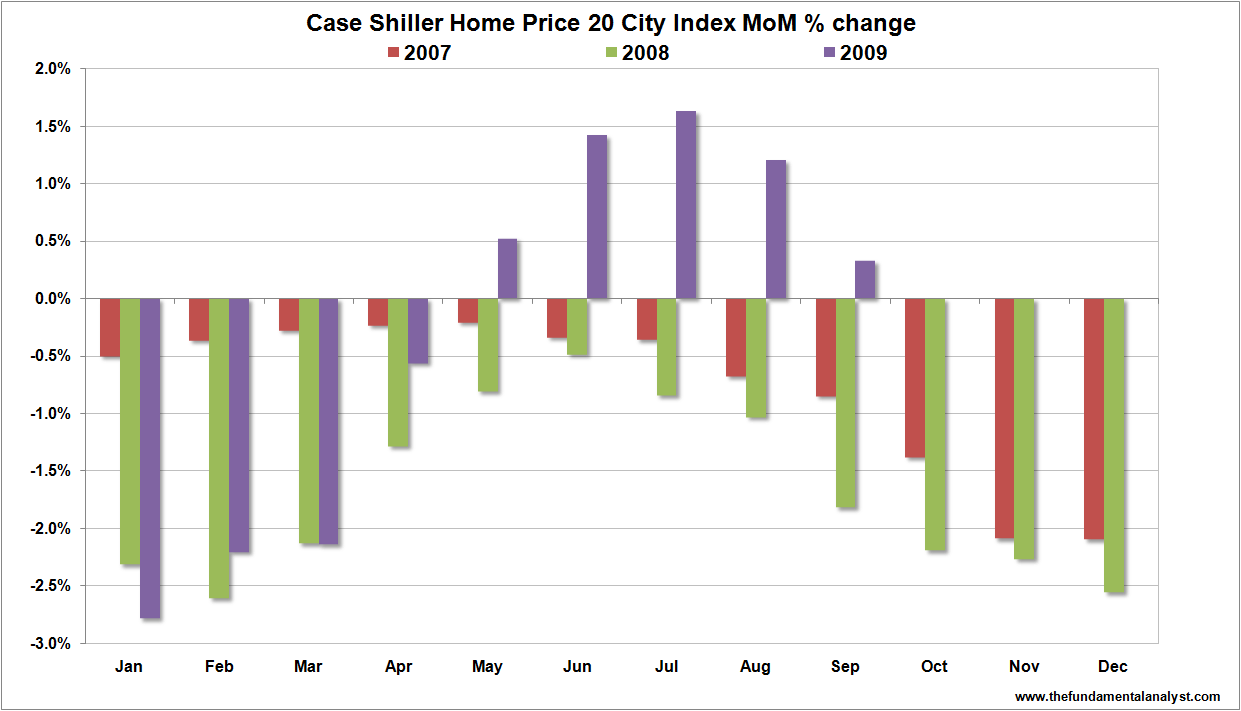 The chart above demonstrates the seasonal nature of home prices. As can be seen, the summer months are most supportive of house prices. In 2007 and 2008 a time of historic home price declines, the summer months showed the least amount of deterioration. In 2009, the summer months, boosted by home buyer tax credits returned to showing month on month gains. However those gains appear to have peaked in July and the usual seasonal pattern of lower prices into the fall and winter is set to reassert itself.
The decision to extend the home buyer tax credits means that price declines in the months ahead may not be as steep as experienced in 2008 or 2007 when home prices were falling 2% – 3% per month. However there are a number of factors working against the stimulus measures.
Firstly a new wave of mortgage resets is just getting underway and will continue to well into the first half of 2010. Data out from the MBA last week showed that delinquencies continue to rise with 14.4% of US mortgages either in foreclosure or delinquent in 3Q09 and the MBA does not expect foreclosures to peak until 2011. Add to that data out yesterday from First American Core Logic that shows 23% or 10.7 million US mortgages are now underwater and you have some serious downward pressure on home prices in the short to medium term.