Introduction
On October 28, Apple (NASDAQ:AAPL) will release earnings for Q4 2013. Initially, Apple guided for revenue between $34B and $37B, but after the better than expected launch week of iPhone 5S and 5C, management has updated its guidance. It now expects both revenue and gross margin to come in near the high end of the guidance.
But what really matters isn't the earnings for the quarter, but instead the guidance management will provide for the next quarter (fiscal Q1 2014). Analysts expect EPS of $13.81 for the December-quarter, and as I will argue in this article, I think they are way too pessimistic.
Quick overview of what to expect for the September quarter
Before I discuss the December quarter, I will first make a few comments/estimations on fiscal Q4 (the September quarter). Understanding how Apple makes its money is a necessity in order to forecast future earnings.
Since the only new products Apple launched were the iPhone 5S and 5C, it seems likely that revenue of all other segments declined sequentially.
In the below table, you can see my earnings estimates for each of the other segments along with Apple's guidance for total revenue.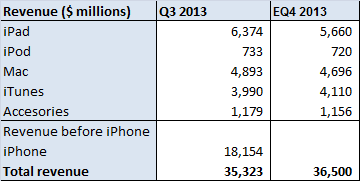 Given these assumptions, the only unknown variable is revenue related to the iPhone segment, which is easily calculated as (36.5-16.5) $20B. That's up from $17.1B in the same quarter last year.
Next, we should estimate how many iPhones were sold in the quarter. To estimate sales, we need to divide iPhone revenue with the average selling price per iPhone (ASP or ARPU).
Since Apple hasn't released earnings yet, we need to make an estimate for ARPU in Q4. In the below graph, you can see how the ARPU has changed over time. You should take note of two trends:
ARPU is generally pretty low in the launch-quarter (Q4)
Overall, ARPU is declining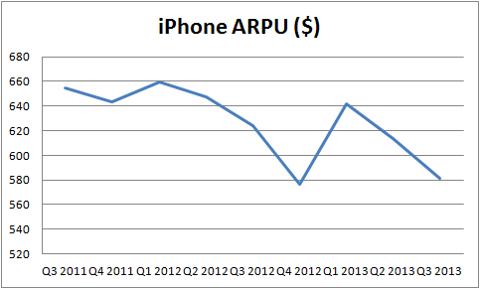 It is therefore very tempting to assume that ARPU will continue to decline in fiscal Q4. This year, however, there are two factors which make this quarter a bit different from previous years:
The iPhone 5C could cannibalize sales of the 5S. This will reduce the ARPU.
The iPhone 5C could perhaps also cannibalize sales of the 4S. This will increase the ARPU.
If iPhone 5C sales come in relatively high for the quarter (10M or more) as some analysts estimate, then I would argue that 1st effect is dominant. But since the iPhone 5C, according to various rumors, hasn't been too popular, I will use a lower estimate of 9M.
Combining all of the estimates, my model predicts an ARPU of $565. iPhone sales can now be calculated as; 16,500B/565 = 35.7B iPhones. That is roughly 20% more than last year - quite an impressive growth rate.
Looking at Q1 2014 - iPhone earnings
In my most recent article on Apple, I estimated iPhone sales over the next year to total 179.3M. In order to convert that forecast into a quarterly sales forecast, I have created a simple model. In the below table, you can see iPhone sales as percentage of total sales on an annual basis. But instead of calculating annual sales on a calendar/fiscal basis, I have calculated sales on a "model"-basis. This means that sales related to the iPhone 5 are calculated by adding up all iPhone sales from Q4 to 2012 to Q3 2013.
In the below table, you can see that the iPhone 5 had a much stronger "launch-quarter" (September-quarter) than the iPhone 4 and 4S.
For the iPhone 5S, I expect Q1 to be of similar relative strength as the one the iPhone 5 had. That implies sales of 58M for Q1 2014.

In terms of ARPU, I expect an increase to $615 in Q1 2014 from $565 in Q4. This may seem a bit optimistic as the overall trend is negative. However, there are two reasons for why I expect a sequential increase:
Fiscal Q1 generally has a very high ARPU as consumers are purchasing the new iPhone. This increases the ratio of "new iPhone sales" to "old iPhone sales". Since older phones are sold at a cheaper price, it increases ARPU.
The 5S suffered from supply issues in fiscal Q4, which I expect to get fixed for Q1 2014. This means that fewer iPhone 5Cs will be sold relative to 5Ss.
To calculate revenue for the iPhone-segment, we simply need to multiply ARPU with unit sales. Having done that, my model predicts iPhone revenue of $36B for the quarter. That is an increase of roughly 16% from last year.
Looking at Q1 2014 -iPad earnings
Unlike the iPhone segment, the iPad segment hasn't developed as well as investors have hoped. Competitors have developed quality tablets as well and offered them at very low prices, which have pressed Apple's market share down.
According to rumors, I expect Apple at the October 22-event to announce an iPad Mini with retina display and an iPad 5. The old iPad Mini will likely be maintained in the tablet lineup and positioned as a "cheap" tablet in order to compete against the cheaper tablet model. At the same time, this may give Apple an opportunity to raise the price of the Retina-iPad. Margins on the iPad Mini are already quite low, and it will only be further reduced by adding retina display to the new iPad. Thus, I expect Apple to price the iPad Mini at $275 and the iPad Mini Retina at $350.
With the launch of these two new iPads, I expect Apple's iPad segment to deliver a record-quarter. To be more specific, I estimate sales of 25M iPads.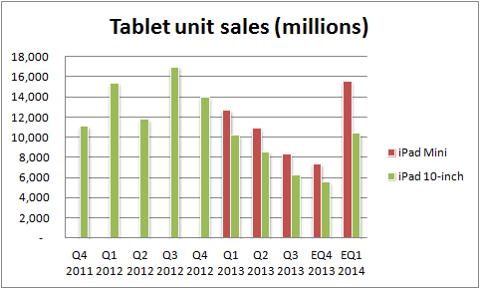 Looking at Q1 2014 -Mac earnings
The Mac segment has delivered mediocre results over the year. Obviously there have been some tailwinds from the industry (PC sales are declining), but one could also argue that Apple's lineup has been too expensive.
Nevertheless, I expect Mac sales to make a bit of a rebound in Q1 for two reasons:
PC sales are expected to increase in the quarter, so if Apple is able to maintain its market share, it will obtain Q/Q growth.
New MacBook Pros and a new Mac Pro are expected to be released very soon. This will likely result in a small increase in Apple's market share.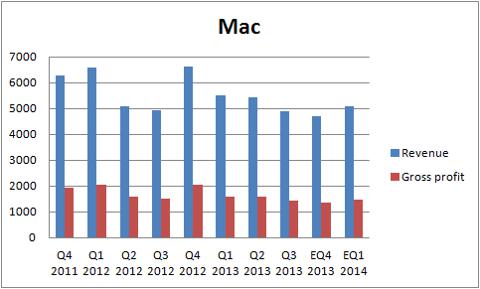 Adding it all up - Apple's share price should increase
Summing up all of the estimates, I expect Apple to guide for revenue between $55B and $60B. In terms of gross margin, it will guide between 39% and 42%. If I am right, then we should expect Apple's stock price to increase after earnings as analysts are a lot more pessimistic. They expect revenue of "just" $55.44B and EPS of $13.81, which is quite below my targeted EPS of $15.41.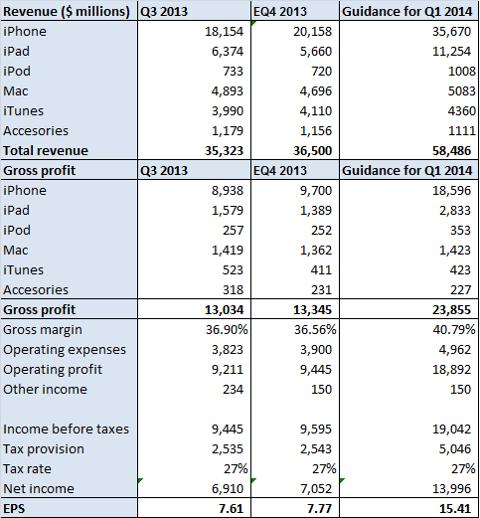 Disclosure: I have no positions in any stocks mentioned, and no plans to initiate any positions within the next 72 hours. I wrote this article myself, and it expresses my own opinions. I am not receiving compensation for it (other than from Seeking Alpha). I have no business relationship with any company whose stock is mentioned in this article.