(Editors' Note: This article discusses a micro-cap stock. Please be aware of the risks associated with these stocks.)
It has been a rough year for investors in the IP market this year. While the markets have climbed to record highs, shares of ParkerVision (NASDAQ:PRKR), Vringo (VRNG), VirnetX (NYSEMKT:VHC), and Document Security Systems (NYSEMKT:DSS) have all underperformed the market over the last seven months. Here is the chart.

Investors know that investing in the Intellectual Property [IP] industry can be a very rewarding or depressing time. Luckily for investors of ParkerVision, today was one of those rewarding days.
ParkerVision Wins Patent Case
ParkerVision won the first phase of its patent infringement lawsuit against Qualcomm (NASDAQ:QCOM), setting the stage for the second phase of determining damages. ParkerVision is seeking up to $500 million in damages, which does not include the possibility of treble damages. If found guilty of willful infringement, damages may be increased by up to three times.
After deliberating for almost two days, the jury found that ParkerVision's patents are indeed valid and that Qualcomm infringed on all of them. The jury's findings made it a complete sweep for the company. Shares have been on fire today, surging more than 75%.
Now you can see why the IP industry is becoming one of Wall Street's hottest sectors. With billions of dollars at stake for these relatively small companies, investors are paying added attention to these patent companies.
Jeffrey Parker, Chief Executive Officer of ParkerVision, had this to say in a statement released today, "We are extremely pleased with the jury's verdict in this case and we look forward to presenting our damages and willfulness arguments over the coming days."
Patent Stocks Pop
Shares of other patent companies such as Vringo, DSS and VHC have been trading higher today in an otherwise down market. Shares of Vringo climbed as high $2.84 or 5%. Shares of DSS climbed as high $1.09 or 7%. Shares of VHC were also up on the day as they climbed as high as $19.44 or 3%. Are these patent companies the next in line to break out? Let's take a look.
VHC
VHC is no secret to big gains. Since the start of 2009, VHC has rewarded investors with gains of more than 1,000%. Not bad, right?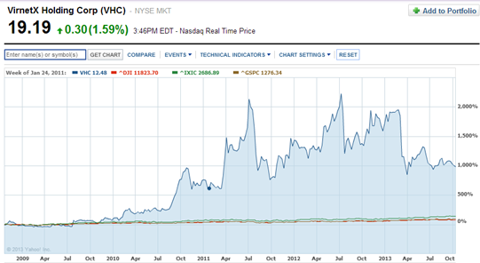 VHC is well known for its $200 million settlement with Microsoft (NASDAQ:MSFT) back in 2010, and its $368 million award (now close to $440 million due to pre and post-judgment interest) against Apple (NASDAQ:AAPL) last November.
The only thing left for shareholders to digest are the rulings left on the plate of Judge Davis. First, he will decide the royalty rate going forward in the case against Apple. VHC has argued for a royalty rate close to 1.5%. Second, he will decide whether or not Apple's future products are still infringing on VHC's patents.
If VHC receives good news, then its shares could be the next in line to follow up ParkerVision's magnificent run today. VHC has short interest of 14.6 million, with a short float of 35%. Bottom line, shorts could be playing with fire soon.
Vringo
While Vringo has not produced huge gains like VHC has done over the years, Vringo has still made some nice gains. Vringo got the attention of the investing world when investors such as Mark Cuban invested in the company. After receiving a favorable Markman hearing in June, shares of Vringo jumped more than 50%.
On November 6, 2012, a jury unanimously returned a verdict award in favor of Vringo. It was also confirmed that Vringo would also be compensated by Google, with a running royalty rate of 3.5% through 2016. Estimates have royalties in the range of $635 million that Vringo would be receiving. Google has mentioned that it has a workaround in place to avoid paying royalties after May 11, 2013. Only time will tell if it is truly a real workaround.
Currently both parties are awaiting Judge Jackson's post trial rulings. Vringo has asked the judge to award an enhanced royalty rate of (5%-7%) because of Google's ongoing infringement. If such an award is indeed granted with no workaround, Vringo would stand to receive over a billion just in royalties. Not bad for a small company that Wall Street currently values at just $230 million.
Not only is Vringo waiting for a decision to be handed down in the Google case, but is looking forward to the ZTE suit that will now take place on November 12, 2013.
If Vringo receives a favorable outcome in either case, (ZTE, Google) or both, shares would most likely test the 52 week high of $5.73 that Vringo set on October 9, 2012. As of September 30th, Vringo had short interest of 19.7 million, with a short float of 28%. As we can see from the short interest numbers, Vringo is not running short on fuel. Shorts could also be in for a world of hurt.
DSS
One company that is not as heavily recognized as other patent plays is Document Security Systems. DSS operates as a leading developer of anti-counterfeiting, anti-fraud and authentication technologies.
On July 1, 2013, DSS finalized its merger agreement with Lexington Technology Group (LTG). LTG is an intellectual property management firm that has collectively generated over $1 billion in licenses, settlements and damages awards to date and growing.
If you did not already know, DSS is in the process of taking on Facebook (NASDAQ:FB) and LinkedIn (LNKD) in the Bascom case. DSS has already settled with three of the five defendants in BroadVision (NASDAQ:BVSN), Jive (NASDAQ:JIVE), and Novell. So what is at stake for Facebook? Cash, and a lot of it.
| | | | | |
| --- | --- | --- | --- | --- |
| Facebook Revenues | | 2% Royalty | 4% Royalty | 6% Royalty |
| 2011 | $3.71B | $74M | $148M | $222M |
| 2012 | $5.08B | $101M | $203M | $304M |
| 2013 | $7.39B* | $147M | $295M | $443M |
| 2014 | $9.86B* | $197M | $394M | $591M |
| Total: | | $519M | $1.04B | $1.56B |
* Projected revenue
Not only are Facebook's future revenues at issue, but prior years' as well. While I didn't have time to write it all out, the table above provides you with a good idea of what could take place.
LinkedIn's growth is also impressive as it had revenue of $972 million in 2012, an increase of 86% year over year (yoy). Revenue for 2013 looks to come in around $1.5 billion (55% yoy), and $2.14 billion (42% yoy) in 2014. Not only are the revenues for Facebook and LinkedIn in harm's way, but that status of their operations is as well. If DSS is successful, it can claim injunctive relief against Facebook and LinkedIn.
Conclusion
ParkerVision's win today sparked a lot of attention back on patent stocks. Not only were prices up across the board, but volume picked up as well as they were above the running average. It will be interesting to see how these stocks react over the next couple of days after ParkerVision's big win today.
Because these are patent stocks with a high percentage of short interest, investors can be sure to count on lots of volatility and wild price swings. News of any sort can send these stocks flying or sliding as you have seen.
Investors are always reminded that before making any investment, you should do your own proper diligence on any stock mentioned in this article. Have a great day and as always, I look forward to hearing your thoughts or questions that you might have.
Disclosure: I am long VRNG, DSS. I wrote this article myself, and it expresses my own opinions. I am not receiving compensation for it (other than from Seeking Alpha). I have no business relationship with any company whose stock is mentioned in this article.