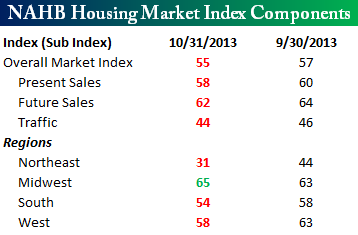 Wednesday's release of the NAHB sentiment survey showed that sentiment among homebuilders unexpectedly fell from a revised reading of 57 down to 55. Given the fact that the federal government was shut down and politicians in Washington were on the verge of hitting the debt ceiling without authorizing an increase, it is hard to understand why economists weren't forecasting a bigger drop in builder sentiment.
As shown in the table above and the charts below, sentiment was down equally across all categories. On a regional basis, the Northeast saw by far the largest decline, falling from 44 down to 31. The Midwest was the only region where sentiment actually increased, and at a level of 65 that is a record high for the region.
Following the reslease of this month's report, the NAHB's chief economist noted that,
A spike in mortgage interest rates along with the paralysis in Washington that led to the government shutdown and uncertainty regarding the nation's debt limit have caused builders and consumers to take a pause.
With the government shutdown and debt ceiling debate now resolved, and yields on the 10-year US Treasury down below 2.6%, sentiment in November should see an improvement.