According to a recent report from research firm IDC, for the first time in recent memory, both Dell (DELL) and Hewlett-Packard (NYSE:HPQ) beat Apple (NASDAQ:AAPL) in terms of quarter market share growth. Where Apple lost 11.2%, Dell saw market share tick up by 2.3%, while HP added 3.5%. While there are plenty of explanations for this apparent shift in growth, and I am certainly not suggesting that Apple is "in trouble," the news could be a good sign for the beleaguered PC makers.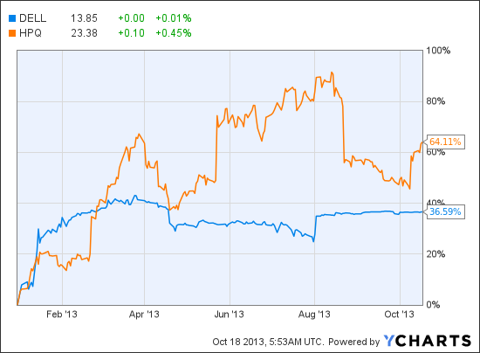 In the video below, I discuss various statistics included in the IDC report and what they could mean for the PC industry, and specifically for Dell and HP. While one quarter does not make a trend, if these two companies can get some positive traction, their beaten down stocks might suddenly become quite interesting. As things stand, they remain speculative, but are definitely worth watching.
Disclosure: I have no positions in any stocks mentioned, and no plans to initiate any positions within the next 72 hours. I wrote this article myself, and it expresses my own opinions. I am not receiving compensation for it (other than from Seeking Alpha). I have no business relationship with any company whose stock is mentioned in this article.