On Monday, Vodafone (NASDAQ:VOD) announced that it has settled and completed its takeover offer for Kabel Deutschland, Germany's largest cable provider. Vodafone's management expects to benefit greatly from bundling its wireless services with cable TV, broadband and fixed calls. Meanwhile, Deutsche Telekom's (OTCQX:DTEGY) T-Mobile is aggressively offering handset subsidies, and Telefonica Deutschland is seeking an acquisition of its own to strengthen its market position. Germany is Vodafone's single largest market, and where the company is facing intensifying competition.
Telefonica Deutschland to buy E-Plus from KPN
Telefonica Deutschland is seeking to acquire E-Plus, the German subsidiary of KPN (OTCPK:KKPNY), a Dutch telecoms group, for €5 billion ($6.8 billion) and a 20.5% stake (improved from the original offer of 17.6%) in the enlarged Telefonica Deutschland. Parent company, Telefonica (NYSE:TEF), would retain a final ownership interest of 65% of its Germany subsidiary, if it fully exercises the call option to purchase an additional 2.9% stake from KPN. The combination of the third and fourth largest mobile operator in Germany would give the combined unit a revenue market share of 31.6%; which would be just short of T-Mobile's and Vodafone's market shares of 34.8% and 33.6%, respectively, in the first quarter of 2013. The enlarged Telefonica Deutschland would also be the largest mobile operator by subscribers.
Although KPN shareholders have approved the sale of its German mobile business, the European Union's competition authorities have yet to approve the deal. Regulators are likely to approve the deal, subject to some spectrum divestments and the provision of wholesale access to some proportion of its network capacity for mobile virtual network operators (MVNOs). Previously in most European markets, the competition authorities have maintained that there should be at least four competing mobile operators, regardless of the size of the operators.
However, more recently, the number of operators in Austria and Ireland has fallen from four to three, following market consolidation. Smaller network operators, such as E-Plus, have struggled to invest in the necessary infrastructure to compete with their larger rivals. Instead, the increasing prevalence of MVNOs can promote the necessary competitive pressures to maintain reasonable pricing; without the necessity of more than three mobile operators. Should the deal be approved, Vodafone would likely face fiercer competition from the combined Telefonica Deutschland and E-Plus unit.
Intensifying competition in Germany
Vodafone is already facing strong competition in Germany from fixed-line incumbent, Deutsche Telekom's T-Mobile and also from smaller rivals. Vodafone reported a decline of 5.1% in organic service revenue in Germany, for its first quarter of 2013. As in much of Southern Europe, competition has been intensifying and consumers have been more willing to move to cheaper contracts offered by their smaller rivals and MVNOs. Until as recent as last year, its revenues have been particularly resilient from its Northern European operations, in Germany and the UK. Nevertheless, we can take some comfort that the German market is not facing the kind of price war taking place in Italy, where Vodafone's service revenues have fallen by 17.6% in the first quarter.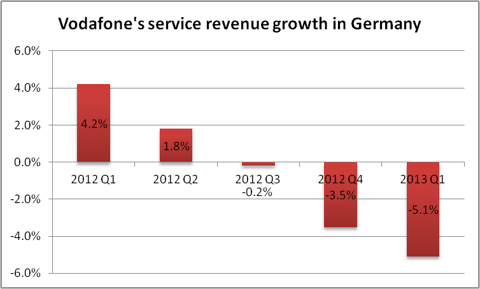 Vodafone's CEO, Vittorio Colao, has in a recent conference call, commented that 02 and E-Plus have been reducing prices, especially on the low end, and Deutsche Telekom has continued to heavily subsidize handsets. Vodafone's strategy in Germany is to be a "fast-follower to Deutsche" on handset subsidies, but it has been spending less on subsidies per customer than Deutsche Telekom. Although Vodafone believes that its stronger brand and distribution allows it to command a premium over its competitors, Vodafone has instead seen its market share decline in favor of its competitors. Despite the fact that Vodafone was the first network to offer 4G LTE services in Germany; Deutsche Telekom is rapidly rolling out 4G LTE services in the 100 largest towns and cities at the 1.8Ghz frequency range, and may outgrow Vodafone's coverage by the end of this year.
Rationale behind Vodafone's acquisition of Kabel Deutschland
Vodafone would likely consider its acquisition of Kabel Deutschland as vital to its strategy in stemming its declining mobile revenues and market share in Germany. With Kabel Deutschland, Vodafone would be more able to provide triple-play and quad-play bundled products, which combine TV, broadband, fixed calls and mobile services as a single package. Triple and quad-play bundling have been particularly attractive to consumers because of their simplicity, cost savings, and added value from additional content. Furthermore, bundling reduces the churn rate, as higher switching costs (which may include the hassle in reconstruction or dismantling their service packages) make consumers more reluctant to switch providers. Thus, bundling may help Vodafone thwart the decline in mobile revenues, especially during the currently contracting market conditions. Should this strategy be successful, we would not be surprised to see Vodafone leverage its financial strength to expand the bundling of TV, broadband, fixed calls and mobile services across its many European markets.
Although Vodafone already serves around 3 million broadband customers, its acquisition of Kabel Deutschland would allow the company to expand its product offerings to include fixed calls and Cable TV, which would enable greater use of Kabel Deutschland's high speed cable infrastructure. In the longer term, Vodafone would benefit from cost synergies, as it would no longer need to rent DSL capacity from incumbent Deutsche Telekom in the areas covered by Kabel Deutschland's existing cable infrastructure.
Risks associated with the Kabel Deutschland transaction
Unfortunately, cable operators are currently trading at significant premiums to European wireless outfits, including Vodafone itself. Vodafone's acquisition of Kabel Deutschland is valued at a ratio of EV/EBITDA of 12.4. By comparison, Virgin Media, the UK cable operator, was valued at an EV/EBITDA ratio of just 8.5 times in a bid from Liberty Global (NASDAQ:LBTYA). On a first instance basis, it does appear that the Kabel Deutschland transaction is overvalued; even against other European cable operators. Only to add to the bad news, Kabel Deutschland lowered its guidance of revenue growth for 2013 from 8% to between 5 and 6%.
Vodafone's justification of the transaction's substantial valuation premium is reliant on rather optimistic cost synergies of more than €3 billion ($4.1 billion), and revenue synergies exceeding €1.5 billion ($2.1 billion) on a post-integration costs NPV basis. Robin Bienenstock, an analyst at Sanford C Bernstein, believed the transaction will likely "prove more disruptive and value destructive than the company hoped". Vodafone faces significant integration risks and has a poor track record of delivering shareholder value from acquisitions.
Kabel Deutschland does not have cable infrastructure in 3 out of the 16 German states (Länder). There remaining three states contain more than 42% of the German population. In these states, Kabel Deutschland has to serve its customers through its VDSL agreement with Deutsche Telekom. Furthermore, Liberty Global has a strong presence in the 3 remaining states. With the anticipated sale of its 45% Verizon Wireless stake, Vodafone has sufficient capital and debt flexibility to expand its cable coverage to include these remaining states. However, that would require substantial capital expenditure, and strong competition may mean coverage expansion would not be economically feasible. The alternative, market consolidation would likely face stiff regulatory hurdles.
Deutsche Telekom already offers a 'one-stop' multi-play bundled product; including fixed calls, broadband and TV via satellite or through DSL. It is committed to investing around €6 billion ($8.2 billion) from 2014 through to 2016 on substantially upgrading its infrastructure in Germany. Vodafone will face intense competition in offering triple and quad-play packages, as Deutsche rolls out 4G LTE with data transmission rates of up to 150 Mbit/s to cover 85% of the population, and builds an optical fiber network (FTTC) to cover around 65% of the population, by 2016.
"Damned if you do, damned if you don't"
Vodafone will face intense competition regardless of its decision to enter into cable TV. If Vodafone does not acquire Kabel Deutschland, the company would struggle to defend its market share from its mobile competitors; especially as there are no signs of any easing on pricing pressures. But on the other hand, the Kabel Deutschland transaction is valued at a substantial premium on an EBITDA valuation standpoint. Although there appear to be significant revenue and cost synergies from the merger, including the ability to offer triple and quad-play solutions, competition from Deutsche is likely to intensify. There are simply no easy solutions to defend a contracting market.
Vodafone remains undervalued against its peers despite increased competition in Germany and elsewhere
Vodafone may seem unattractive given the declining service revenues across the whole European region, including the once resilient German and UK markets. Nonetheless, with the proceeds of the sale of its 45% stake in Verizon Wireless, Vodafone will at least have much greater financial flexibility to invest in market share than its European rivals. Also, Vodafone is undervalued against its peers on a post-transaction basis, because the company has a very limited wireline business (unlike many of its peers) and substantial exposure to emerging markets.
Disclosure: I am long VOD. I wrote this article myself, and it expresses my own opinions. I am not receiving compensation for it (other than from Seeking Alpha). I have no business relationship with any company whose stock is mentioned in this article.