Cincinnati Bell (NYSE:CBB) ("CB" or "the company") is a storied, regional telecommunications player in Ohio undergoing considerable transformation, which began, in earnest, with the spin-off of its data warehousing business CyrusOne (NASDAQ:CONE) ("Cyrus") in January 2013. CB still holds a ~69% economic interest in Cyrus, with the stated goal to monetize the asset over the next several years in order to pay down debt.
Elsewhere, CB owns significant market share in Cincinnati and Dayton, Ohio in its fiber optics pay-TV and internet platform and a fledgling wireless business with significant spectrum assets. Management indicated to investors that it is currently shopping the wireless business, which will ultimately leave CB as a pure-play, regional pay-TV and internet business. However, the equity has been in free fall for most of 2013 after investors were unhappy regarding management's cap ex plan, rather than initiating a dividend after the Cyrus IPO.
Herein lies the opportunity: after a sharp price correction, CB shares appear to be offering discerning investors considerable value as management executes on its stated strategy (irrespective of how one feels about the cap ex plan) and the balance sheet is repaired. Indeed, after monetizing Cyrus and the wireless business, what will be left at CB is a business with a much healthier balance sheet, and more defined value proposition.
Currently, investors are divided over how to think of and value Cincinnati Bell either as (1) a growth investment considering its 69% share of data warehousing REIT, Cyrus or (2) a value investment being wound down and managed for cash (the wireline/wireless businesses).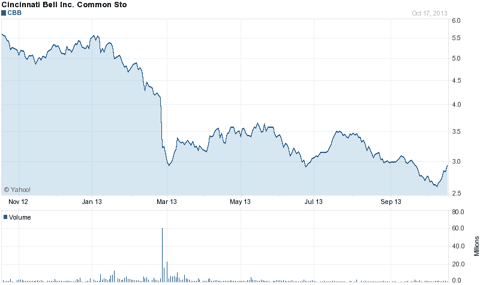 Interesting Capital Structure
While I follow the telecommunications industry closely, it piqued my interest when CB shares recently fell to 52-week lows. While the common shares look appealing at current levels, there is a better risk-adjusted way to play this turnaround. In particular, CB's preferred shares (CBB-B), a 6.75% cumulative convertible preferred issue which rank ahead of the common shares in the unlikely event of a CB default. The reason I think a default is unlikely is the multiple levers for value monetization (sale of Cyrus shares and wireless business) and a cash generative wireline and fiber optics business. CB bond investors do not appear overly concerned about getting repaid based on recent bond pricing.
Consider that the three largest issues all trade at a premium to par:
Maturity: 10/15/2020; Par Value: $684 million; Coupon: 8.375%; Price: 105.8
Maturity: 3/15/2018; Par Value: $625 million; Coupon: 8.75%; Price: 105.9
Maturity: 10/15/2017; Par Value: $500 million; Coupon: 8.25%; Price: 104.1
Bond investors clearly are not pricing CB as it is a distressed investment. Shareholders, on the other hand, have been particularly bearish on CB after disappointing results and because capital expenditures were higher than originally anticipated. High cap ex, of course, cuts into 'owner earnings.' If those investments (particularly in the fiber optics business) aren't expected to realize a return on capital, owners get unhappy. Hence, the elevated levels of investment in the fiber optics business is the issue investors are skeptical about.
Because of the disparate nature of the businesses, as alluded to above, the problem with CB is that investors don't know if they should value it as a growth business or a declining business, considering the 69% interest in Cyrus, a declining wireless business and a perceived declining wireline business.
I am taking the stance that it doesn't really matter how one perceives the business (growth versus value) if investors own CB's preferred shares since they offer a current 7.8% yield (higher than the yield to maturity on the bonds), more safety than the common shares (liquidation preferences) and the potential to appreciate up to the liquidation preference ($50, or ~13.5% from current levels). In my mind, CB preferred shares are offering investors a "heads I win scenario and tails I don't lose much" scenario.
Currently trading at $44/share, the preferred shares trade at a 12% discount to their $50 liquidation preference. The details of the preferreds are as follows:
Cumulative, 6.75% ($3.375) annualized coupon, paid quarterly.
Convertible to common shares at the option of the holder (the common currently trades at well below the conversion feature so it is worthless to preferred holders).
Callable by CB as of April 5, 2000. Should management want to clean up its capital structure after monetizing assets, it could retire the preferreds at $50/share plus accrued dividends.
While the preferreds won't allow investors to participate in the turnaround if it becomes a smashing success, the appeal of an investment in the preferreds is their safety relative to the common shares and better value relative to the bonds.
Now, to the business, what is it exactly that investors are buying? As stated above, the business can be thought of in three principal segments (1) wireline (fiber optics); (2) wireless; and (3) data warehousing.
If we accept the market's valuation of Cyrus, CB's 69% pro rata share of the data warehousing business is worth about $975 million, more than the entire market capitalization of CB.
Next, the wireless business is in secular decline and management indicated it is managing this business for cash while it seeks out a buyer for the business and/or the spectrum.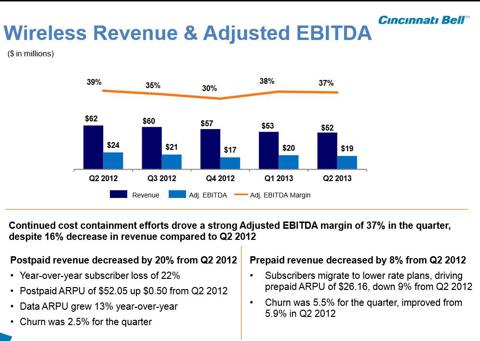 The wireless business has generated about $80 million in adjusted EBITDA over the last twelve months, but is clearly in decline. The recent AT&T (NYSE:T) acquisition of Leap (LEAP) should be viewed in positive light, a transaction that included valuable spectrum and derived a premium 8x EV/EBITDA multiple.
Given all the moving parts in the wireless business and the fact that a process has been initiated to sell the wireless business, I won't ascribe a value to it. In the case of the preferreds, I'm not sure one needs a precise valuation, only that monetization of the wireless assets allows for further clarity around the business (growth/value) and potential cap ex plans, thereby providing a catalyst for the preferreds to trade closer to the liquidation preference.
Finally, to the fiber optics business, where management is placing a strategic bet and investing heavily to grow the business.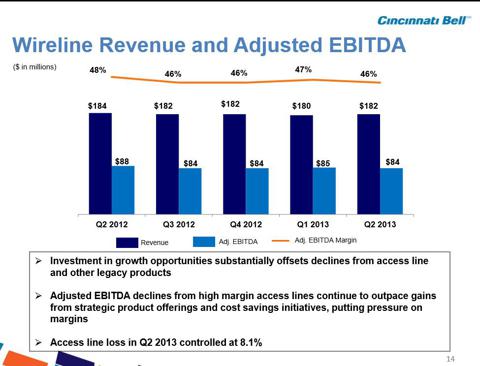 Over the last several years, the wireline business has been flat both in terms of revenue and cash generation, but appears to be at an inflection point given recent financial indications where the fiber optics business reached a record for net adds in Q2 2013 and fiber optics revenue was $24 million, up 50% year/year. Clearly, management has taken the stance that customers value speed, where fiber optics outperforms other technologies such as cable and DSL.
CB also owns significant market share relative to competitors in Cincinnati, and is increasing its penetration to both residential and enterprise level customers as part of its cap ex investment in this business. I understand that by 2017, management expects to return to a maintenance level for cap ex which should provide some support to the share price as that time approaches, and if the cap ex plan remains in line with current expectations.
Net Operating Loss Carryforwards
In addition to the three primary value drivers at CB, the head office retains $1 billion in net operating loss ("NOL") that expire in 2023. Therefore, CB will be able to shield most, if not all, of the proceeds from monetizing its Cyrus investment and wireless business. Therefore, proceeds of these assets will reside with the business, and ultimately, accrue to shareholders.
Conclusion
For investors seeking safety first and return second, CB preferreds are a good option to consider. The alpha in the preferreds comes not from the potential of eye-popping returns, but from the relative safety to the common and better value than the credits, given the combination of yield (7.8%, cumulative dividends) and a fairly wide 13.5% margin for capital appreciation to the liquidation value.
Investors clearly are not happy with the cap ex plan outlined by management. The preferreds offer an interesting, risk-adjusted way to play the Cincinnati Bell turnaround and investors are paid to wait out the resolution of the Cyrus and wireless monetization catalysts. With a yield higher than the bonds coincident with capital appreciation potential, the preferreds are the alpha-rich opportunity in the CB capital structure.
Disclosure: I have no positions in any stocks mentioned, and no plans to initiate any positions within the next 72 hours. I wrote this article myself, and it expresses my own opinions. I am not receiving compensation for it (other than from Seeking Alpha). I have no business relationship with any company whose stock is mentioned in this article.