In a previous post I discussed how we could analyze the safety of a company's dividend payment based on a number of available metrics. After receiving some good feedback (thanks Bob Johnson) an additional metric was added to the scoring system, a company's ISS Governance QuickScore. In short, this score helps investors identify and monitor potential governance risk and to identify possible investor concerns based on signals of governance risk. The full explanation of the Dividend Safety scoring system can now be found here.
The first stock I will review utilizing the latest scoring system is AT&T (NYSE:T). AT&T is a well-known telecommunications company specializing in wireless and wireline communications as well as providing broadband internet and TV to consumers and businesses. AT&T is currently paying a hefty dividend yield of 5.3% which makes it the highest yielding company on the Dow Jones Industrial Average. Income starved investors looking for a healthy payout have sought refuge in this Dividend Aristocrat, so let's see how well it scores in our dividend safety analysis.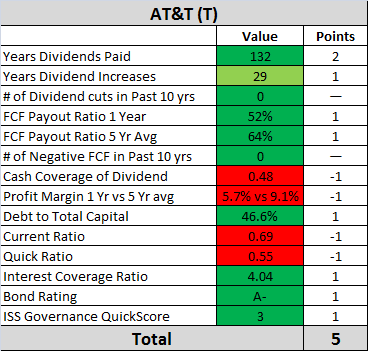 AT&T has a stellar dividend history and is a free cash flow producing machine. Three of the potential red flags appear to stem from AT&T's limited amount of cash on hand. Its tough to call $4.55 billion in cash on hand as "limited", but the for the size of AT&T this amount does appear to be on the low side in terms of how we view the safety of the dividend. If you look further into AT&T's history though you will see that, since 2008, it has averaged a Current Ratio of 0.66 and Quick Ratio of 0.50. Based on this information one may be able to assume that the company is comfortable with these ratios being below average and would rather utilize its cash in other ways.
One final potential red flag is the decreasing profit margin. AT&T is battling with Verizon (NYSE:VZ), among others, in the wireless telephone business and multiple cable and satellite providers in the broadband and TV business. It is also trying to replace decreasing revenue from its wireline business with growth from these two areas. The high level of competition and decreasing revenue in a previously high margin business has put a damper on profit margins. I believe this is part of the reason why AT&T's dividend growth has been in the low single-digits the past few years.
Overall it appears AT&T's current dividend is quite safe and its current yield is impressive when compared to other income generating investments. Future dividend increases will be tied to the company's success in growing its wireless business and its ability to outpace revenue losses it is experiencing in its wireline business. A dividend increase should be announced in the near future and, at the minimum, we should be able to expect a quarterly increase of $0.01 as the company has done the past four years.
Disclosure: I have no positions in any stocks mentioned, and no plans to initiate any positions within the next 72 hours. I wrote this article myself, and it expresses my own opinions. I am not receiving compensation for it. I have no business relationship with any company whose stock is mentioned in this article.
Additional disclosure: The 4% Portfolio Retirement Service recommends T.