Nowadays consumers around the world are becoming health conscious and are adopting healthier living standards. Companies of athletic footwear and apparel are supported by these trends. The global athletic footwear market is witnessing an increase in demand for light-weight athletic shoes. Tech Navio's analysts forecast that the global athletic footwear market will grow at a CAGR of 1.75% over the 5-year period of 2012-2016.
The outdoor apparel sector is the fastest growing sector in the sportswear market and is expected to grow by $3.5 billion over the next few years. Continued momentum towards health and wellness has made the athletic sportswear and apparel industry an attractive investment opportunity.
Nike, Inc. (NKE) has recently been added to the Dow 30 component index. Its addition to the blue-chip index is a reflection of the company's ability to deliver value to its shareholders even under financial duress.

Source: Y-Charts
The Nike share price has surged to an all-time high just after the release of the company's first-quarter results of fiscal year 2014 in late September. Stock is up by more than 50%. Recently an aggressive trend in growing sales has emerged in the market. Nike has managed to flip the script by generating most of its revenue from the mature market, which is a good sign. It is for this reason why I am looking forward to analyzing the company and determining whether or not it should be included in an investment portfolio.
Recent performance
Nike has delivered outstanding first-quarter results for fiscal year 2014. It experienced an 8% increase in revenue compared to results from the corresponding period of the previous year. Nike also experienced a 33% growth in earnings per share. The performance leader for the company was its converse brand that reported a 16% growth in revenues. Nike acquired this brand for $305 million in 2003 and now it is generating sales of $494 million. Converse sales are expected to reach $3 billion by 2017. First-quarter revenue growth was caused by an 8% growth in the revenues of the company's footwear segment. The segment is led by sales in running, basketball and soccer footwear. The increase in demand of footwear is expected to grow and is fueled by the company's frontrunner models: NIKE FREE and Air Max technologies, NIKE and Jordan brand basketball footwear and performance football products.
The performance of the company in China did not meet expectations and it reported a 3% decline in the net revenues. Nike is trying to improve the performance of this region by elevating customer experience at the stores and aligning the product according to the taste of the average Chinese customer.
Future orders
Future orders for Nike brand footwear and apparel, scheduled for delivery between September 2013, and January 2014, have increased by 8% compared to the corresponding period of the previous year. The future order growth is driven by a 12% growth in future orders in North America and a 27% growth in future orders in and Central and Eastern Europe. The increase in future orders of the company is a good sign regarding the future success of the company. The number of future orders in the low-sale region of China has grown by 2%. Hopefully we can expect positive results from this region in the coming future.
Ambitious Growth Plans
The company has recently revealed its four-year growth plan and has projected revenues of $30 billion by the end of fiscal year 2015, and $36 billion by the end of 2017. The company expects a four-year growth of 42%. In order to achieve this Nike must improve its performance in China.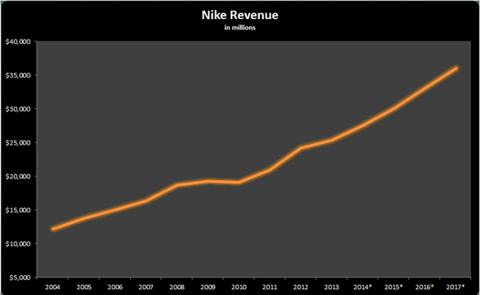 Source: Projected from Nike remarks
The company intends to achieve this revenue target by expanding stores, boosting e-commerce, boosting investments in product innovation and brand building.
Shoppers have recently begun shifting toward online shopping. Nike is investing in bolstering its online or direct-to-consumer sales. Online sales have increased by 30%in fiscal year 2013, in comparison to the previous year. The company is investing aggressively in this platform to increase online sales to $8 billion by 2017.
The Impact of FIFA World Cup on Nike
FIFA World Cup is one of the most-watched sporting events in the world. In order to benefit from the upcoming event Nike has planned some strategic moves that would bode well for the company. Nike will start its "Make History" campaign for the event that would allow users to compete for their country online through the Nike Fuel World Cup app. Nike has also partnered with Reddit to host an Ask me Anything session, which will give the Nike application users the opportunity to question Nike sponsored soccer stars.
In addition, Nike will introduce a new uniform for its sponsor countries. These countries include the United States, the FIFA host country Brazil and many others.
Returns to shareholders

Source: Y-charts
Nike has returned 58.25% to investors in the form of dividend payments and price appreciation, year to date. Nike has exceeded market expectations and outperformed its peers. Nike has been consistent in paying dividends and providing positive results for its investors. The company has increased its dividend payments for 11 consecutive years.
In addition to successful dividend payments Nike has also been known for its aggressive share buybacks. During the last quarter the company repurchased 8.4 million shares for the hefty amount of $526million. This repurchasing was initiated by the $8 billion repurchase program approved by the company last year.
Conclusion
Nike is experiencing amazing results and has reported better-than-expected first-quarter results with an increase of 8% in revenues and a whopping 33% increase in earnings. Future orders of the company are also growing and the company has also raised its revenue forecast for the forthcoming years up until 2017.
The world's most-watched sporting event is approaching and the company is in a great position to derive positive revenue growth from it. Investors can expect a solid financial performance from the company in the medium and long term. I would strongly recommend buying stocks in the company.
Disclosure: I have no positions in any stocks mentioned, and no plans to initiate any positions within the next 72 hours. I wrote this article myself, and it expresses my own opinions. I am not receiving compensation for it (other than from Seeking Alpha). I have no business relationship with any company whose stock is mentioned in this article.