Last week, Raven Industries Inc. (RAVN) reported fiscal third quarter results. The company posted earnings of 40 cents per share, beating the Zacks Consensus Estimate of 38 cents. However, quarterly earnings were 13% lower than last year due to the impact of economic downturn on the company's top-line.

Quarterly sales declined 20% to $60.2 million from $75.5 million in the year-ago quarter due to lower sales at three of its four segments.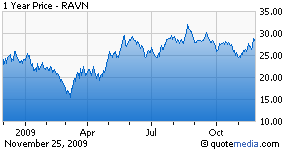 The Engineered Films Division reported a 30% decline in sales to $18.7 million, reflecting continued weakness in two of its major end markets (construction and energy). The company managed to partially offset the impact of lower sales by focusing on cost controls and productivity improvements in the division.

In the Applied Technology Division, sales fell 19% to $21.0 million due to lower volumes driven by uncertain economic conditions. Despite a cautious near-term outlook for farm equipment, Raven is pursuing opportunities to expand its market share in precision agriculture.

During the reported quarter, Raven acquired Ranchview Inc., a privately held Canadian start-up company. Ranchview develops products that use cellular networks instead of radio systems that are typically used to deliver RTK (Real Time Kinematic) corrections to GPS enabled equipment. The company said that this product line is a natural extension and fits well with Raven's strategy of improving the movement and use of data in agriculture. This acquisition is expected to contribute to Raven's earnings in fiscal 2010.

Further, Raven Industries Inc. and SST Software Inc. have announced that they would build on their strategic alliance, with Raven buying a minority ownership position in SST. Earlier, in the second quarter, Raven and SST announced a strategic alliance to provide customers with simple, more efficient ways to move and manage information in the precision agriculture market.

In the Electronic Systems Division, sales of $15.7 million for the quarter were down 13% compared to the prior-year period due to lower sales volumes, unfavorable product mix, and a supply chain breakdown. Airlines have delayed or pushed back orders to aircraft manufacturers due to weak passenger traffic and shipping volumes.

Quarterly sales in the Aerostar segment were up 9% at $5.4 million due to higher U.S. Army parachute sales. In October, Aerostar won a $12.2 million five-year, IDIQ (indefinite delivery indefinite quantity) contract for the production of US Army T-11 personnel parachutes. With the MC-6 Special Forces parachute contract coming to an end in January 2010, the T-11 contract came in at a good time for the company. The $12 million generated over the next year from T-11 will replace the MC-6 revenue and help Aerostar's operating income, margins and overall profitability.

With three out of four segments facing a bleak near-term outlook, we expect Raven's sales to remain at distressed levels over the next few quarters.