This earnings season will likely be marred by the macro-environment which is underpinning some pocket of strength in the economy. Consumers are likely curtailing spending as the political wrangling in Washington D.C. carries forward with no end in sight. At present, it remains difficult to see just how much the consumer is being affected by the ongoing struggles in Washington, in part, because the government shutdown has halted the release of national economic data. Retail sales, consumer spending, personal income and payroll data have not been released for the month of September due to the government shutdown so investors are largely left in the dark with regards to how the economy is performing. This is just a generalization, of course, as there are other pieces of independent data to steer investors in the right direction.
When it comes to the consumer, it is very likely that we will witness reduced discretionary spending when those companies tied to the consumer begin reporting quarterly results. SodaStream International (NASDAQ:SODA) is one such company tied to the consumer. Fortunately, SodaStream is an international company, which distributes its products in more than 48 countries around the world and is managing to grow its sales in both the United States and globally. Investors should not discount that close to 50% of the company's revenues come from the Americas region (South America, United States, Canada), but through thoughtful distribution partnerships and a growing consumer awareness campaign, which began earlier this year, we believe demand for SodaStream products will increase year-over-year.
Some of the distribution partnerships which SodaStream has developed in 2013 were aimed at limiting production costs and inventory outages while others were aimed at delivering its product line directly to the consumer. On the production and inventory side of the partnership equation, SodaStream and Cott Beverage Inc. (NYSE:COT) began a relationship to co-package and distribute SodaStream flavor syrups in North America. The partnership commenced in April of 2013, and should serve to keep retailers in-stock with popular syrups throughout the year as delays in stocking time have become a thing of the past for SodaStream. We estimate that a majority of syrups sold in the United States are now produced through SodaStream's partnership with Cott Beverage.
In 2012, SodaStream managed to grow its retail distribution channel by roughly 50%, which is a difficult measurement to duplicate. In 2013, we estimate the company has already grown its retail distribution by roughly 15%, not counting additional distribution that has taken place in the third quarter. While we fully recognize that 15% distribution growth is a far cry from 50% distribution growth, investors should not discount how SodaStream has been able to increase sales in existing retail doors already this year. Through careful product innovation and timely product launches, the company has managed to increase its shelf space at retail establishments as well as sales/square foot. This increase in shelf space at existing retailers validates the theory that SodaStream does not necessarily need to grow its retail distribution to grow its sales.
The Source soda maker began mass market retail roll-out earlier this year and has become the fastest selling soda maker in the United States in relatively short order. The Source now outsells the Genesis soda maker at Bed Bath & Beyond (NASDAQ:BBBY), one of SodaStream's most important retail distribution partners. In the coming weeks, Bed Bath & Beyond will be reorganizing its SodaStream display, increasing the designated shelf space for SodaStream products by roughly 40% year-over-year. The new display will include the SodaStream Revolution soda maker and SodaCaps. SodaCaps have only been launched in test markets earlier this year, but will debut at BBBY in the U.S. in the coming weeks, just in-time for the holiday shopping season. By our account, BBBY will offer at least 8 varieties of SodaCap flavors. SodaCaps are a patent pending, syrup dispensing capsule produced and distributed by SodaStream.
Another example of SodaStream growing shelf space at existing retail partners comes by way of Giant Foods. Giant Foods is a Mid-Atlantic grocer in the United States, will upgrade its SodaStream product assortment by adding significant shelf space and signage year-over-year. We must note that to date, Giant Foods has not shown strong sales of SodaStream products by our expectations and we hope this new dedication of shelf space and signage will enhance sales throughout the fourth quarter.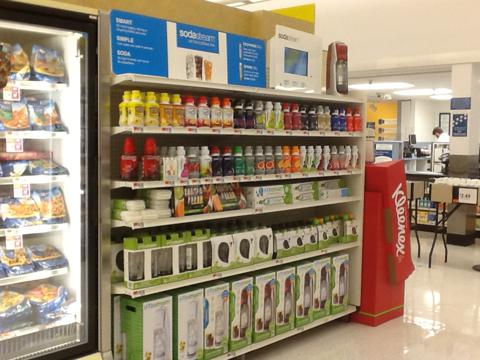 While this expansion within existing retailers continues, yes, SodaStream will be adding new retail partners through the remainder of the year as it did so in the third quarter. Bealls Corp is just one example of a new retail partnership, which occurred during the third quarter. Bealls will likely only be offering SodaStream in its parent company stores. The partnership will begin with some 20 syrup flavors, bottles, Jet and Source soda makers, spare CO2 and CO2 exchange cylinders as indicated in the photo below.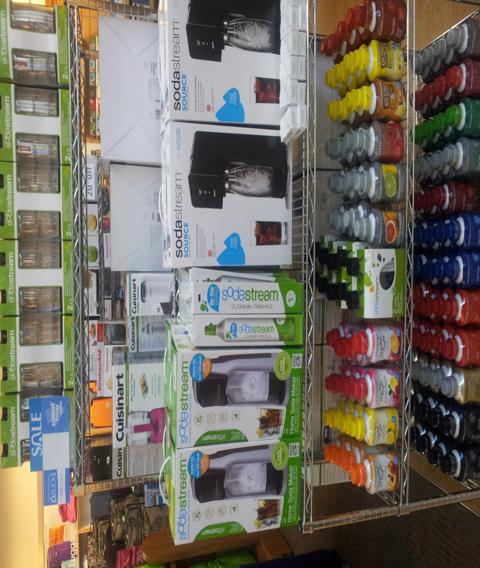 While we can't disclose additional partnerships at this time, I think it is safe to assume that based on the examples noted within this article, SodaStream continues to garner strong partnerships and strong consumer demand. So now let's move on to another important topic regarding SodaStream.
Competition for the almighty consumer dollar is ever-present in the market place. As the leader and revolutionary in the at-home carbonated soft drinks industry, SodaStream is paving the way for broader market participation in this new category. Earlier in the year, Capital Ladder Advisory Group introduced investors, readers and consumers to the Hamilton Beach Fizzini soda maker systems. Only now is the Fizzini showing up in retailers. Target Corp. (NYSE:TGT) is the first to sell the product in stores while Wal-Mart (NYSE:WMT) is only offering the product online presently. We do expect Wal-Mart to have the Fizzini in stores in the coming weeks. There are two versions of the Hamilton Beach Fizzini. The first is a countertop soda maker, licensed to utilize SodaStream's CO2 canisters, and the other is a hand-held, one-shot soda maker designed to utilize disposable CO2 bullets. Only the hand-held Fizzini is being distributed presently by our channel sales data checks. This devise is retailing for $59.99 with CO2 retailing for $6.99 a package.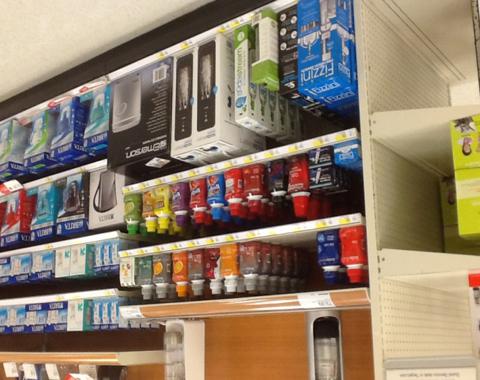 While the upfront cost of the Fizzini system is less than that of the SodaStream system, the carry-forward cost is significantly higher. The Fizzini system will produce a liter of sparkling water at a cost of $.90 per liter while the SodaStream system will deliver a liter of sparkling water at a cost of $.25 per liter with usage of a 60 liter CO2 canister. The cost is reduced further with usage of the 130 liter CO2 canister.
Let's drop a hammer on the Starbucks (NASDAQ:SBUX) Fizzio rumors once and for all. Firstly, yes SBUX filed a trademark for the name of the device. Second, company officials noted they do not have plans to produce a machine for the consumer at this time. Third, the company's initial venture into the small appliance market was met with a resounding thud via the Verismo single-serve coffee brewer. Lastly and most often overlooked in the headlines is the fact that if SBUX one day plans to enter the at-home CSD market with a competing soda maker, it will need a thoughtful partnership for CO2. Unfortunately, there really isn't much more to say at this time or until something more significant develops regarding this topic.
As noted in previous market updates concerning SodaStream, Cuisinart continues to struggle with sales of its soda maker system. Bed Bath & Beyond has taken its first permanent markdown on the Cuisinart soda maker from $99.99 to $79.99 as the rate of sale/square foot continues to leave much to be desired. Another retailer, which began carrying the Cuisinart soda maker in May of 2013, has also reduced its selling price for the system. Belk has reduced the Cuisinart soda maker system, inline with Bed Bath & Beyond's pricing. It is very apparent through the analysis of the Cuisinart system that the cost per liter, when compared to SodaStream, is simply too high. Cuisinart's CO2 application is roughly triple that of SodaStream's CO2 application.
At this time, we will conclude this market update on SodaStream by stating that the company has a distinct advantage over the competition. Its first mover advantage, continued product innovation cycle and global appeal, which answer many consumer concerns today are broadly displayed in its continuous business momentum. While new competitors are trying to gain the consumer's dollar and counter space, SodaStream has already dedicated itself to a product partnership void of counter space via the Samsung/SodaStream refrigerator system. We will leave investors with a depiction of how the Samsung refrigerator, powered by SodaStream's CO2, has grown sales by some 80% quarter-to-quarter.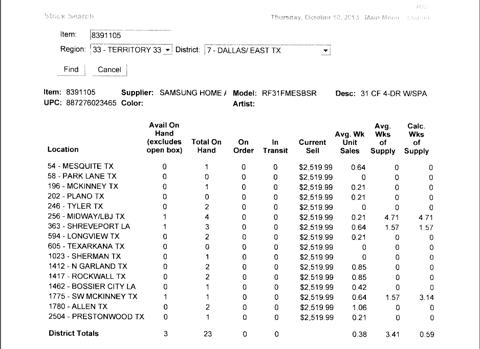 Disclosure: I am long SODA. I wrote this article myself, and it expresses my own opinions. I am not receiving compensation for it (other than from Seeking Alpha). I have no business relationship with any company whose stock is mentioned in this article.