The giant in the worldwide data communications equipment business has to be Cisco Systems (NASDAQ:CSCO). The growth in data usage by smart connected devices is a bullish trend for Cisco. It is interesting to explore just how quickly data usage is growing and where that growth is coming from.
The recent successful launch of the iPhone 5S and a comment by Tim Cook that NetMarketShare data show that Apple (NASDAQ:AAPL) devices are used more extensively that those of competitors made me wonder if Apple's dropping market share was going to limit the growth of the market for data communications equipment. The comment by Tim Cook pointed to data from NetMarketShare, which claimed that 55% of mobile traffic was on devices using iOS versus only 28% for those using Android. Cook relies on that statistic for his view that people use their iPhones and IPads more often than those who use Android devices.
While Tim Cook's comment made me think that demand for Cisco products might be tied somewhat to the success of Apple, more reliable data suggest that is not likley to be the case.
Data from Cisco published recently show data usage by operating system for 2011 and 2012 and show that Android devices are larger data users than iOS by a wide margin. Cisco data are not surveys but drawn from their extensive array of Internet traffic devices. As the number of high end Android devices proliferates this trend is likely to continue.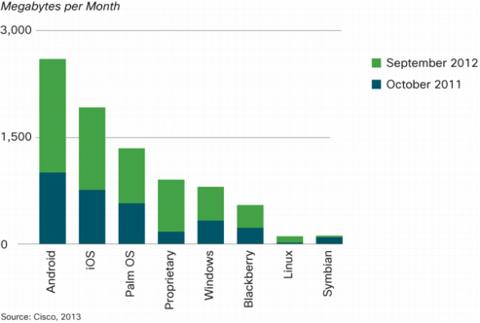 Cisco certainly thinks the trend to greater data usage by all smart connected devices is well established. It also published a forecast out to 2017 that showed very high growth rates of data usage worldwide with particularly high growth in Asia Pacific and the Middle East and Africa. These are areas where the Android devices are predominant.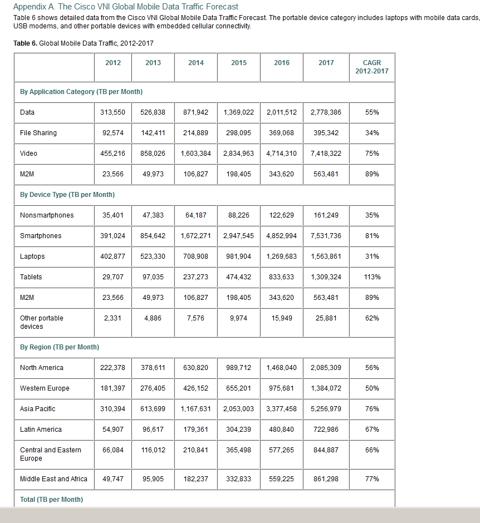 Cisco also provided information on average data usage per device and its view on the growth of data usage out to 2017. It is pretty clear that smartphones and tablets will spur high growth in data usage over the next few years. With this kind of growth in demand for data, Cisco should be a major beneficiary.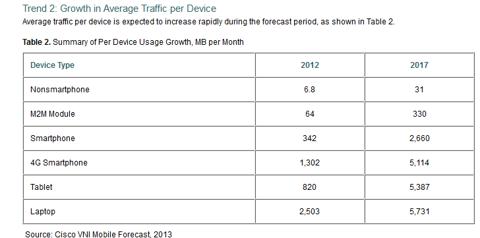 Cisco stock has been in somewhat of a holding pattern since 2010, trading in a range between $16 and $24 most of the time.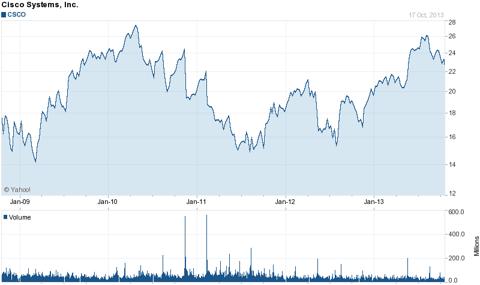 At its current price of about $24 it is trading just over a 12 times earnings multiple and carries a dividend a bit under 3%. The stock by conventional measures is cheap.
Analysts are divided on the company's prospects with a more or less neutral consensus and a smattering of upgrades and downgrades in recent months.
In my view the analyst community does not give Cisco enough credit. The burgeoning demand for more data usage by connected smart devices including the incipient market for machine-to-machine communications creates a backdrop where the demand for Cisco gear should keep rising.
Cisco is not without risk. SA author Cyrus Mewawalla wrote a very interesting article on the possibility that software defined networks might make a lot of Cisco gear obsolete.
Whether Cisco is in fact at risk to software defined networks or more likely to benefit from them is an issue I am sure John Chambers thinks about, and I am reasonably confident Cisco has the ability and resources to compete regardless of the trend, but I don't ignore the risk and I thank Cyrus for his excellent article on the subject.
While I don't currently own any Cisco stock, I will very likely establish a long position in any sell off.
Disclosure: I am short AAPL. I wrote this article myself, and it expresses my own opinions. I am not receiving compensation for it (other than from Seeking Alpha). I have no business relationship with any company whose stock is mentioned in this article.
Additional disclosure: I am short calls on Apple.