Volatility Leaves Many Underinvested Again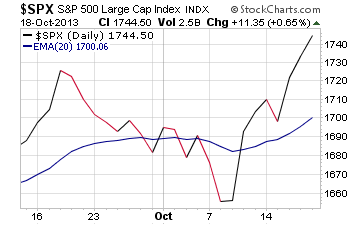 Based primarily on fears of a U.S. default, markets have been extremely volatile over the past few weeks, which undoubtedly has left many underinvested again. If you want to improve your odds of navigating through the next crisis:
Think in probabilities
Develop an IF, THEN system
Monitor the big picture
Remain highly flexible
The Fed Matters In A Big Way
A good portion of the buying enthusiasm this week came as markets began to realize that still tepid global growth will make it hard for central bankers to back off the monetary stimulus faucets. From Bloomberg:
U.S. stocks rose, giving the Standard & Poor's 500 Index its best weekly gain since July, as results from Google Inc. topped estimates and speculation grew that the Federal Reserve will delay cutting monetary stimulus.
Crisis Low Followed By 87 Point S&P 500 Gain
The recent "debt ceiling crisis" presents us with an excellent real world example of how to integrate the concepts above into your investment approach. By taking our example to this Friday's close, we can also integrate a probabilistic outlook for the markets.

Probabilities Admit You Could Be Wrong
If we tell you "the S&P 500 will hit 1,800 in the next two weeks," we have done all of us a disservice. Why? A definitive forecast brings egos into the equation. When egos get involved in the decision making process, we have a tendency to interpret all new data through a "the S&P 500 is going to 1,800" lens. Forecasting is fine, but we are better off attaching realistic qualifiers such as "odds say" or "based on probabilities." It feels good to say, "I could be wrong." Try it next time you formulate an opinion about the markets. We can't say much about the markets with certainty, but we are all 100% certain at some point in the future, we will be wrong about something related to investing.
If we use the debt ceiling as an example, those who were talking about a U.S. debt default for months made it much more difficult for themselves last week, from an ego and investment perspective. Our approach to the debt ceiling can be summarized as follows: there is [was] a very low probability of default, but the probability is not zero. The rationale behind that stance was expressed via Twitter during the height of fear to highlight the concept of self-preservation in the world of politics.

If The Market Does This, Then I Adjust
There is a reason traders who focus on price are successful. Price captures the aggregate opinion of all market participants about future economic outcomes, earnings, valuations, systemic risk, monetary policy, the Fed, etc. Using a simple example to illustrate the concepts, the slope of the green arrow below told us bullish economic conviction was stronger than bearish economic fear. The orange arrow told us the conviction of the bulls was waning, and to have defensive plans in place. The slope of the red arrow told us economic fear was much stronger than bullish economic conviction. The slopes of the lines A, B, and C are observable and can be incorporated into an IF, THEN investment strategy.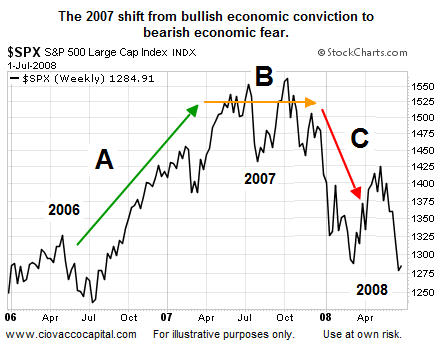 A Simple IF, THEN Model
For illustrative purposes, we will walk through a simple hypothetical model and how it made unbiased decisions during the debt ceiling scare. The simple system uses one moving average; the 20-day exponential moving average (EMA) on the S&P 500. Good things tend to happen when price is above the 20-day EMA and the slope of the moving average is positive. The odds of bad things happening increase when price is below the 20-day EMA and the slope of the EMA is negative. The table below outlines the "rules" for making allocation changes.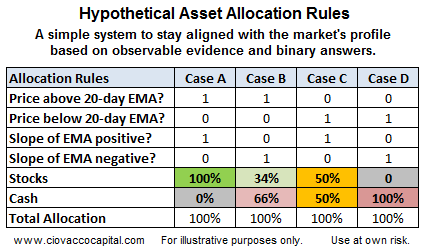 As the threat of a possible catastrophic U.S. default was still lurking, it was prudent to reduce risk in our portfolios. The simple model based on the rules in the table above would have moved to 100% cash on October 4 or six days before the fear subsided and stocks stabilized.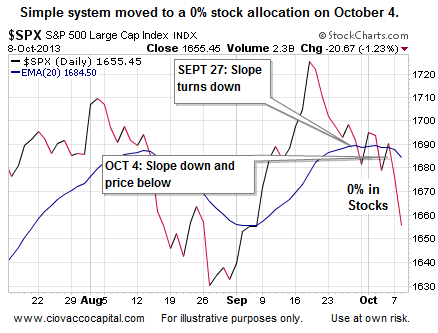 By October 10, the market was beginning to realize that a debt default was not in the cards. The simple system moved back into equities as the observable evidence improved to capture 44 S&P 500 points. The moving average is one way to monitor the battle between bullish economic conviction and economic fear.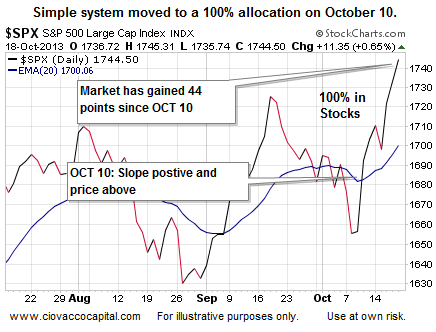 If you would like some model-building ideas and another example of monitoring investor's convictions, this video clip compares the S&P 500 on Friday, October 11 to the topping process in 2007-2008. The takeaway was 2013 looks much better. The analysis was helpful; the S&P 500 has tacked on an eye-popping 41 points since the video was published.
Monitor The Big Picture
Demand is related to many things in the investing world, including confidence in the economy, earnings, innovation, and corporate leadership. One thing that is often lost when critiquing the value of analyzing stock charts (aka technical analysis) is the charts help us understand and monitor economic conditions and fundamental concepts. It aligns with common sense when demand for conservative bonds is greater than the demand for growth-oriented stocks, investors are concerned about the economy, earnings, systemic risk, etc. This image shows one example of using observable evidence to monitor the battle between economic fear and economic conviction.
Prior to Friday's 50 point gain in the NASDAQ (NASDAQ:QQQ) and roughly 12 point rise in the S&P 500, we presented the ETF tables that follow as bullish evidence. The concepts behind the tables are described below:
Investors of all sizes, from hedge funds to the local stock club, reveal their economic convictions with their wallets. Relative demand (buying conviction vs. selling conviction) ultimately sets asset prices. Common sense tells us when the demand for stocks is greater than the demand for bonds, the aggregate economic outlook of all market participants is "net bullish". Conversely, when the demand for conservative bonds is greater than the demand for growth-oriented stocks, the aggregate economic outlook of all market participants is "net bearish". Stocks go up under net-bullish conditions. Stock go down under net-bearish conditions
The takeaway from the tables is the aggregate opinion of all market participants is net-bullish from an economic and systemic perspective. That aggregate opinion sets asset prices, which is why it pays to monitor it.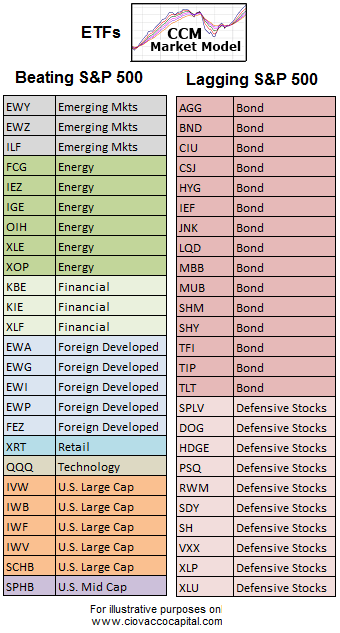 Fundamentals Matter
The ETF tables above represent a logical way to monitor economic fundamentals. There is always an economic driver behind what any model measures. The table above helped us identify energy (NYSEARCA:XLE) as an area that was worthy of further analysis. From MarketWatch:
Energy stocks rose Friday, with shares of oil-field services company Baker Hughes Inc. leading the way after it announced third-quarter results that were above Wall Street's expectations. Shares of Baker Hughes BHI +0.22% rose more than 8% before ending 7.3% higher. The company announced adjusted third-quarter profits of 81 cents a share, from 73 cents a share a year earlier. Revenue rose 8.1% to $5.79 billion. Analysts had expected earnings around 78 cents. Baker Hughes attributed the good results mostly to its North American operations.
If you are skeptical of the value of monitoring the conviction of investors and the economy via relative demand, the dated articles below may help change your mind.
October 4: 22 Charts Say Be Open To Bullish Resolution
October 10: 7 Reasons Thursday's Rally Was Not A Surprise
Flexibility Allows You To React Quickly
When the markets started to bottom on Wednesday, October 9th, if you had already made up your mind about bearish outcomes relative to the debt ceiling, it would have been very hard to (a) think in probabilities, (b) follow your IF, THEN system, and (c) reinvest your cash quickly enough to participate in the massive move in stocks over the past seven sessions. Below is the "buy" tweet from October 10 (based on our rules). Notice how flexibility is highlighted.

Our ability to follow the tenets outlined here may be tested with Charles Evans speaking Monday and the delayed monthly employment report coming Tuesday (see below).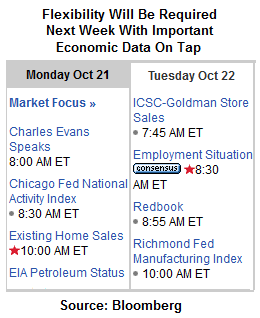 Investment Implications - Steady As She Goes
Another concept in our approach is making incremental allocation changes in line with the magnitude of the market's improvement or deterioration. This approach has allowed us to scale back to a nearly fully invested stance after the last incremental buy that was executed Friday. The supply and demand balance on the ETF front continues to point to many of our holdings as being prudent risk-reward options: broad U.S. (NYSEARCA:VTI), technology , small cap (NYSEARCA:IJR), foreign developed (NYSEARCA:EFA), financials (NYSEARCA:XLF) and emerging markets (NYSEARCA:EEM). With asset prices skewed by the Fed's printing press and a possible scare from earnings season, we will enter next week with a flexible and open mind. This weekend's video will cover what we will be watching inside our market model to stay allocated in a manner that is prudent based on the ongoing battle between bullish economic conviction and bearish economic fear.
Disclosure: I am long VTI, EFA, EEM, XLE, XLF, QQQ. I wrote this article myself, and it expresses my own opinions. I am not receiving compensation for it. I have no business relationship with any company whose stock is mentioned in this article.