AT&T (NYSE:T) recently disclosed (through an FCC filing) that it plans to phase out its new Aio prepaid wireless brand in favor of Leap Wireless' well-known Cricket brand, following the closing of the Leap acquisition. In the wake of Friday's news, I wanted to not only highlight the company's decision to phase out its Aio brand for the more well-known Cricket brand, but also note a number of the catalysts behind my decision to remain long on shares of AT&T.
Shutting the Doors on Aio
On October 18, AT&T Mobility announced plans to close its new Aio Wireless prepaid brand if the carrier is successful in acquiring regional prepaid wireless operator Leap Wireless (LEAP), which offers service through its well-known Cricket brand. "After the transaction's close, AT&T intends to combine the nascent operations of Aio with Leap's existing operations under the Cricket brand name," AT&T said in a recent FCC filing.
According to Mike Dano of Fierce Wireless:
"AT&T launched Aio Wireless in May 2013 in various markets across the country, and then took the offering nationwide in September. Aio is currently available in more than 230 stores across Texas, Florida and Georgia. AT&T had plans to expand Aio's services to 220 million retail POPs by the end of 2016, however, AT&T announced in July it would acquire Cricket provider Leap for $1.2 billion, and as a result the Aio brand will soon crease to exist."
In my opinion, the move to discontinue the Aio brand not only solidifies AT&T's understanding of the prepaid marketplace, but also gives AT&T a much larger piece of the proverbial pie since Cricket is a much more recognized name in the prepaid marketplace.
Catalyst #1 - Recent Performance and Trend Status
On Friday, shares of AT&T, which currently possess a market cap of $186.24 billion, a beta of 0.43, a P/E ratio of 26.22, a forward P/E ratio of 12.94, and a current dividend yield of 5.20% ($1.80), settled at a price of $34.61/share.
Based on their closing price of $34.61/share, shares of AT&T are trading 2.67% above their 20-day simple moving average, 2.72% above their 50-day simple moving average, and 0.13% above their 200-day simple moving average. These numbers indicate a short-term and mid-term uptrend for the stock and a slightly long-term downtrend for the stock which generally translates into a moderate buying mode for near-term traders and a slight holding pattern for long-term investors.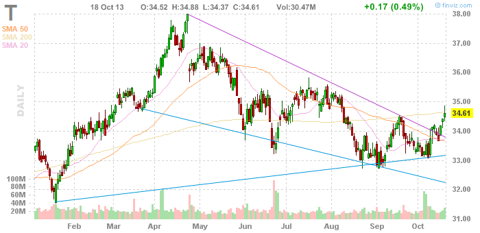 Although trend numbers are fairly flat when compared to arch rival Verizon (NYSE:VZ) [20-DSMA +6.90%, 50-DSMA +6.44%, and 200-DSMA +5.45%], I strongly believe a buying opportunity is presenting itself to the long-term, income-driven investor. Why? There are two catalysts behind my reasoning. First is the fact that the company's P/E is expected fall significantly over the next 12 months, especially since earnings are anticipated to come in $0.04/share higher than they were during Q3 '12 when the company reported EPS of $0.62/share. The second reason concerns the fact that shares are currently yielding 5.20%, which is clearly much more attractive than any interest-bearing account at your local savings bank.
Catalyst #2 - Recent Dividend Behavior
Since October 8, 2008, the company has increased its quarterly distribution five times over the last 60 months. The company's forward yield of 5.30% ($1.80) coupled with its ability to continuously increase its dividend on an annual basis, make this particular telecom stock a highly considerable option, especially for those who may be in the market for a sustainable stream of quarterly income.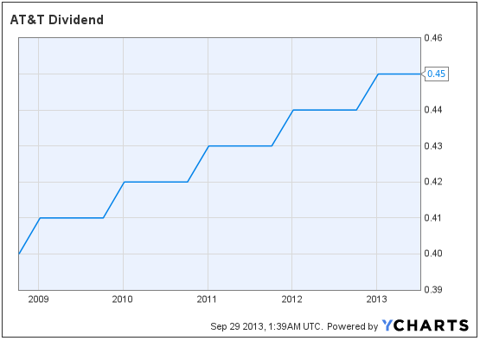 On Friday, September 27, AT&T declared a regular quarterly dividend of $0.45/share, which was in line with its previous quarter and is payable November 1st to shareholders of record as of October 10.
Risk Factors to Consider
According to AT&T's most recent annual report there are a number of risk factors all investors should consider. Investors may want to consider the fact that a worsening global economy, unfavorable changes in the medical costs of the company's worldwide staff, and the inability for some of the company's largest customers to access capital, could all weigh negatively on the operational performance of AT&T.
Conclusion
For those of you who may be considering a position in AT&T, I'd keep a watchful eye on a number of catalysts over the next 12-24 months as they could each contribute to the company's long-term growth. These catalysts include but are not limited to the company's ability to maintain and further enhance its Cricket prepaid brand, as well as its ability to sustain and maintain a healthy dividend over the next 24-48 months.
Disclosure: I am long T. I wrote this article myself, and it expresses my own opinions. I am not receiving compensation for it (other than from Seeking Alpha). I have no business relationship with any company whose stock is mentioned in this article.