The gold price has increased 400% since the year 2000. Wars, political instability, economic uncertainty and quantitative easing have boosted gold demand. But gold producers are now feeling the pinch as declining gold prices impact mine profitability, reduce margins and cause impairment charges to ripple through the industry. Prospects of a recovering economy and the end of quantitative easing put pressure on gold prices as well. I believe fears about a collapsing gold price are overblown and a couple of first-class gold miners are worth a serious look right now.
The entire gold sector took a heavy beating. Goldcorp (NYSE:GG) is down 44% over the last year and other companies in the industry were also thrown off a cliff: Barrick Gold (NYSE:ABX) is down 52%, Yamana Gold (NYSE:AUY) 52% and Newmont Mining (NYSE:NEM) 51%. Instrumental in the decline of market values was the gold price which declined to $1,300/oz.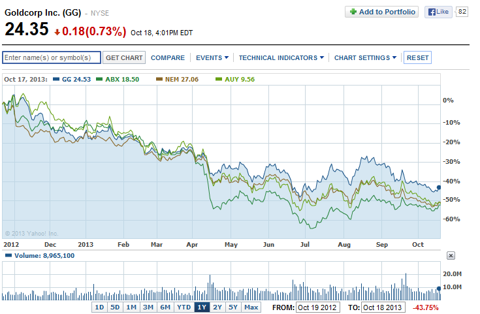 Secular bullish gold trends intact
When it comes to gold many investors first think about inflation. Gold and other precious/industrial metals make good inflation hedges and are safe harbor investments. In times of crisis investors flee into safe assets such as gold in order to preserve their capital. The financial crisis contributed to investment gold demand as uncertainty peaked.
A number of reasons suggest that the underlying supply/demand fundamentals for the gold industry are intact. Portfolio construction motivations also add to future gold demand:
1. Gold supply is limited. In the 1990s large new deposits were either discovered or were coming straight to market. Since then new discoveries of large supplies have become increasingly scarce which will have a favorable long-term effect on gold prices.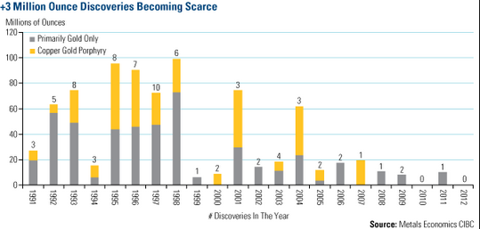 2. Demand remains high. Generally, gold demand is driven by three categories: Investment demand (such as from ETF's), physical demand from the jewelry-, technology and dental industry as well as central bank activity. Jewelry demand in Asia, particularly in China and India, is one of the most important physical drivers of the gold price. Both countries dominate the world's jewelry and coin markets. Higher demand from Chindia is driven by increasing wealth in those economies and represents tailwinds for rising prices in the future.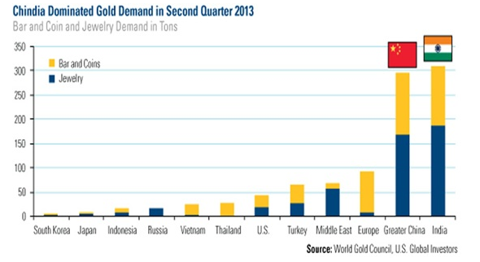 3. Investment demand is often highly impacted by crises situations such as wars, economic uncertainty, geopolitical instability, terrorist attacks etc. The student of market and economic history knows that the human race regularly produces one of those events. Gold is and remains a safe harbor investment that investors gravitate to when they experience a confidence meltdown.
4. Gold provides inflation protection.
5. Gold and other precious metals are considered a separate asset class which reacts differently to macroeconomic developments (interest rates, inflation, trade and capital flows etc.) and provides diversification benefits.
Bottom line
Despite short-term gold price declines that may be impacted by the prospects of tapering, the long-term fundamentals remain intact and support an investment in gold producers.
Why Goldcorp?
I have previously disclosed my long position in Barrick Gold because of its ridicously low valuation and interesting mining projects. By the same token, I believe Goldcorp has a few crown jewels lined up in its mining asset portfolio that the market currently undervalues because it is fixated on tapering and short-term gold quotes.
Goldcorp's key mining asset in the Dominican Republic, Pueblo Viejo, is on track to materially drive gold production growth. The mine is expected to work at full capacity in the second half of 2013 with an estimated full year production estimate of 330,000-435,000 oz which increases production by a factor of 7-10 y-o-y. Annual output for the first five years is expected to come in at 415,000-450,000 oz and the mine has a life of +25 years and is one of Goldcorp's most promising assets in its portfolio.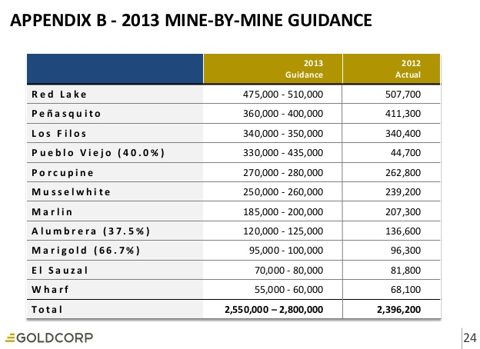 Impairments are cyclical and irrelevant in the long-term
In the second quarter 2013 Goldcorp took a non-cash after tax charge of $1.96 billion because of declining gold prices that impacted the value of its Mexican Peñasquito Mine. Goldcorp reported a Q2 2013 net loss of $1.93 billion or $2.38 per share. Impairments have hit a variety of companies in the basic materials sector, too, and are a reflection of lower commodity prices across the board. Nonetheless, I believe long-term commodity producers will benefit from strong underlying trends such as population growth, richer Asian middle classes and higher industrial production levels. Lower short-term gold prices immediately affect the profitability of a company as a result of fair value accounting but say nothing about the long-term fundamental supply/demand picture that is favorable for gold producers. Unfortunately, short-term thinking still prevails in the market place but anti-cyclical investors can find interesting companies with attractive production growth rates.
Low cash costs
Goldcorp suggests that its 2013 full year all-in sustaining cash costs come in at $1000-1100 per oz which makes production still profitable by a decent margin. Long-term investors are well advised to look past short-term impairment charges (which are non-cash by the way) that are a function of the market price. In fact, Goldcorp generates strong operating cash flows and has the highest percent of operating cash flows returned as dividends in the peer group.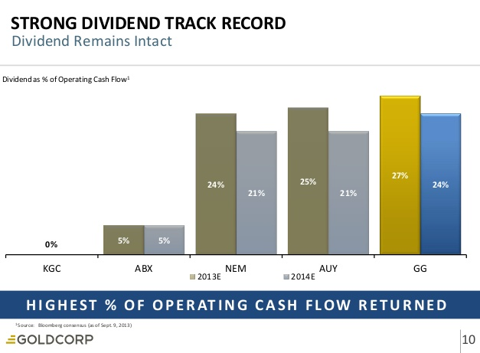 A summary of valuation metrics is provided below. Goldcorp currently pays investors 2.46% which is lower than the 3.71% of Newmont Mining (which also is a great contrarian play) and the 2.77% of Yamana Gold. The P/E ratios should be taken with a grain of salt because they are impacted by extraordinarily low earnings forecasts.

Conclusion
The underlying long-term fundamentals support gold investments. Constant human crisis, limited supply, increasing demand from prospering Chindia, inflation protection and diversification benefits are convincing long-term drivers that make gold miners attractive investments. Impairment charges are short-sighted in nature and a reflection of fair value accounting that requires companies to mark the values of their mines down immediately as market prices correct. Goldcorp's mining assets are promising and still have potential for efficiency improvements. Long-term oriented, anti-cyclical investors who are bullish on global growth and believe in a more prosperous Asia could get a decent deal with Goldcorp which currently pays a 2.5% dividend.
Disclosure: I am long ABX. I wrote this article myself, and it expresses my own opinions. I am not receiving compensation for it (other than from Seeking Alpha). I have no business relationship with any company whose stock is mentioned in this article.