The memory semiconductor industry is cyclical; product prices fluctuate by demand and supply forces, which determine the overall market condition. It is a capital intensive industry, where companies invest heavily to remain competitive in the market. Micron Technologies (MU), one of the leading players in memory products, is betting upon improving memory market dynamics. The rise in price of memory chips is acting as a tailwind for the company.
Micron Technologies made an important acquisition in the growing mobile memory segment, where it previously had a low presence. This acquisition is expected to position Micron Technologies as a leading player in the mobile memory chips market, and with this the company can reduce the negative impact coming from cyclical fluctuation of the industry.
DRAM prices continue to rise
Micron Technologies, the third biggest memory chip supplier, has been capitalizing on the recent developments that created bright prospects in the memory chip market, mainly in dynamic random access memory, or DRAM. This is a type of random access memory required for execution of programs in PCs, mobiles, and other devices. The DRAM market is currently witnessing a surge in prices due to growth in the demand from non PC devices like smartphones and tablets. Memory chip market prices play an important role in determining the future course of action for mobilization of the company's resources.
In addition to growth in the demand for mobile devices, a fire at Hynix's Wuxi, China plant on September 4, 2013 added more burden to the global supply. Hynix is the world's second largest memory chip manufacturer, and this factory manufactures 50% of its total global output. As per the company's announcement, this plant will start operating at the normal output by November this year. Since the fire, the spot price of DRAM's benchmark DDR3 2GB (1,666MHz) chip has increased 43% in just two weeks ending September 18, as per DRAMeXchange's report.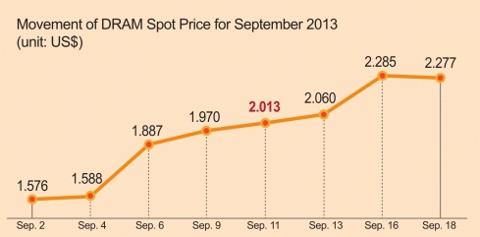 Growth in the spot prices of DRAM has created bright prospects for memory chip manufacturers like Micron Technologies, which increased its mobile DRAM portfolio with its $2.5 billion acquisition of Japan based Elpida Memory. This acquisition increased Micron's wafer producing capacity by 45%. Elpida will increase the footprint of Micron Technologies in the DRAM segment, and more specifically in the mobile segment. The company will now have 28% market share in the DRAM segment after completing the Elpida acquisition, thus listing itself as the second largest player in DRAM behind Samsung (OTC:SSNLF). Mobile DRAM market is among the fastest growing segment in memory chip business with total market revenue growing 26% quarter over quarter to reach $2.8 billion in the second quarter, 2013.
Micron Technologies recently announced its fourth quarter results, which clearly tell the story of the improving memory market fundamentals. The company reported net income of $1.71 billion as compared to loss of $243 million in fourth quarter of fiscal year 2012. Revenue from DRAM products rose 50% quarter over quarter, due to the rise in the sales volume and the average selling price of DRAM.
Apple (AAPL) is among Elpida's biggest clients with purchase of 80% of total mobile DRAM production, and it supplies SDRAM mainly for Apple iPhone 5. Elpida is Apple's key memory supplier, and with the recent launch of Apple iPhone 5S and 5C, Micron Technologies can expect more growth from Elpida's mobile DRAM memory chip sale from new design wins. Though there was no official announcement, iPhone 5C has an Elpida memory chip, which is same as iPhone 5's Low Power DDR2 SDRAM, or LPDDR2 SDRAM, as per ifixit.
For the first time, Apple is adopting a different strategy with the launch of cheap iPhone 5C, primarily for emerging markets, especially China. Apple recently announced that it has sold 9 million iPhone 5S and iPhone 5C handsets in just three days after the launch of this smartphone, thus beating the weekend sales record of its previous model iPhone 5. We believe that partnership with Apple for DRAM chips will position Micron Technologies to capitalize on the booming smartphone market, where the company had limited presence earlier.
Micron Technologies is currently facing headwinds from the fall in the prices of flash memory, called NAND, which is an alternative to a hard disk drive used for storage of data in devices. Oversupply of NAND chips correlates with the weak demand in the PC market, which has affected prices. Therefore, we believe that the growth in mobile DRAM sales, coupled with rise in its price, will offset this negative impact. The company reported 5% quarter-over-quarter revenue growth from its NAND Flash products, where 17% growth in sales volume was offset by 11% decline in the average selling price of products. In the falling prices scenario, Micron is expecting its NAND flash memory demand to grow at an average annual rate of 43% in the next five year. This growth will come from rise in the company's Solid State Drive, or SSD sales. It is a data storage device that uses NAND technology. SSD is the biggest contributor of NAND revenues and growth in its demand will prove as a tailwind for NAND business.
Cross licensing deal may be on the charts
In a bid to improve the memory patent portfolio, SK Hynix may sign a cross licensing deal on memory chip patents with Micron Technologies, as per a Korean Times report. This may be win-win deal with both companies, benefiting from each other's owned patents. This deal is similar to one signed by Micron Technologies with Samsung for cross licensing of patents related to conventional DRAM. Cross licensing patent deals save costs in terms of R&D expenses for new product invention. In a cyclical memory semiconductor industry where return on investment is not guaranteed due to fluctuating demand, cross licensing deals like these are certainly good way to expand its product. SK Hynix is the second biggest memory chip provider, and with this deal, Micron Technologies will broaden its product line with the increased patent portfolio.
Rise of Competitor
Rise in the DRAM prices is expected to provide maximum benefit to the world's biggest memory chip maker, Samsung. The company recently announced its third quarter guidance, expecting to post an operating profit of $9.4 billion, a 25% year-over-year growth, with sales of $55 billion, a 13% year-over-year growth. Strong recovery in the prices of DRAM due to the weak supply is helping the company to post record profits. Samsung is currently facing a slowdown in growth from its higher end mobile segment, where the sale of its flagship Galaxy S4 model is declining. Analysts are expecting S4 sales to drop from 20 million units in two months after its April launch, to 16 million in the third quarter. Therefore, the semiconductor business is expected to be the next growth catalyst for Samsung.
Conclusion:
The unfortunate fire at Hynix's Wuxi plant will provide a new opportunity for Micron Technologies to benefit from rise in the DRAM prices. The company has made an important acquisition in the mobile DRAM market, and we believe its growth will provide some respite in the declining price trend of NAND chips. The company's stock price has appreciated around 158% year to date, and with NAND prices expected to stabilize next year due to fall in supply, Micron Technologies can expect better results in the future. It currently has a negative trailing 12 months diluted EPS of $0.75, while its forward P/E for the fiscal year ending Aug 30, 2014 is at 8.55, indicating growth in the company's earnings.
Disclosure: I have no positions in any stocks mentioned, and no plans to initiate any positions within the next 72 hours. I wrote this article myself, and it expresses my own opinions. I am not receiving compensation for it (other than from Seeking Alpha). I have no business relationship with any company whose stock is mentioned in this article.
Additional disclosure: Fusion Research is a team of equity analysts. This article was written by Rohit Gupta, one of our research analysts. We did not receive compensation for this article (other than from Seeking Alpha), and we have no business relationship with any company whose stock is mentioned in this article.