Sunlight rains down on Earth's surface, providing an incredible energy source that will not dry up for about 5 billion years.
And the amount of free energy available is staggering - 8.2 million quad British thermal units (BTU) of solar energy per year. Compare that with the 400 quad BTUs of energy currently used by the entire planet in a single year.
So solar power shows promise.
And while solar energy accounts for less than 1% of total global energy production, it is now the fastest growing renewable energy sector, finally toppling wind as the emergent leader, according to Bloomberg New Energy Finance.
Right now a new solar unit is being installed every four minutes, but by 2016 that will be cut down to one every 83 seconds, according to energy research group Greentech Media. And the National Renewable Energy Laboratory (NREL) says that solar power could be cost competitive without subsidies by 2025. The head of the NREL, Dan Arvizu, said that institutional investors will invest over $2 trillion into solar photovoltaics in the next decade.
Now big investor names are getting involved in the solar revolution. Warren Buffett's MidAmerican Energy Holdings Co. (NYSE:BRK.A) signed up to buy a plant in January for $2.5 billion and a recent survey led by Cohn Reznick LLP showed that 63% of investors are looking at solar photovoltaic projects.
As this sector heats up, some of the best ways to establish a foothold is through $4.88 billion First Solar (NASDAQ:FSLR) or the Guggenheim Solar ETF (NYSEARCA:TAN).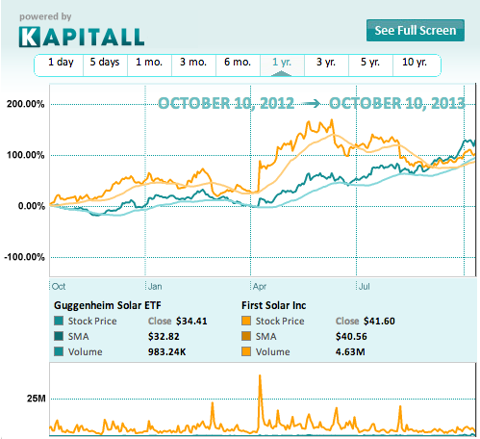 (Click to enlarge. Sourced from Zacks Investment Research.)
A staple for investors in the solar sector, First Solar is known as the first company to generate 1 gigawatt in a single year and the first to break the $1 per watt manufacturing cost barrier.
Today First Solar provides 7 gigawatts of direct current and nearly 3 gigawatts of alternating current in the works. In 2012, First Solar generated over $3.3 billion in revenue - an increase of around 21% from 2011's figures. Analysts expect revenue for 2014 to be around $4 billion and $4.5 billion in 2015.
Back in April, First Solar took steps to improve its technology with the acquisition of TetraSun. The small start-up was known for its improved cell efficiency of over 20%, while using cheaper copper electrodes instead of the more expensive silver standard. The cheaper production should give First Solar access to the fast-growing third-party ownership residential market, which will help distance them from competitor SunPower (NASDAQ:SPWR).
With a recent price-to-earnings multiple of around 12, First Solar looks like a potential value stock. And the company carries plenty of cash on hand - thanks to a recent equity offering - with $928 million, giving it a price-to-cash per share ratio of just over 3. This is compared to competitor SunPower, which has a price-to-cash per share value of nearly 5, while earnings are still negative.
First Solar could also be considered a value play from a book value perspective. It only recently started to trade around its book value of $46.60, and could provide a floor for potential negative price activity.
Another way for investors to play the solar angle is to diversify with the Guggenheim Solar ETF. At first glance, it's hard not to notice the kind of performance numbers this fund has had this year - up over 150% year-to-date. But this ETF offers a solid dividend, as well, of 4.3%, providing investors with some downside protection.
According to Mercom Capital, a clean-energy consulting firm, venture capital funding as well as merger and acquisition activity in solar is at record levels. The third quarter saw global solar VC at $207 million versus second quarter's $189 million, while total corporate solar funding - including debt financing and VC - totaled $2.18 billion, as opposed to last quarter's figure of $915 million.
With a P/E ratio of just 13, the Guggenheim Solar ETF looks like a value play, when compared to the relatively high P/E of 18 for the S&P 500.
While the Guggenheim Solar ETF has been trending upwards this year, recent action based on its underlying Relative Strength Index warns investors to potentially hold off until a slight pullback with RSI figures flashing near 80, a traditional overbought signal for technical investors.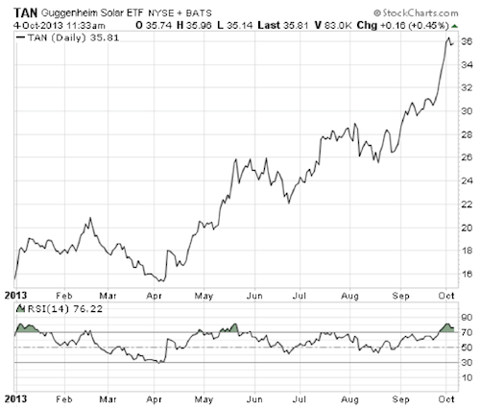 This ETF has exposure to a range of over 20 companies and its largest US-traded holding is aforementioned powerhouse First Solar, with over 5% of the portfolio. Other large holdings include SunPower, SolarCity Corp. (SCTY), and Trina Solar Ltd. (NYSE:TSL).
The Guggenheim Solar ETF is also geographically diversified, with 42% of its equities in the US, while the rest are international and offer a 30% exposure to emerging markets.
The solar energy sector is still in development and faces risks associated with keeping production costs low - in order to be a viable competitor with fossil fuels like oil and coal.
While the industry is making great leaps forward in cost reduction and efficiency, it's still subject to market whims and government subsidies for now. To keep growing, the future of solar energy greatly depends on continued broad support and investor interest.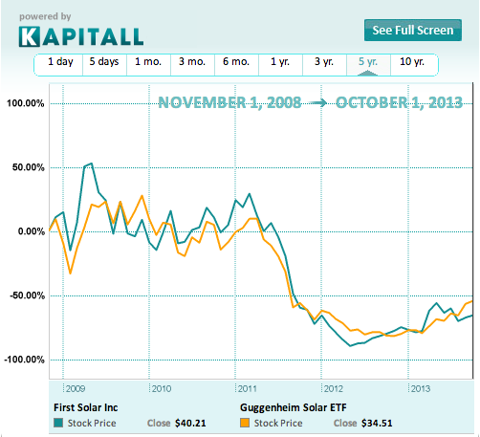 (Click to enlarge. Sourced from Zacks Investment Research.)
Disclosure: I have no positions in any stocks mentioned, and no plans to initiate any positions within the next 72 hours.
Business relationship disclosure: Kapitall is a team of analysts. This article was written by Daniel Cross, one of our writers. We did not receive compensation for this article (other than from Seeking Alpha), and we have no business relationship with any company whose stock is mentioned in this article.