Users of smart connected devices want fast connection speeds. The advent of Long Term Evolution or LTE as it is often called has made high speed connections not only possible but also a segment of the market growing at an incredibly fast rate. The International Telecom Union (ITU) has defined 4G as comprising LTE together with WiMax and HSPA+.
Qualcomm (NASDAQ:QCOM) is the giant in providing LTE baseband chipsets shipping about two thirds of all units, although Broadcom (BRCM) and Intel (NASDAQ:INTC) are becoming fierce competitors. The LTE baseband chipset market is forecast to reach 850 million units by 2013 for handsets alone.
Cisco (NASDAQ:CSCO) has provided data on existing 4G device connections not limited to handsets and a forecast of where this market is going through 2017.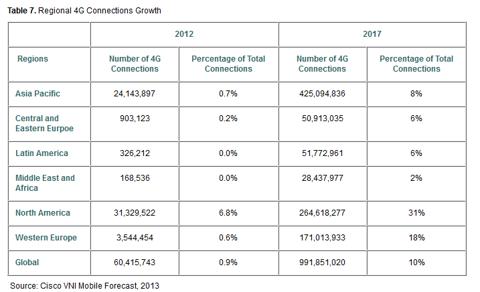 The first conclusion one reaches is that this market is growing incredibly quickly, from just over 60 million connections in 2012 to almost 1 billion in 2017 globally. Of that growth of 932 million connections, over 400 million are expected to come from Asia Pacific even though 4G will still only represent 8% of total connections in that region by 2017. Another 200 million units of the expected growth will come from North America, over 165 million units from Western Europe and the balance from the rest of the world. Clearly, Asia Pacific will be the key market for LTE devices and all markets will be a long way from saturated in 2017. Unless and until an even faster technology emerges, LTE can look forward to scintillating growth.
The growth in smart connected devices is similarly brisk, with the bulk of the growth coming from smartphones according to IDC data.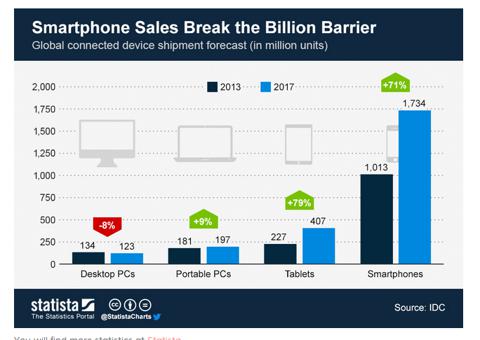 A big chunk of that smartphone growth is expected to come from emerging markets.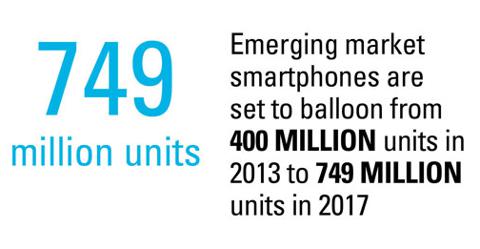 LTE devices are not surprisingly data hungry and LTE device users are big users of data. Many see this as an opportunity for Apple (NASDAQ:AAPL). There were recent comments by Apple CEO Tim Cook that iOS users represent 55% of mobile traffic while Android users represent only 28% based on NetMarketShare data. Cook points to that statistic as evidence that Apple user satisfaction is very high and that even though more Android devices are sold people are using their iPhones and iPads more often.
Unfortunately for Mr. Cook, data from Cisco seem to belie his enthusiasm. Cisco is in a unique position to measure data usage per device and reports that Android users are the big data users, consuming almost 50% more data per month than iOS users. To be fair, Mr. Cook's comment referred to mobile traffic and not data usage, although the two are obviously related. Perhaps iOS users visit more web sites but download less content.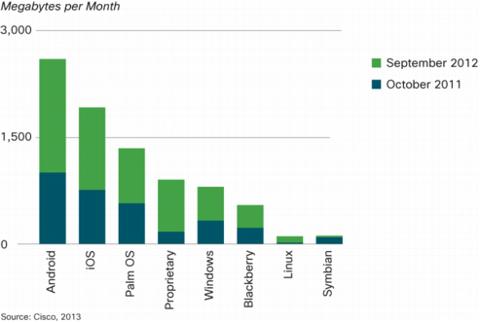 The high speed segment of the market is critical for growth since the number of mobile subscriptions worldwide is saturated with ITU reporting that in 2012 there were 6.8 billion mobile subscriptions representing 96% of earth's population.
The subscriptions do not correlate one for one with population since there are many users with more than one subscription, but in any event, the number of worldwide subscribers is unlikely to show much growth. Instead, there will be a migration from low function low speed devices to smart devices using LTE and similar high speed technologies.
Growth in world demand for smartphones is largely in emerging markets, with China taking the lead.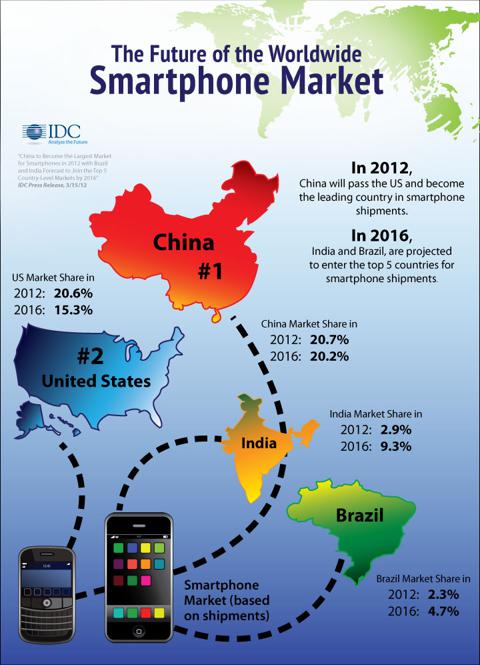 Samsung and Lenovo are the largest smartphone suppliers in China, both based on Android OS.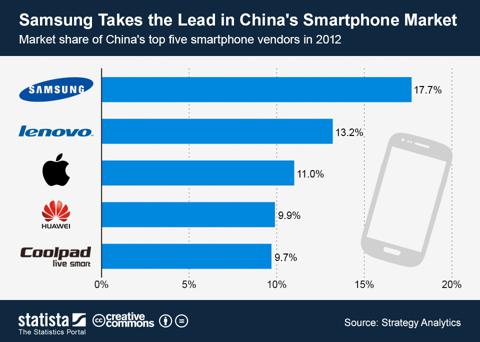 In India, Android phones have a 90% market share according to a report in the Times of India.
New entrants using Android OS and who compete only locally are taking share, making inroads by established competitors more challenging. Combined, and handful of new companies including names like Xiaomi, Coolpad, and MicroMax and who sell only into their local Asia Pacific markets now represent the largest portion of smartphone sales in China and India.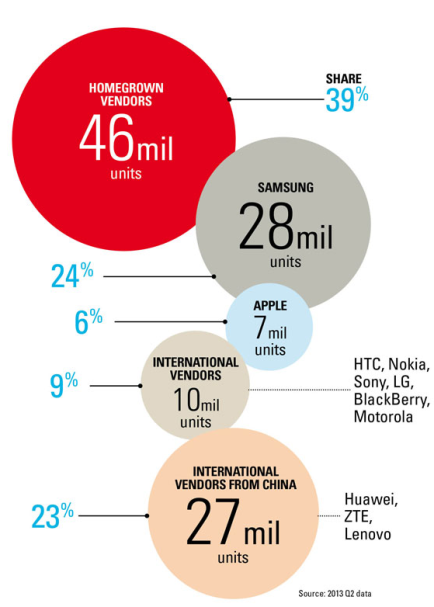 The success of Android in Asia Pacific markets reflects the price sensitive nature of this market and the fact that with monthly revenue per user of about $9.50, carriers have a very limited ability to subsidize subscribers' purchases of a smartphone.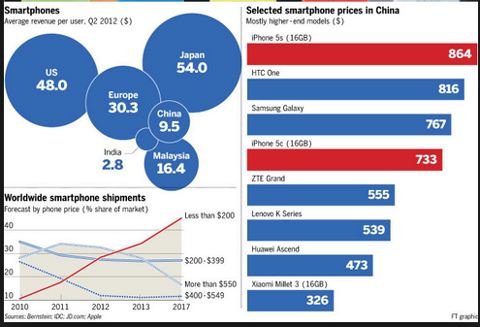 While it is early days, Nokia's Lumia phones are getting some traction in Asian markets. At the same time, consumers in Asia have shown a marked preference for "Phablets", smartphones with screens larger than five inches. Sales of these devices are growing extremely quickly at the expense of both conventional smartphones and tablets.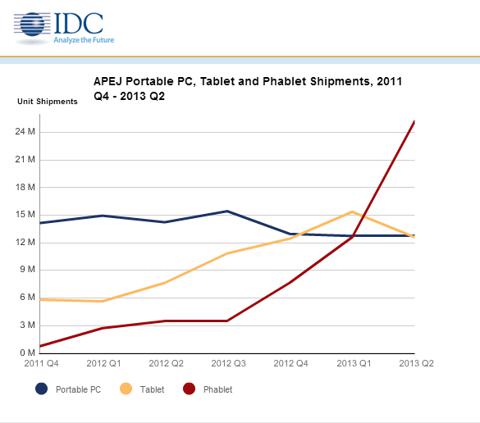 This appears to be a pervasive trend given users with limited means who can satisfy both their need for a smartphone and desire for a tablet with one device and one carrier account.
In any event, what is clear from the data are a number of facts investors in mobile technology should pay attention to.
Mobile data consumption worldwide is growing very quickly, creating opportunities for networking component makers such as Cisco, Ericsson and Alcatel-Lucent (ALU).
LTE will be a very fast growing part of mobile creating robust opportunities for Qualcomm, Broadcom and Intel.
The largest part of the growth will be in emerging markets and in particular Asia Pacific, where Android devices have a dominant position. Google (NASDAQ:GOOG) should benefit and Microsoft (NASDAQ:MSFT) through its Nokia acquisition may find buyers for its competitively priced Lumia line.
It will be difficult for North American smart device suppliers like Apple, Motorola and BlackBerry (BBRY) to make much headway in Asia where they are unable to meet competitive price points.
The tablet market in Asia Pacific will come under pressure as preferences for "Phablets" increase potentially weakening demand for iPads and opening opportunities for the rumored Nokia phablet expected soon.
I am long MSFT and INTC and short AAPL, all through options.
Disclosure: I am long MSFT, INTC. I wrote this article myself, and it expresses my own opinions. I am not receiving compensation for it (other than from Seeking Alpha). I have no business relationship with any company whose stock is mentioned in this article.
Additional disclosure: I am long MSFT and INTC calls and short AAPL calls. I also hold BBRY calls, a residual from an earlier bullish stance. I may add positions in CSCO, QCOM and BRCM at any time if I see an entry point I like